Deck Design: Project in Progress
My brother's house came with a deck in severe disrepair. After we tore out the old deck, I surveyed the area and put together several design concepts in Fusion360. Next, I put together a detailed construction model based on the International Residential Code. Using this model, we are beginning to nail down and validate final design details. By the end of this process I will produce plans to submit to the county for approval, and we will build it! Currently we are moving forward with deck concept B and railing option C. See the documents below and stay tuned!
---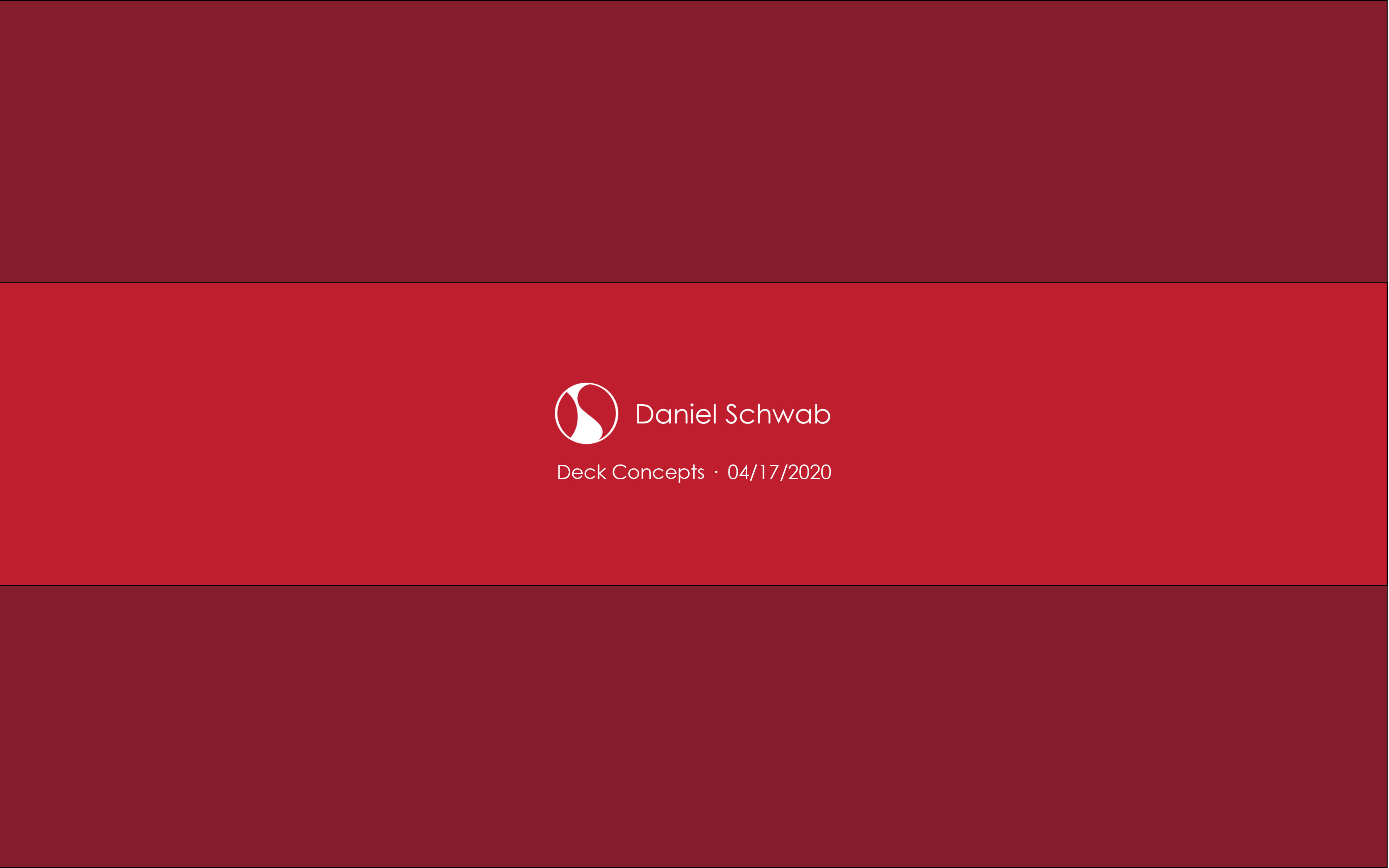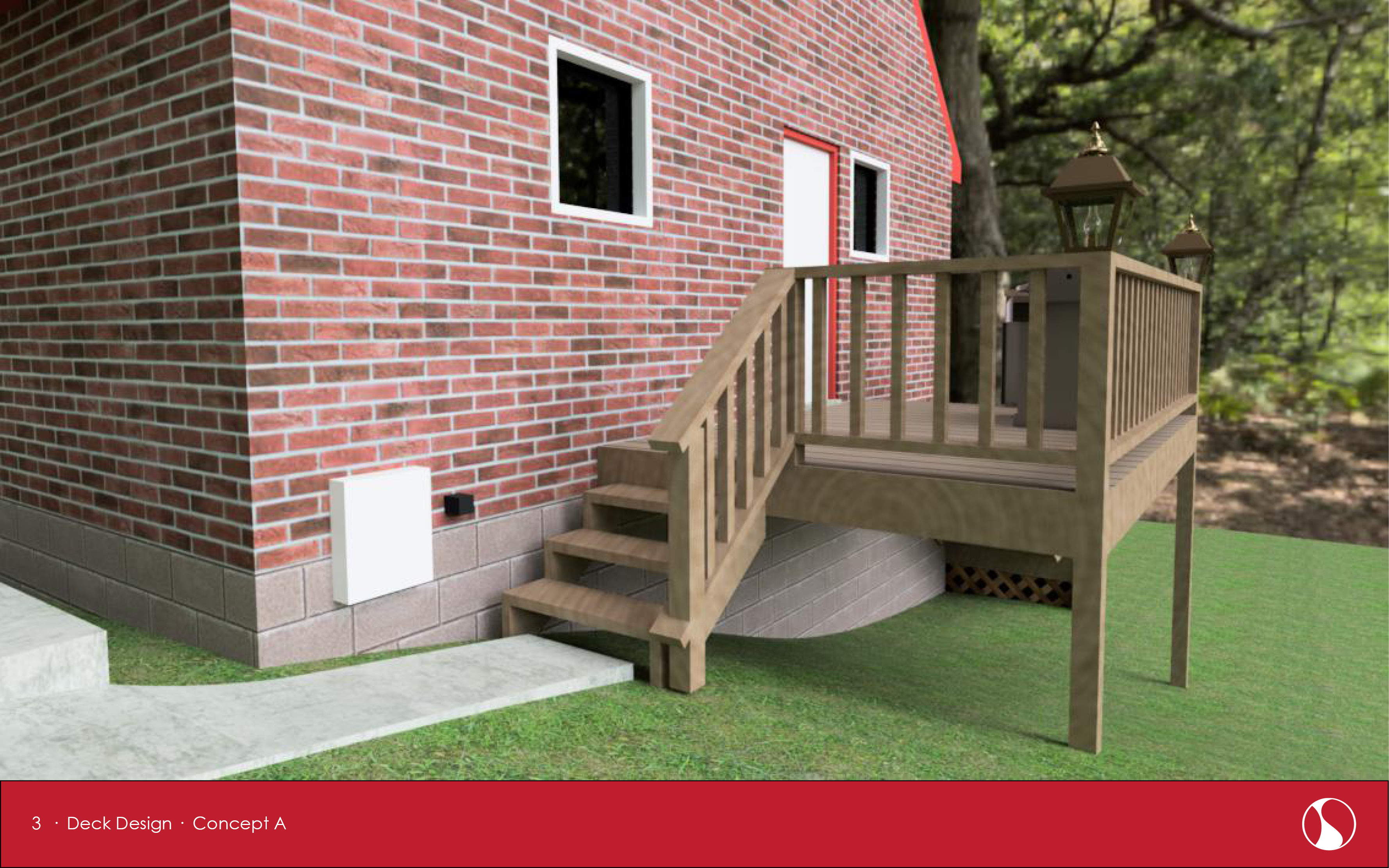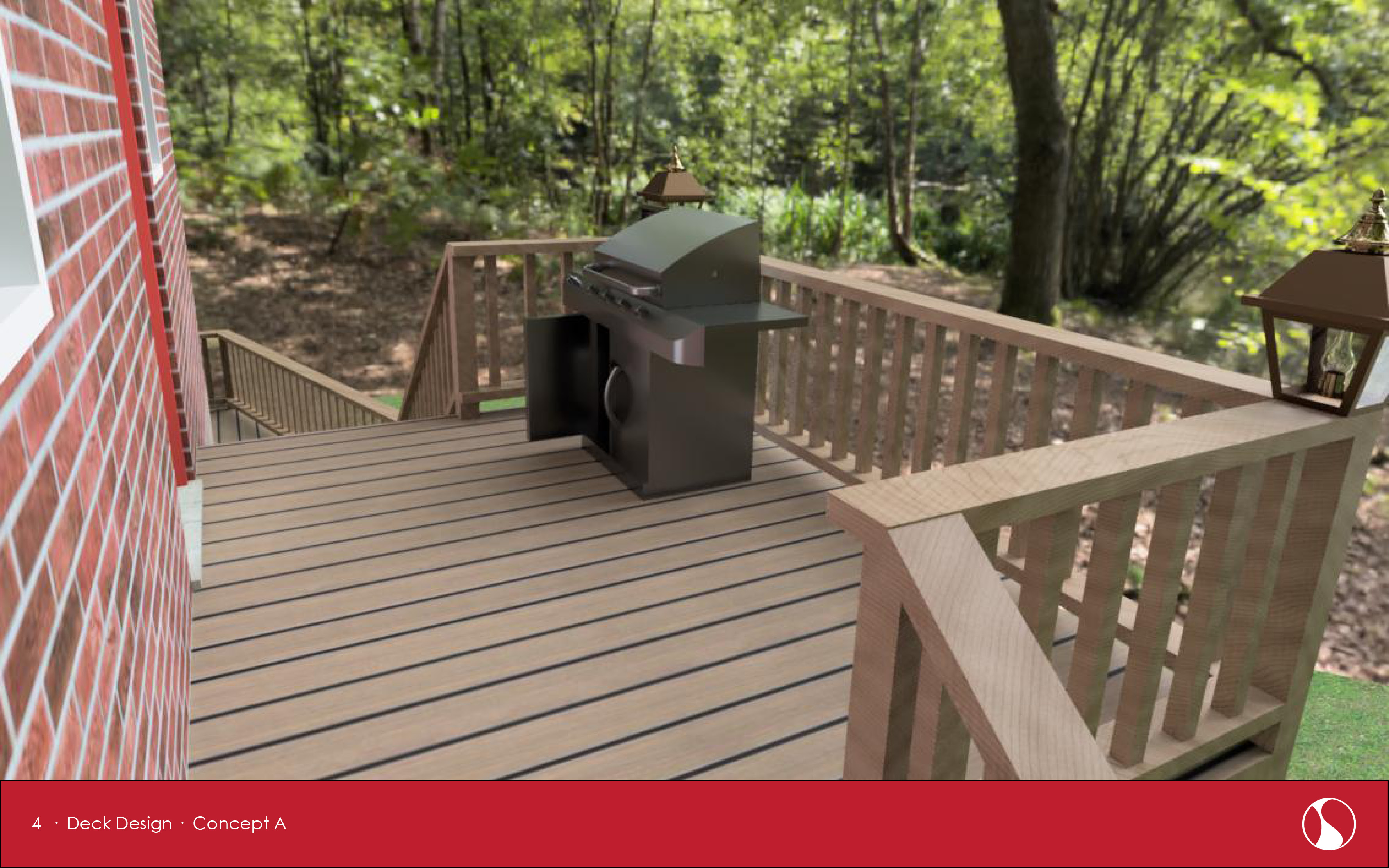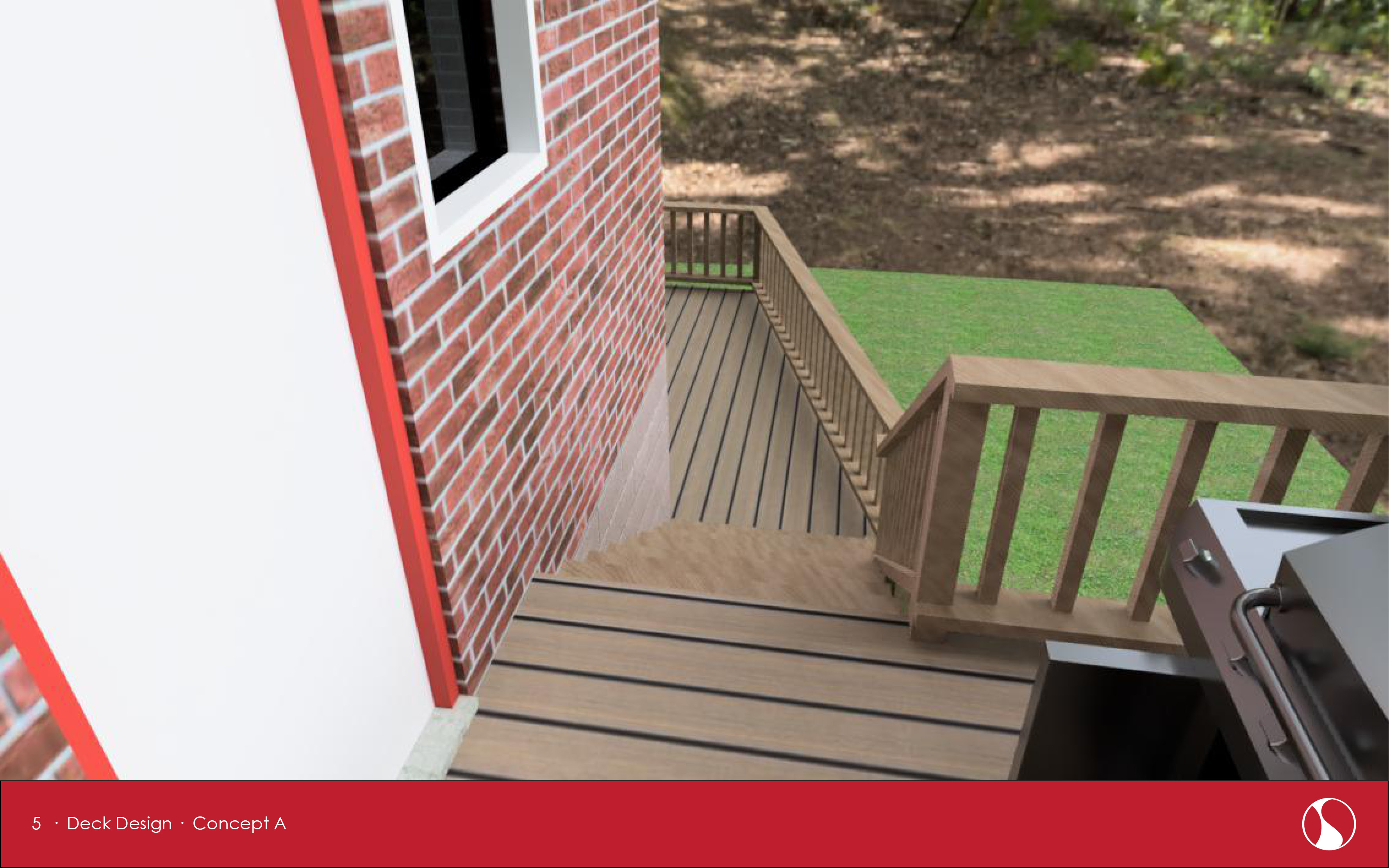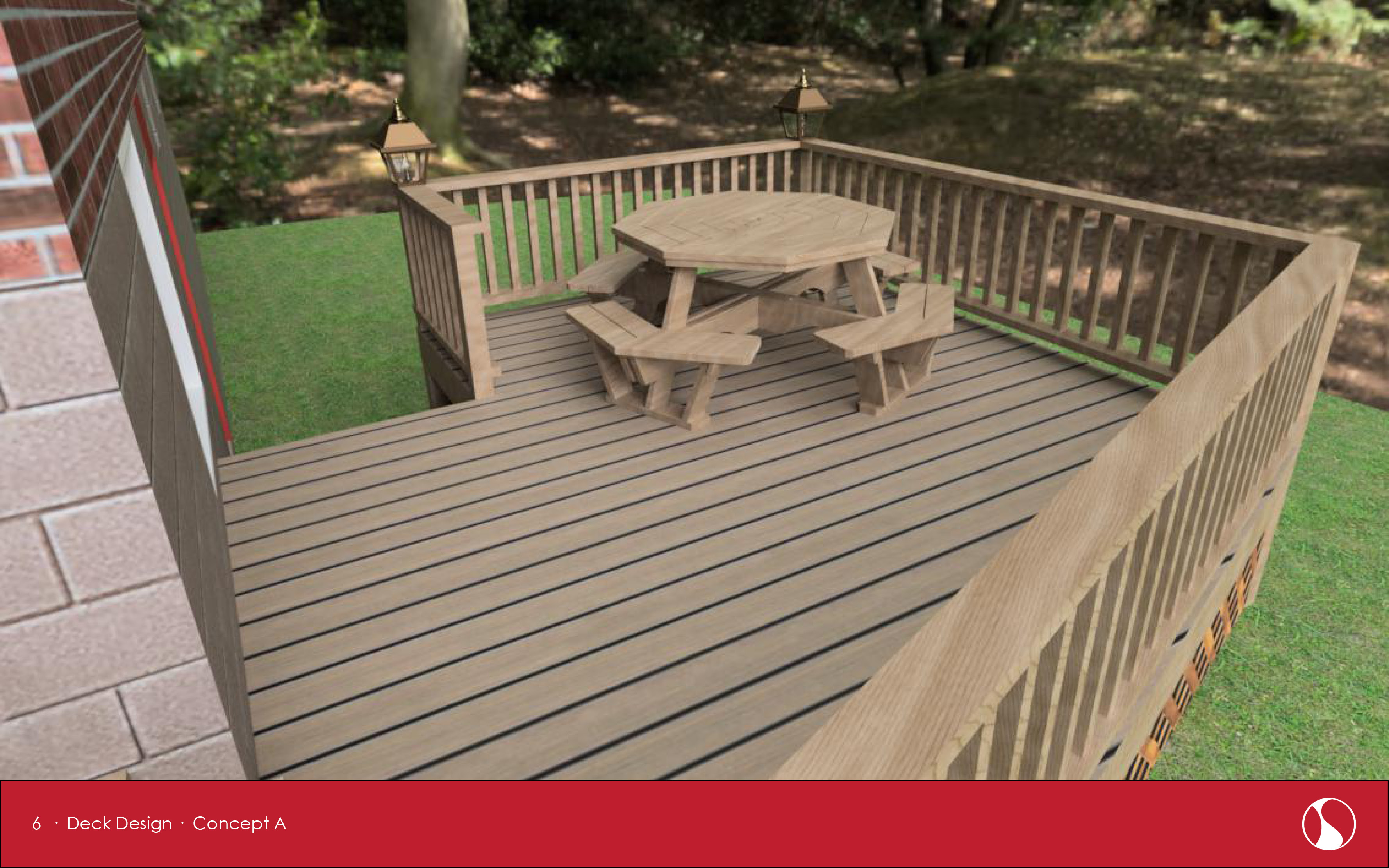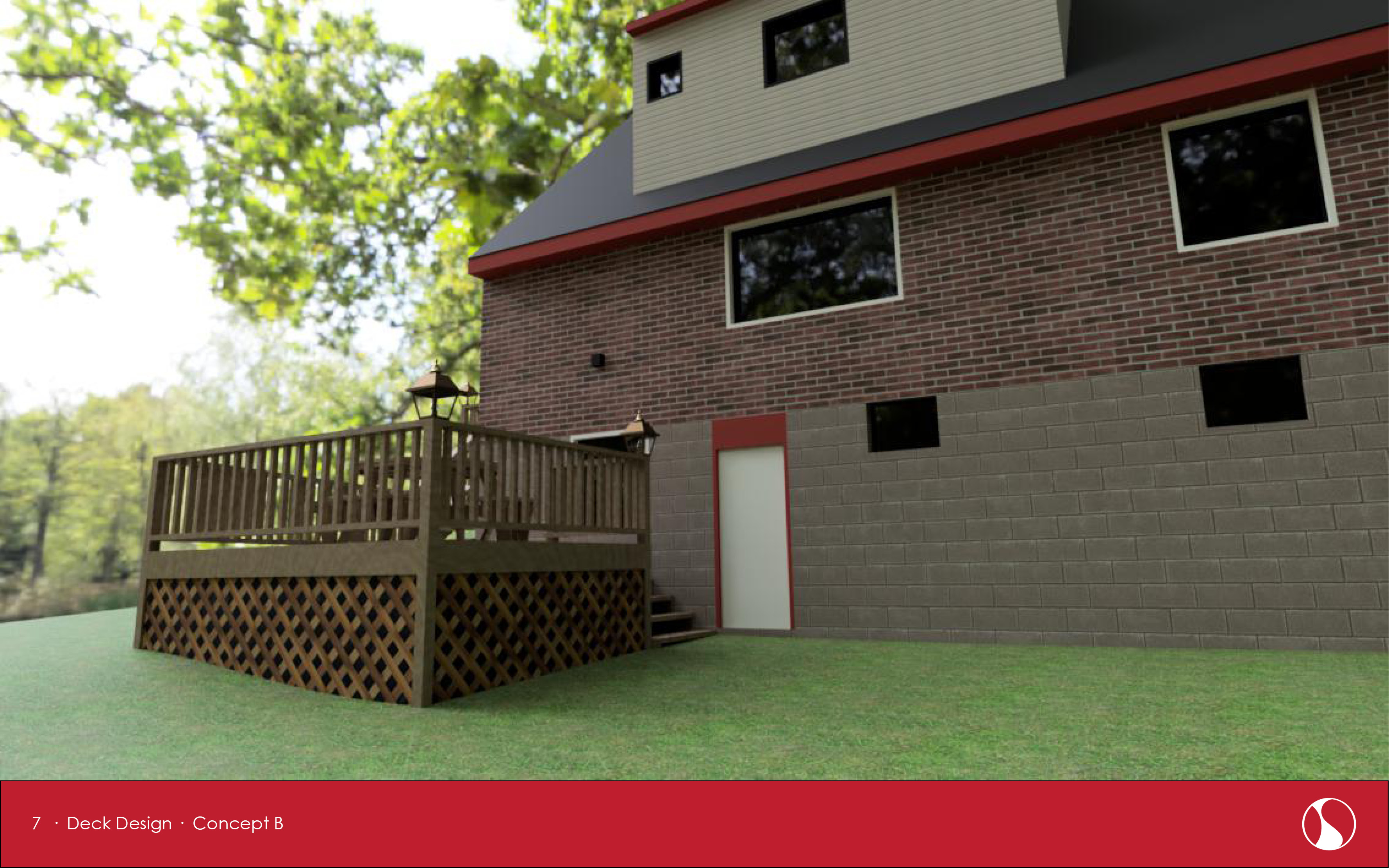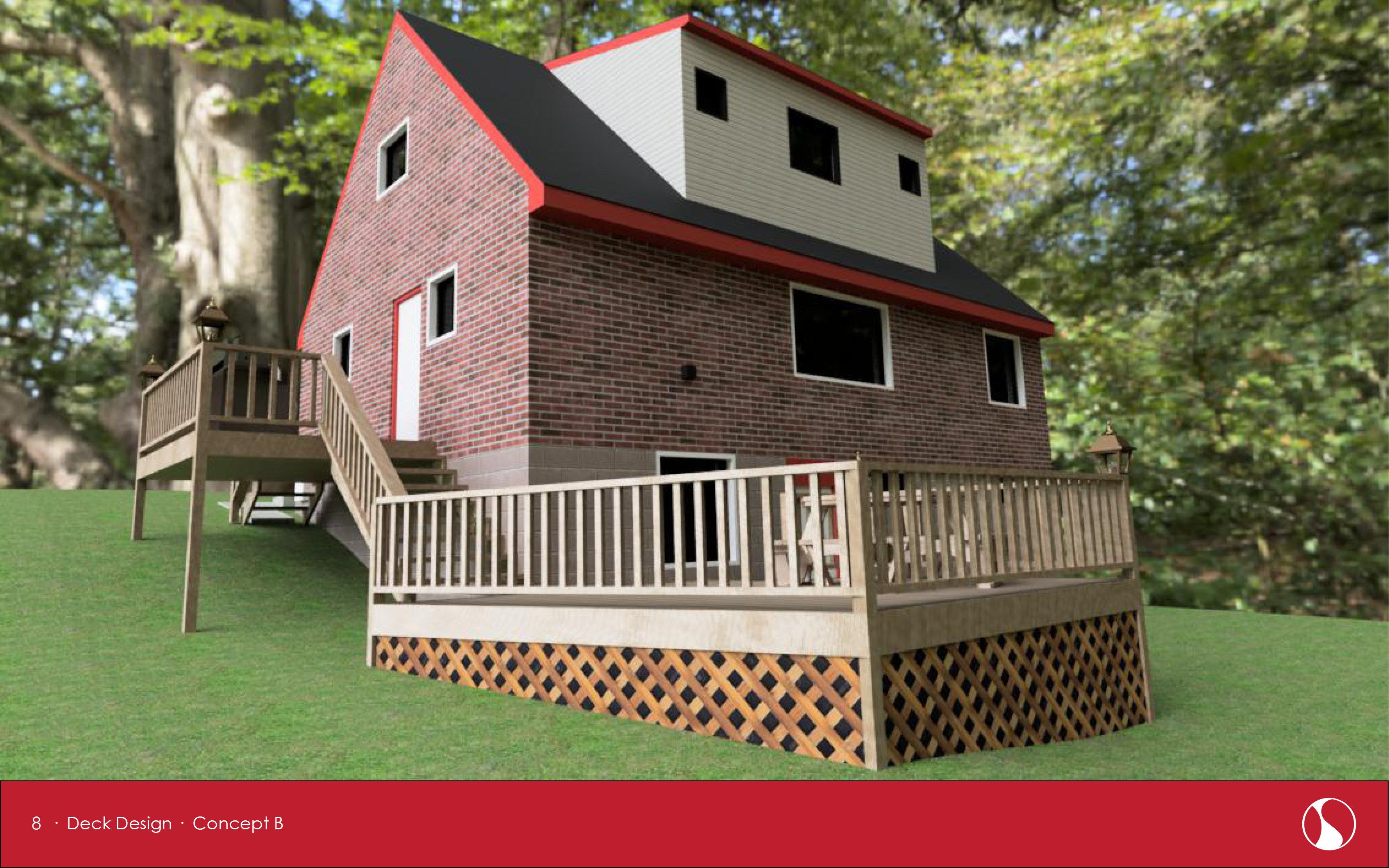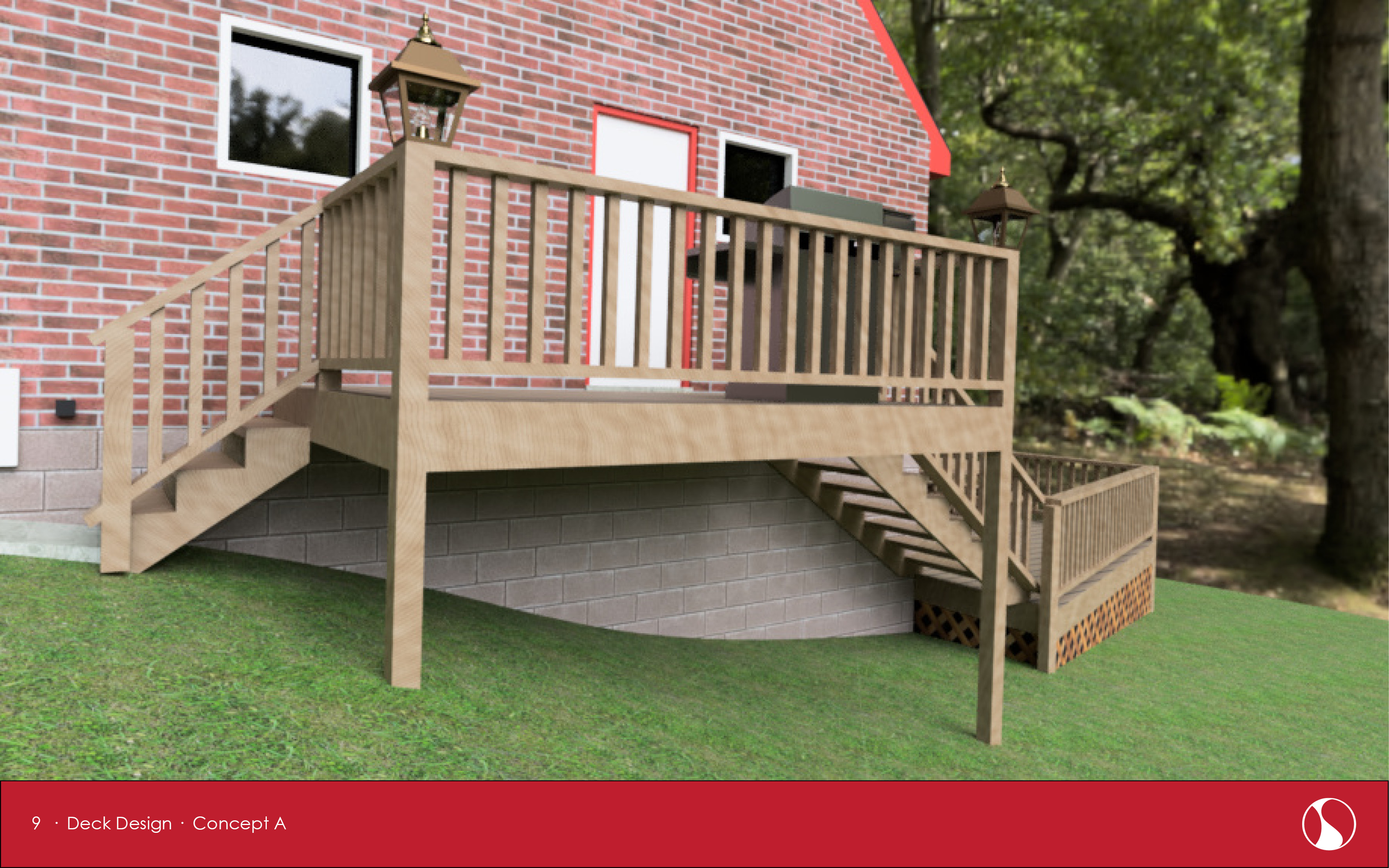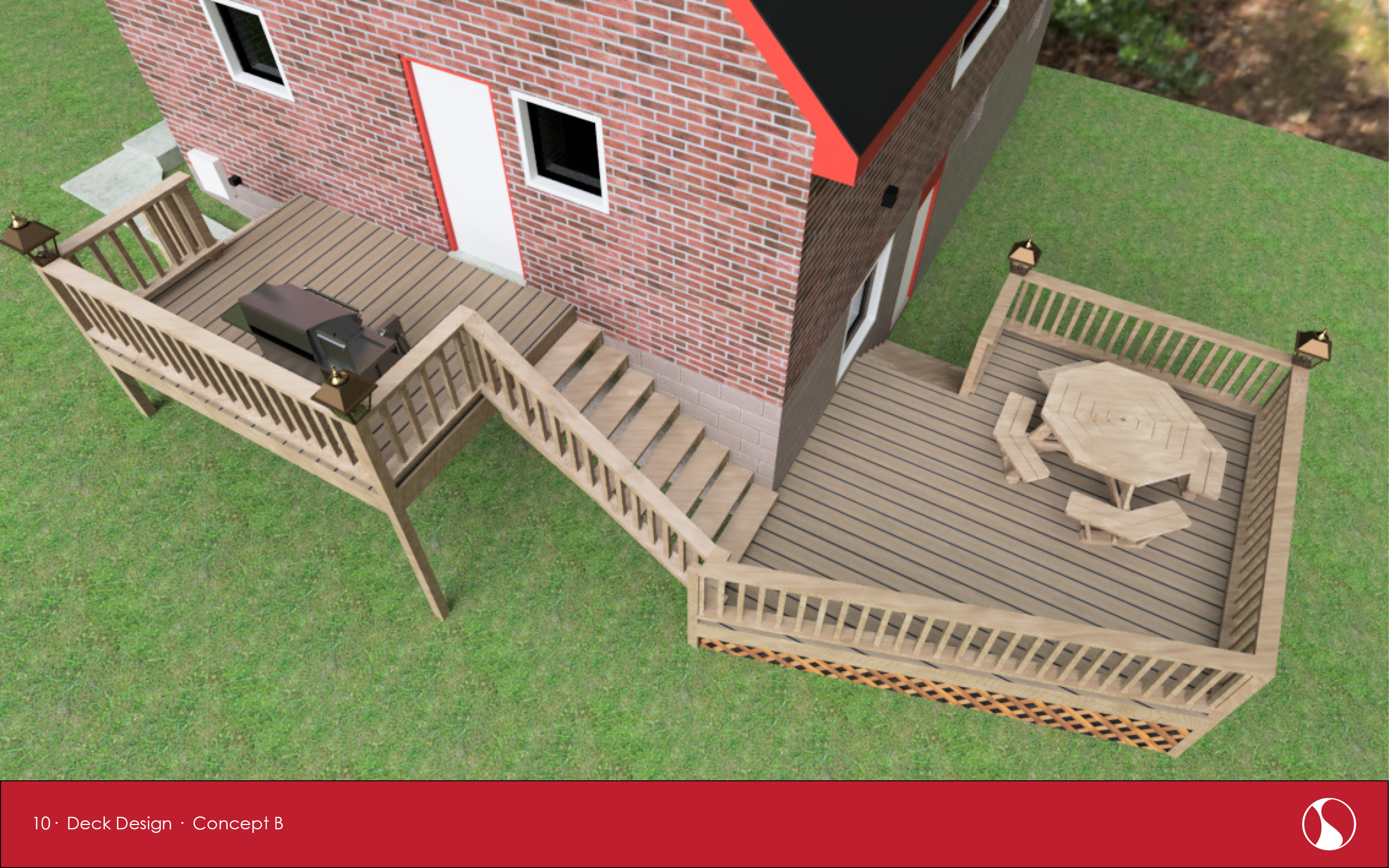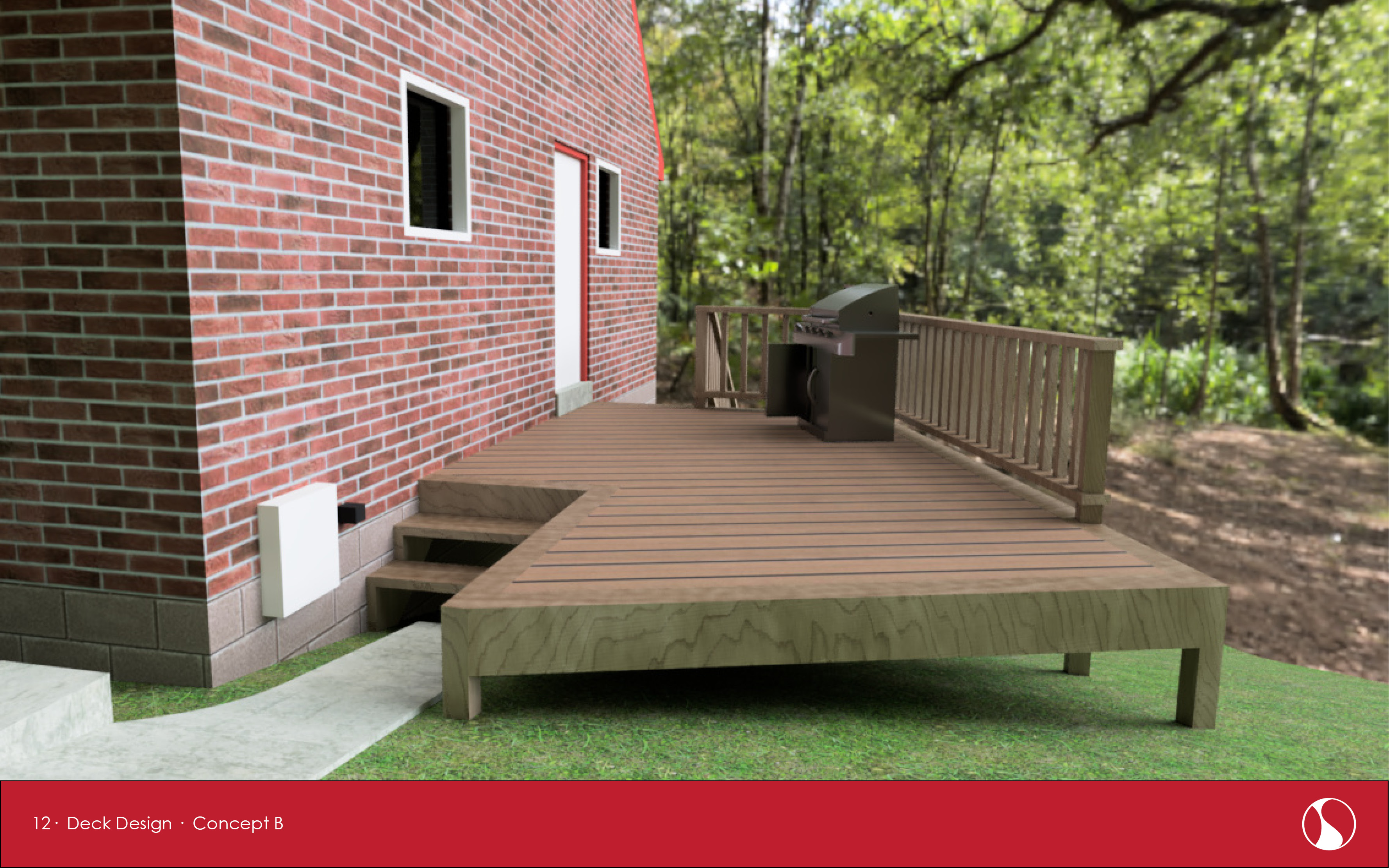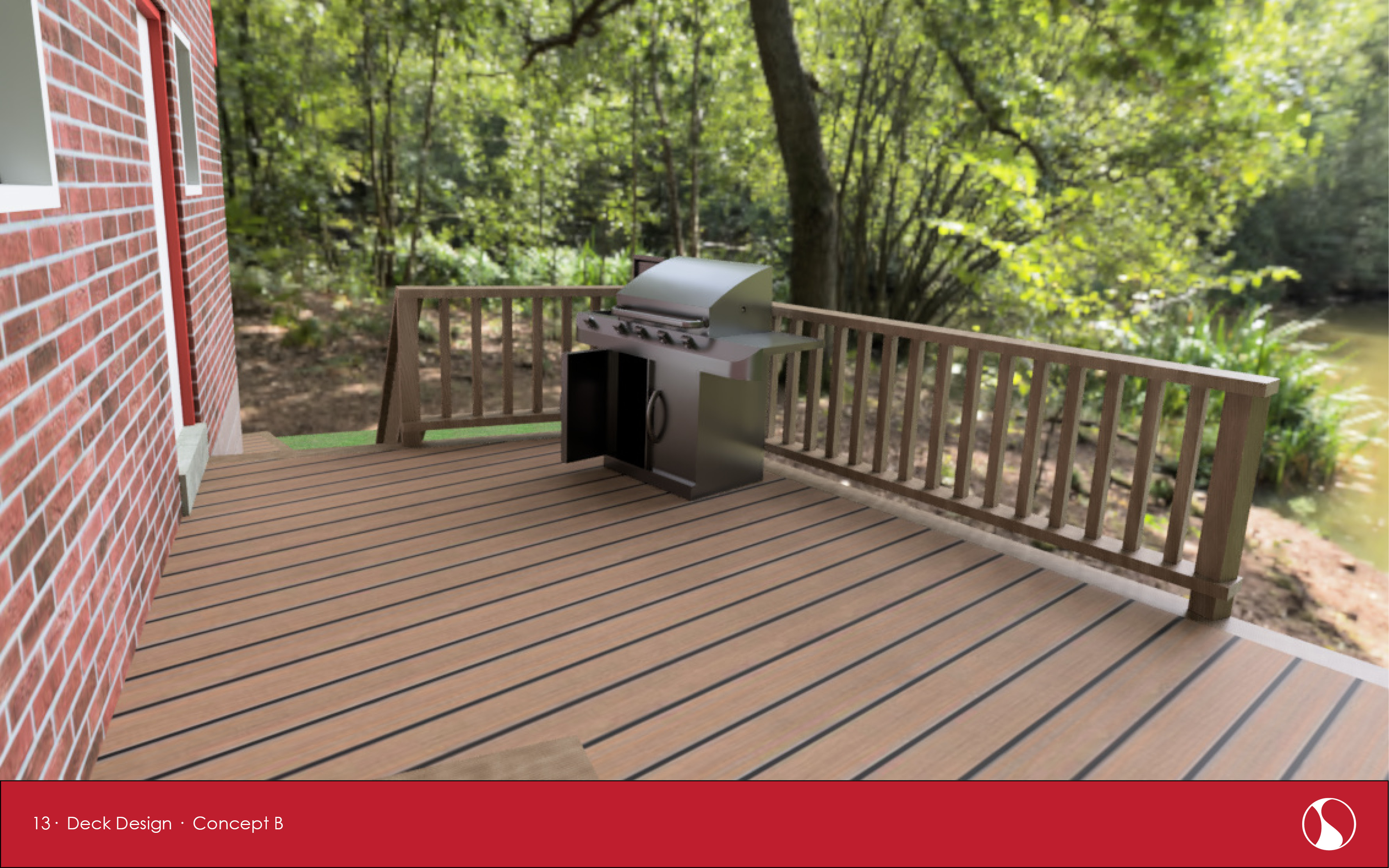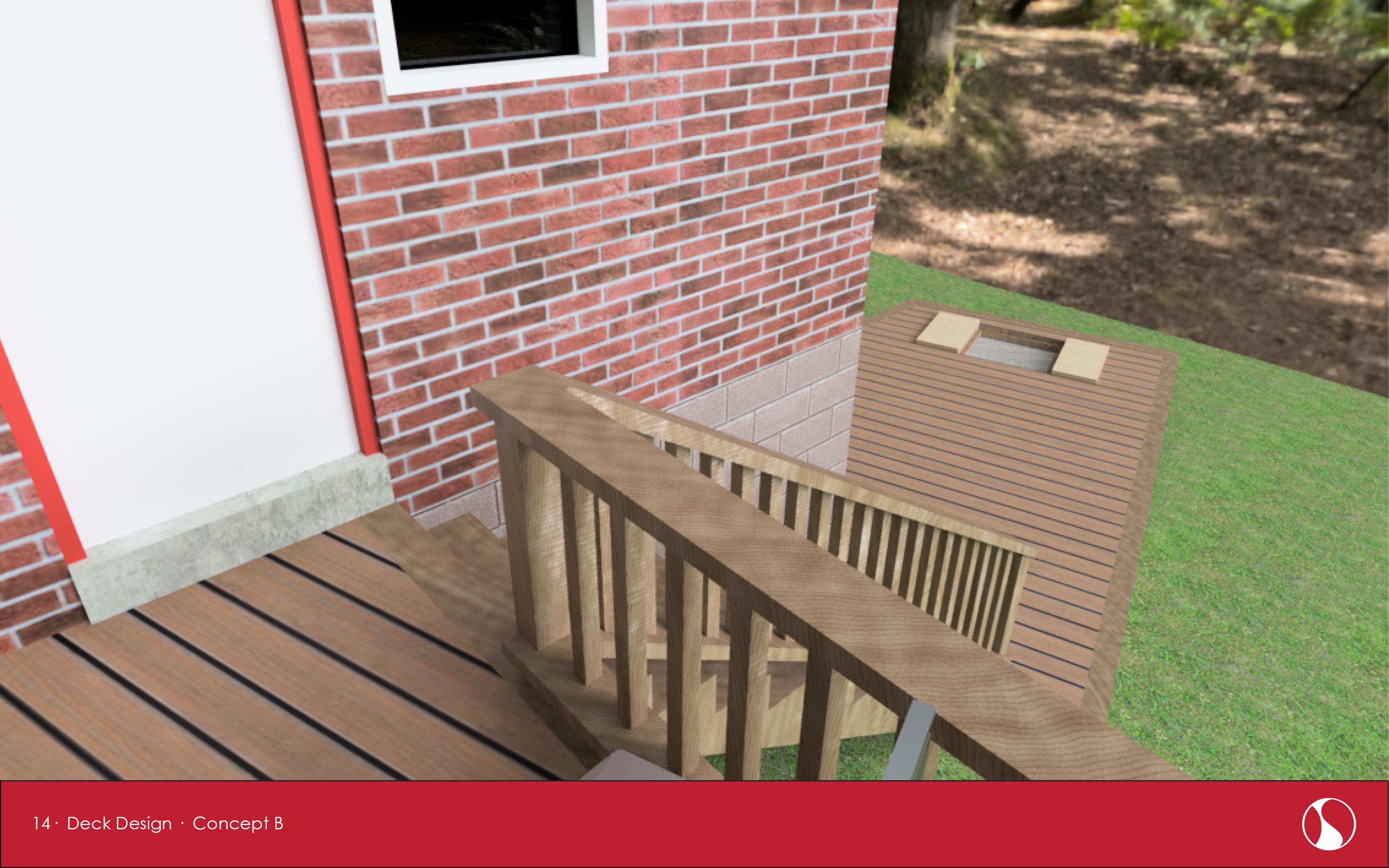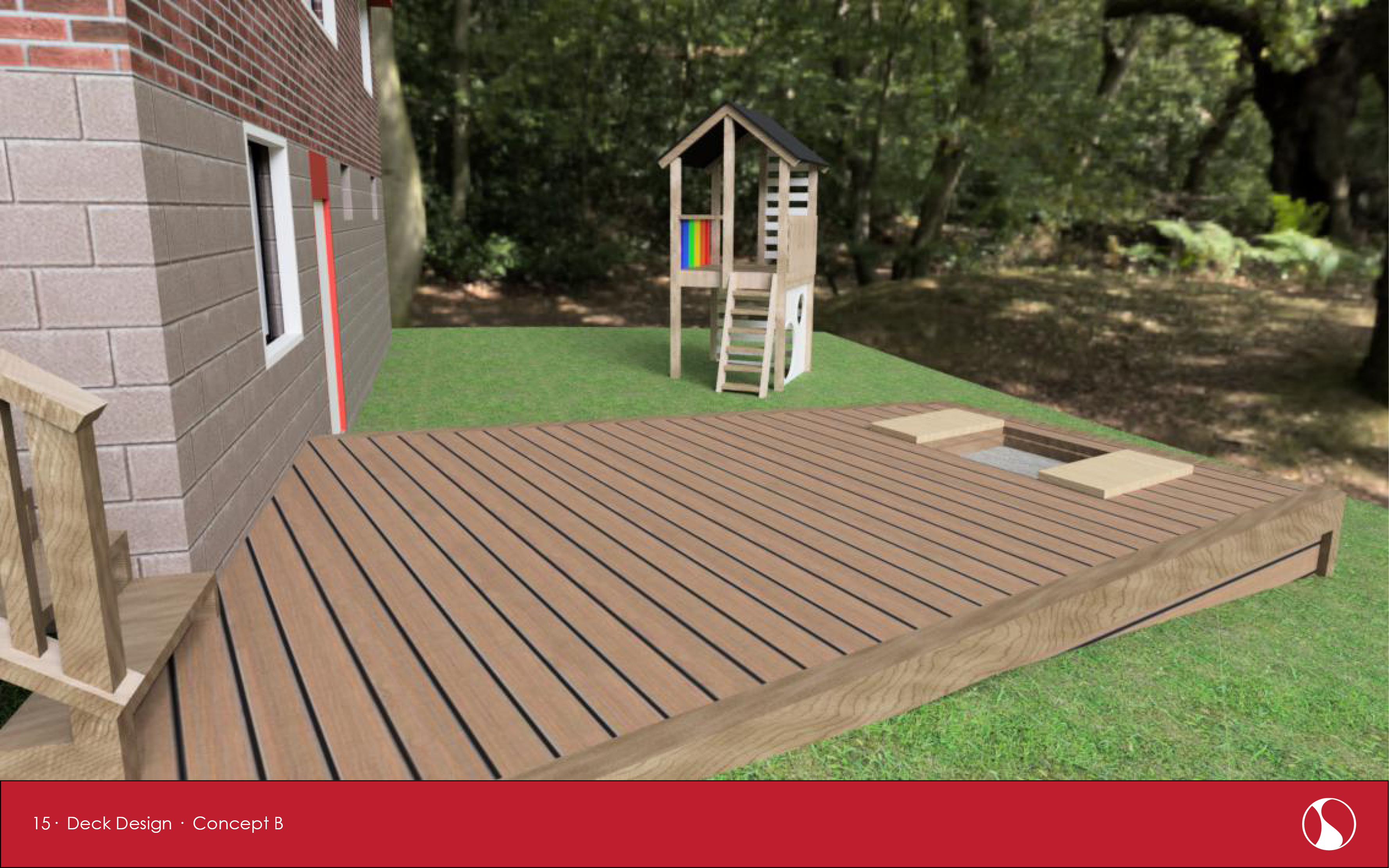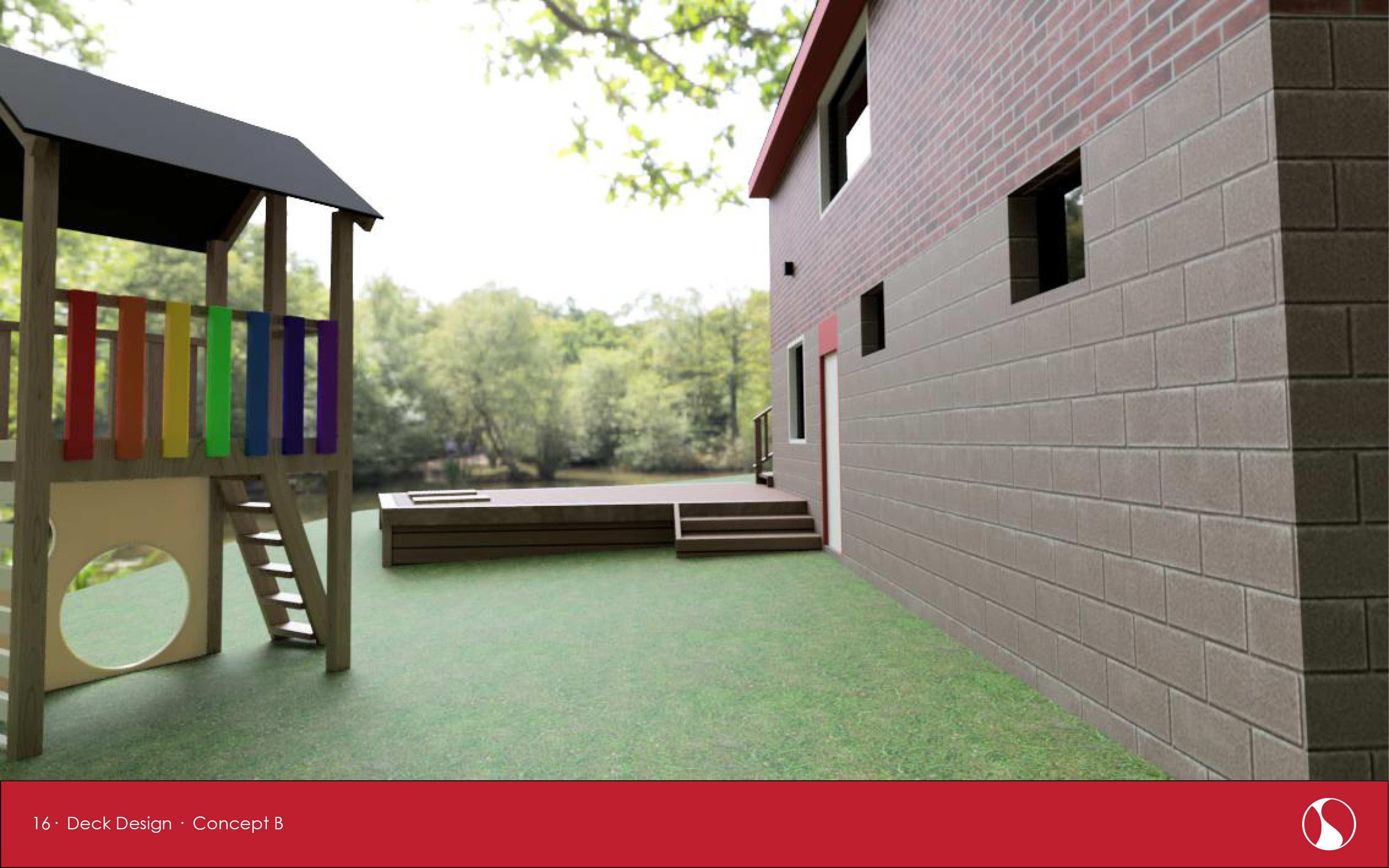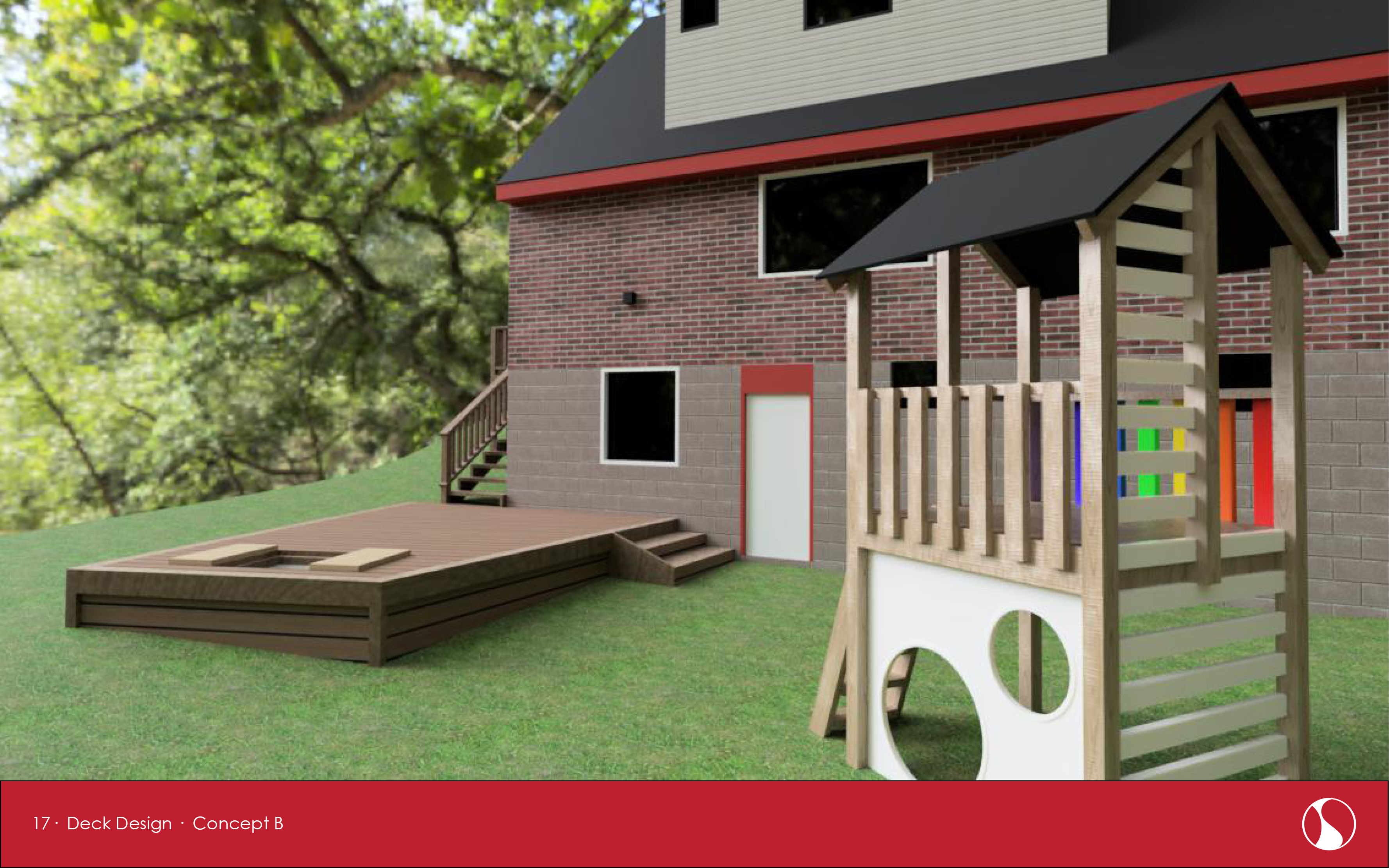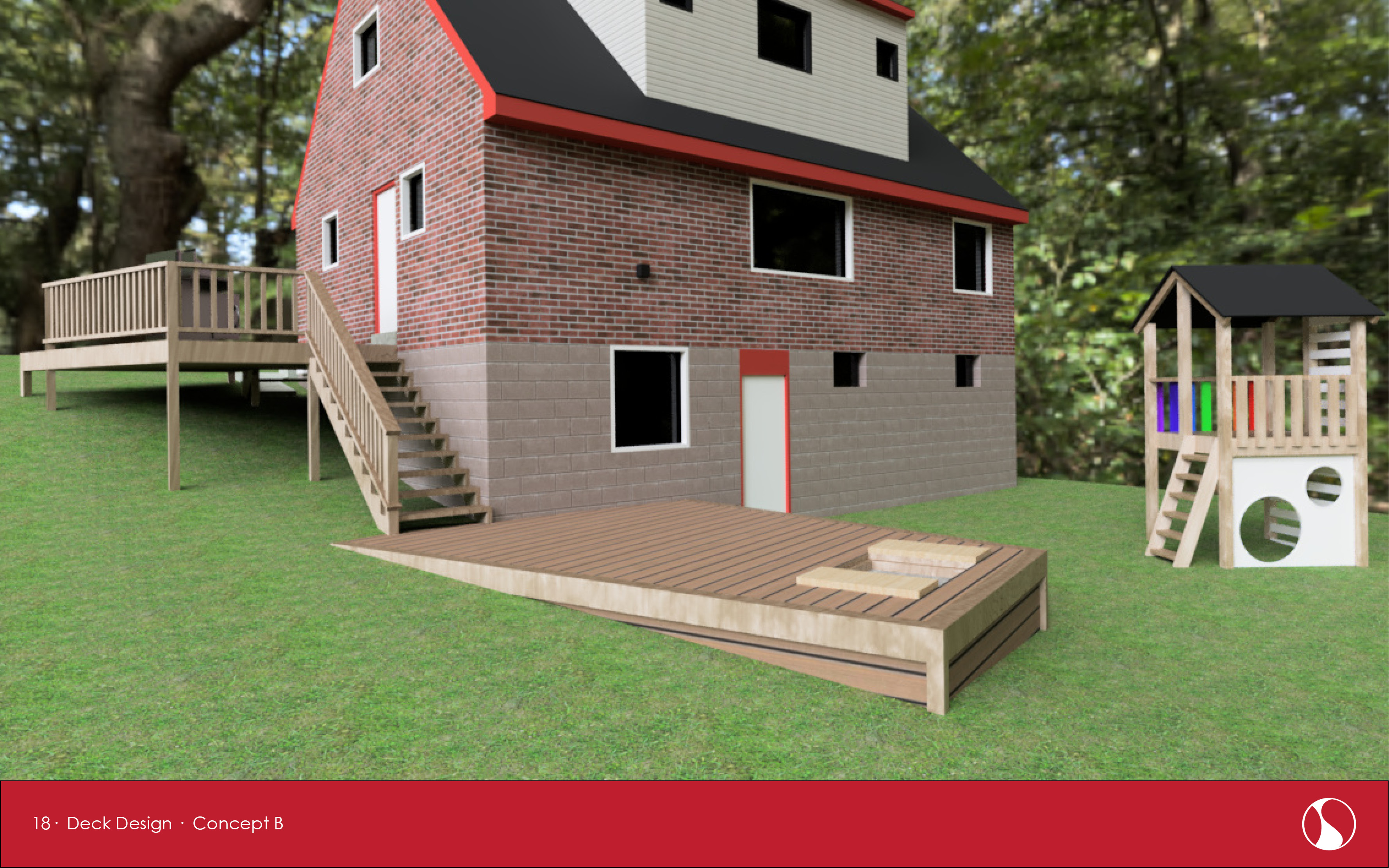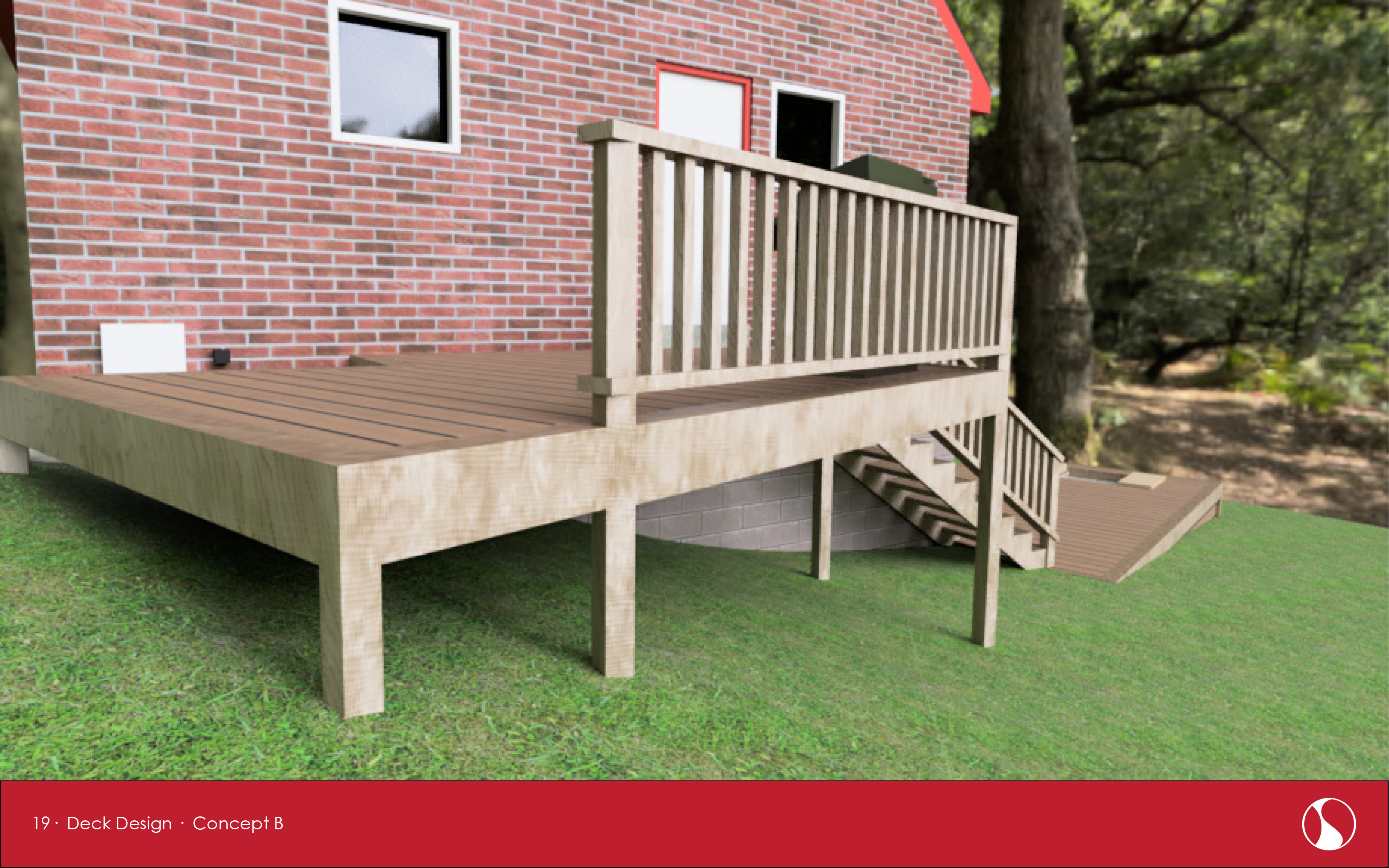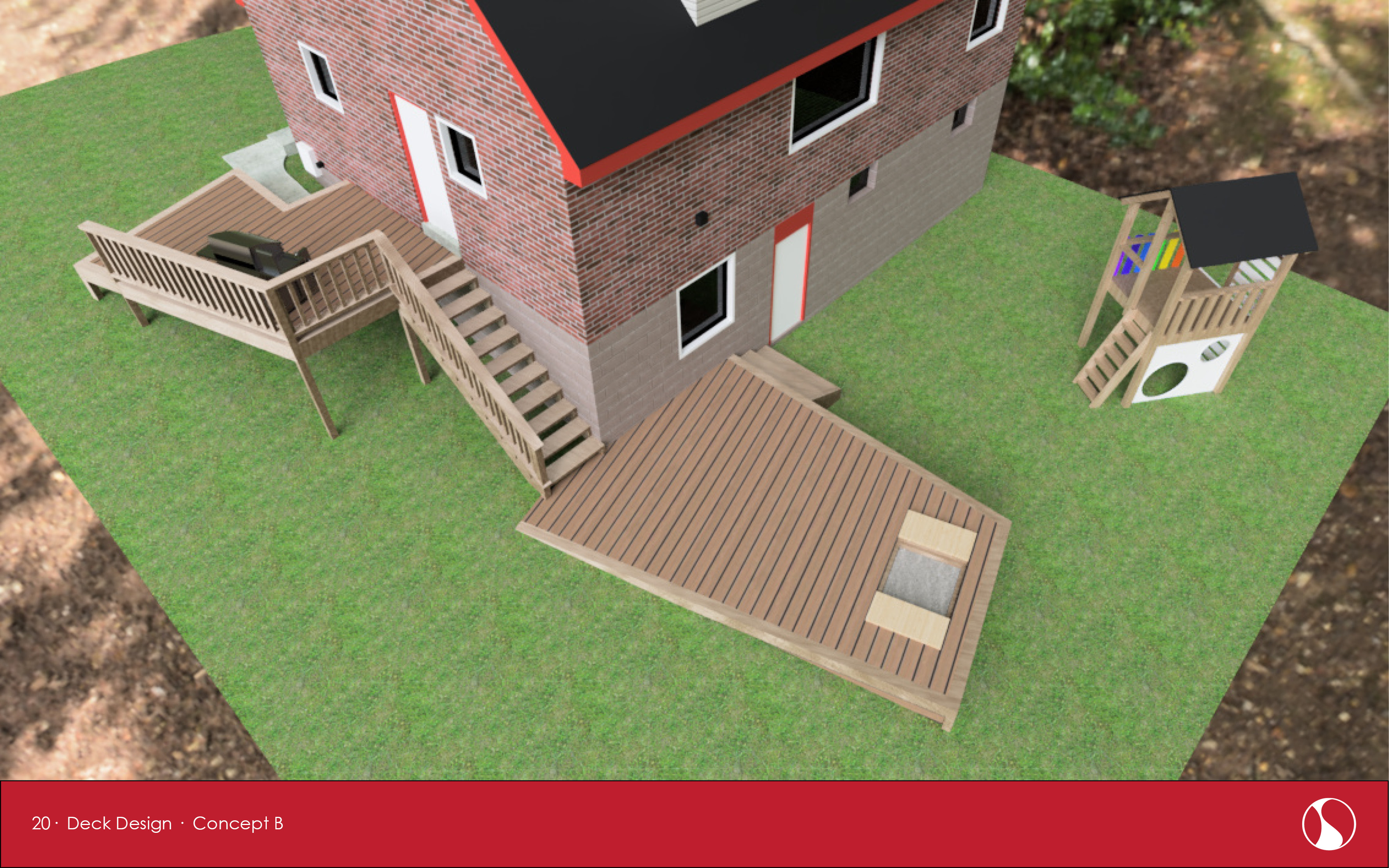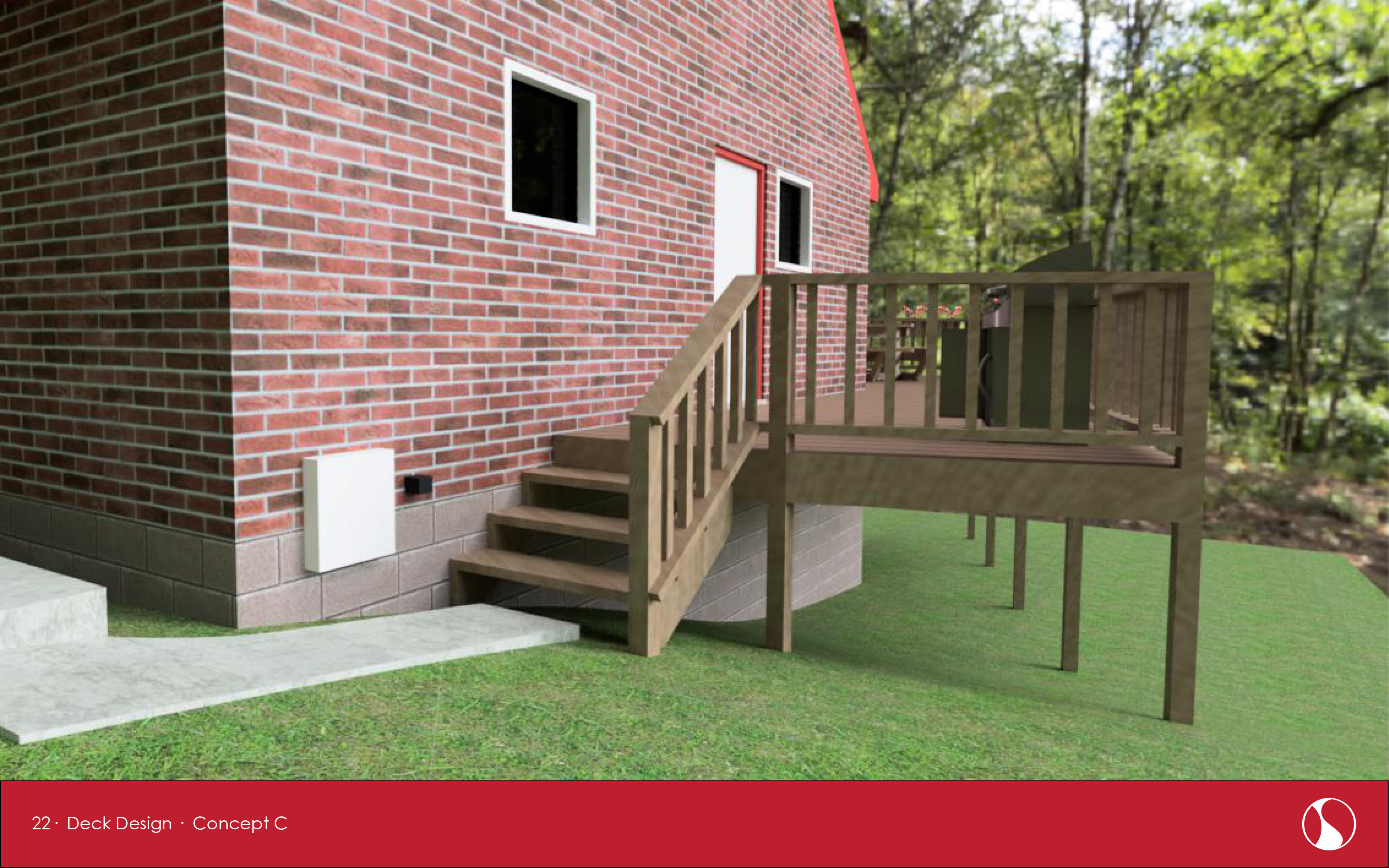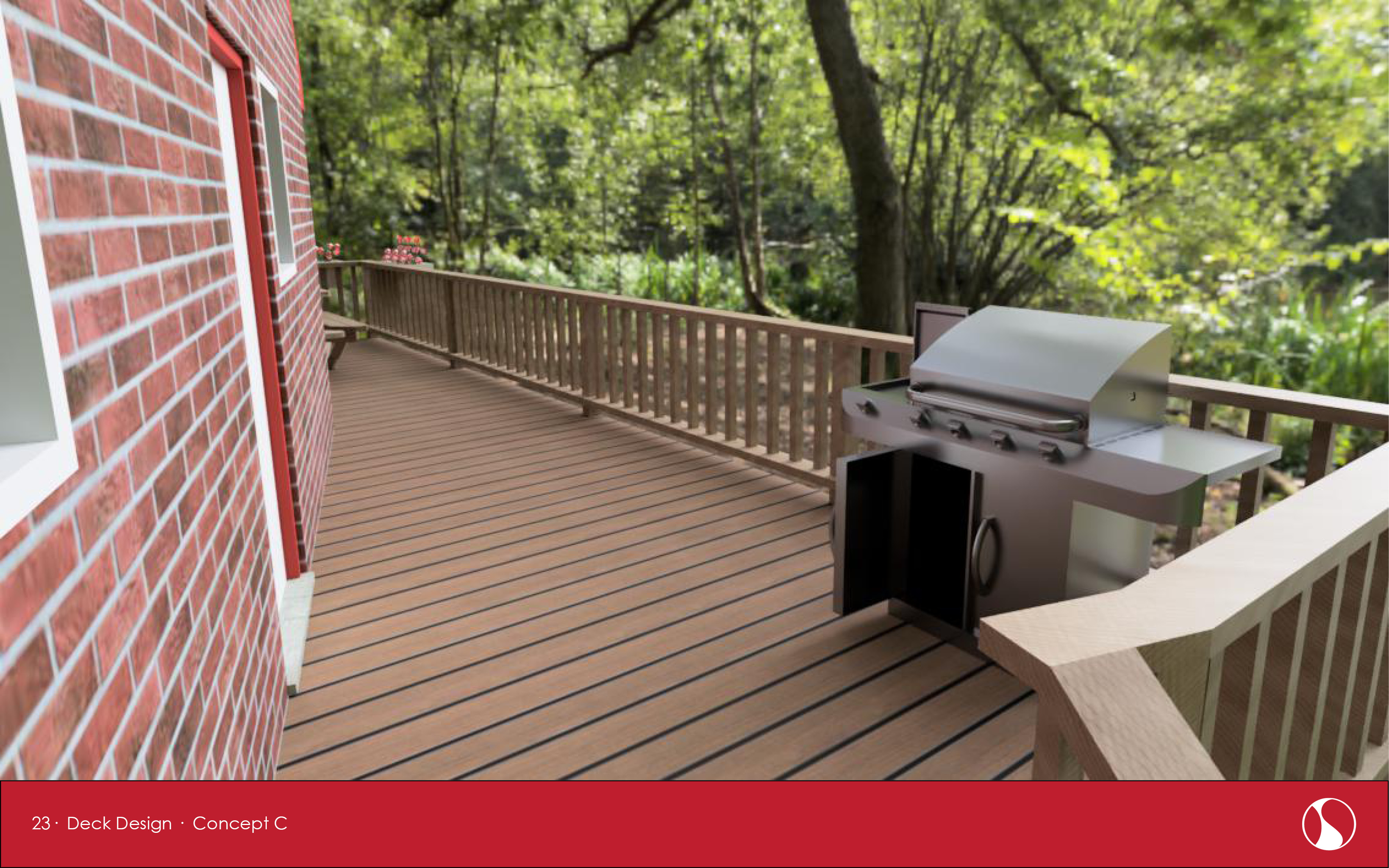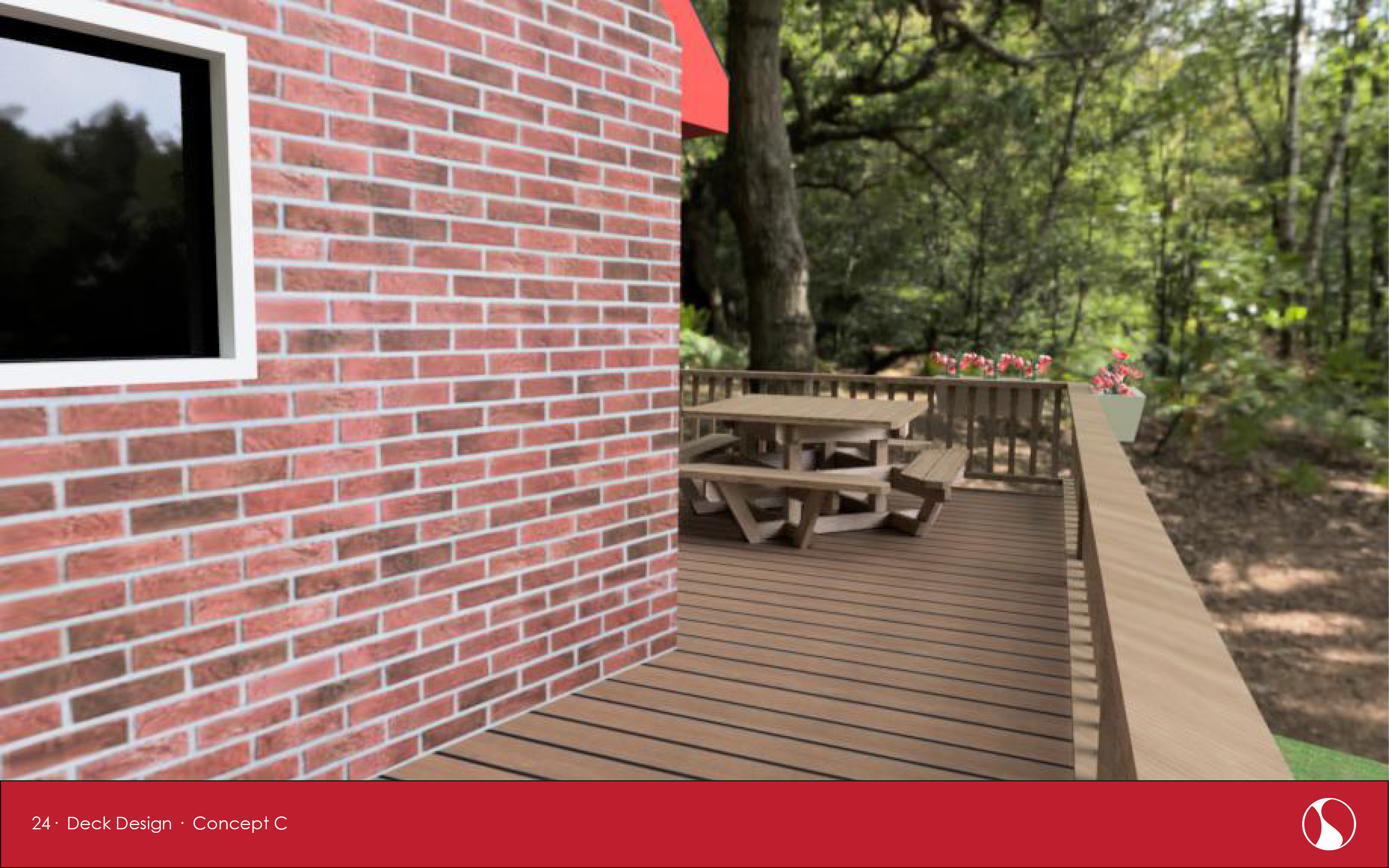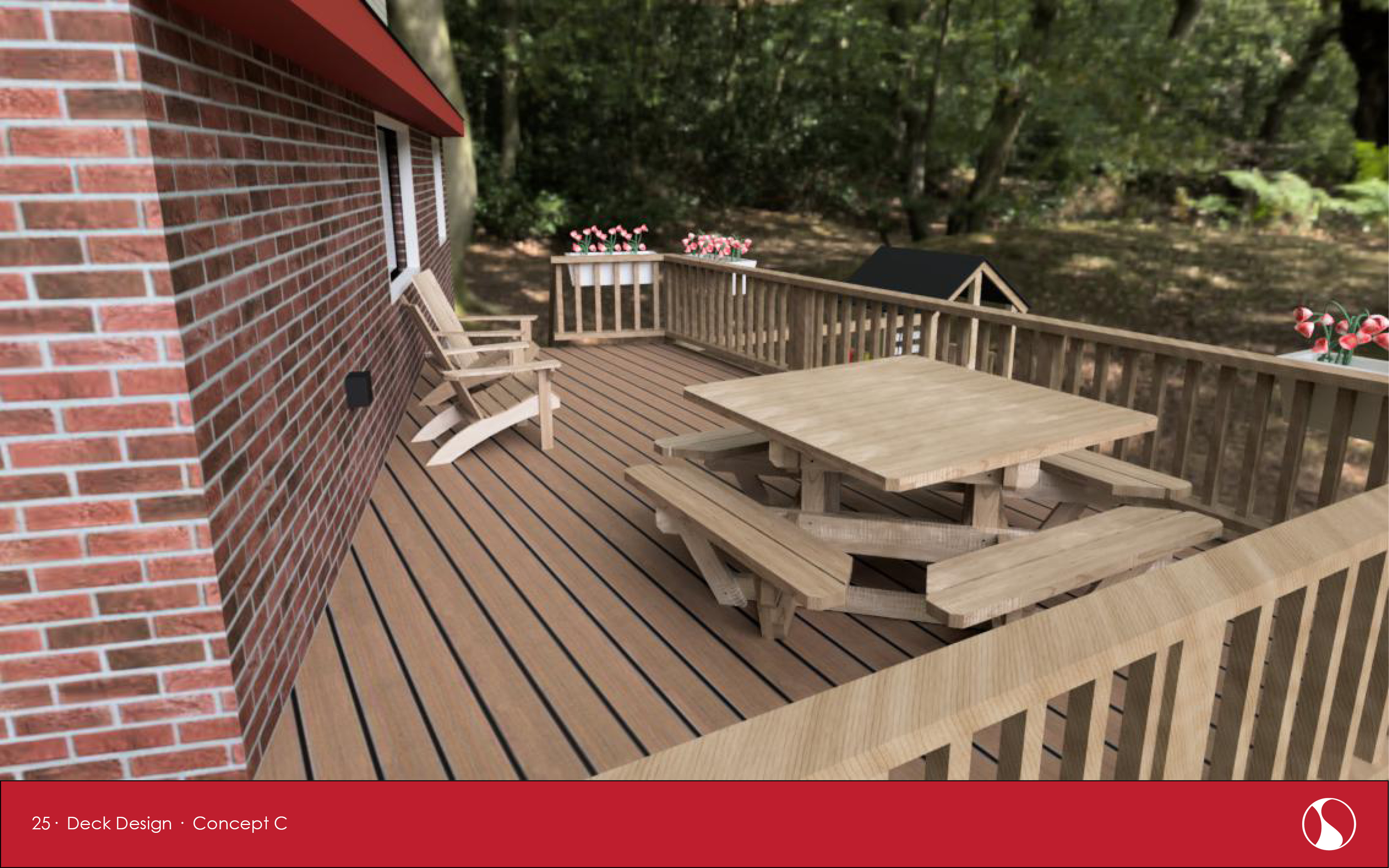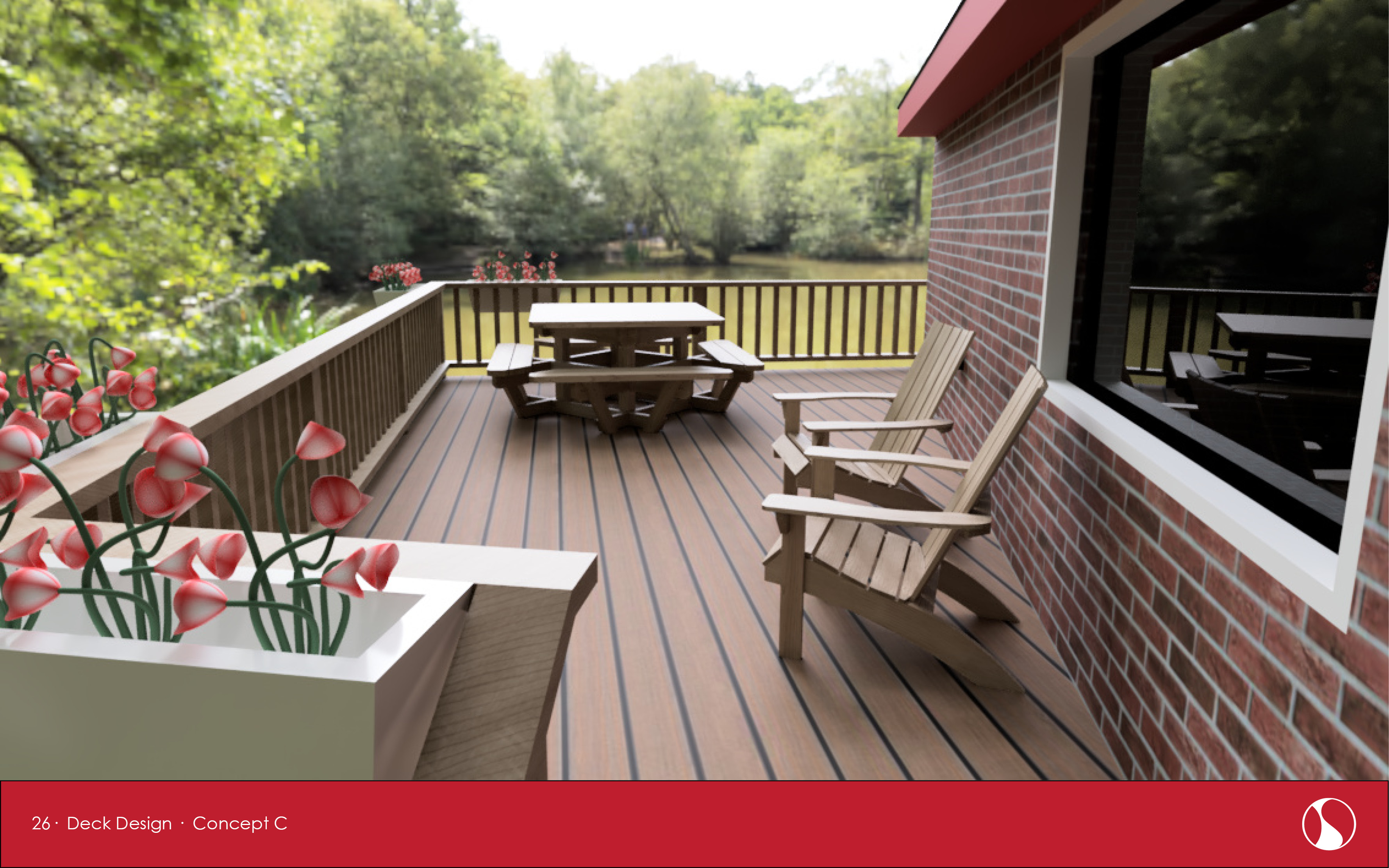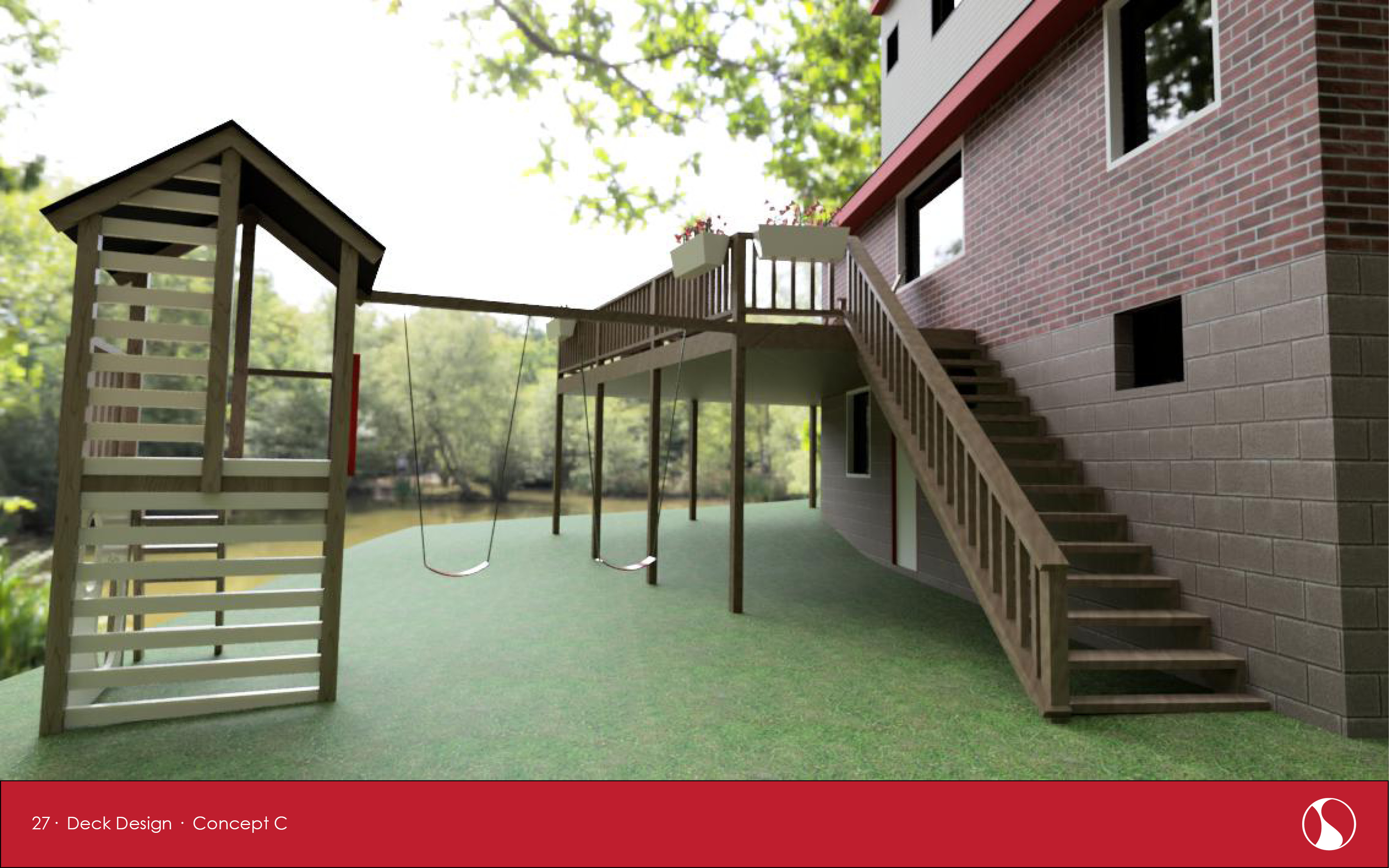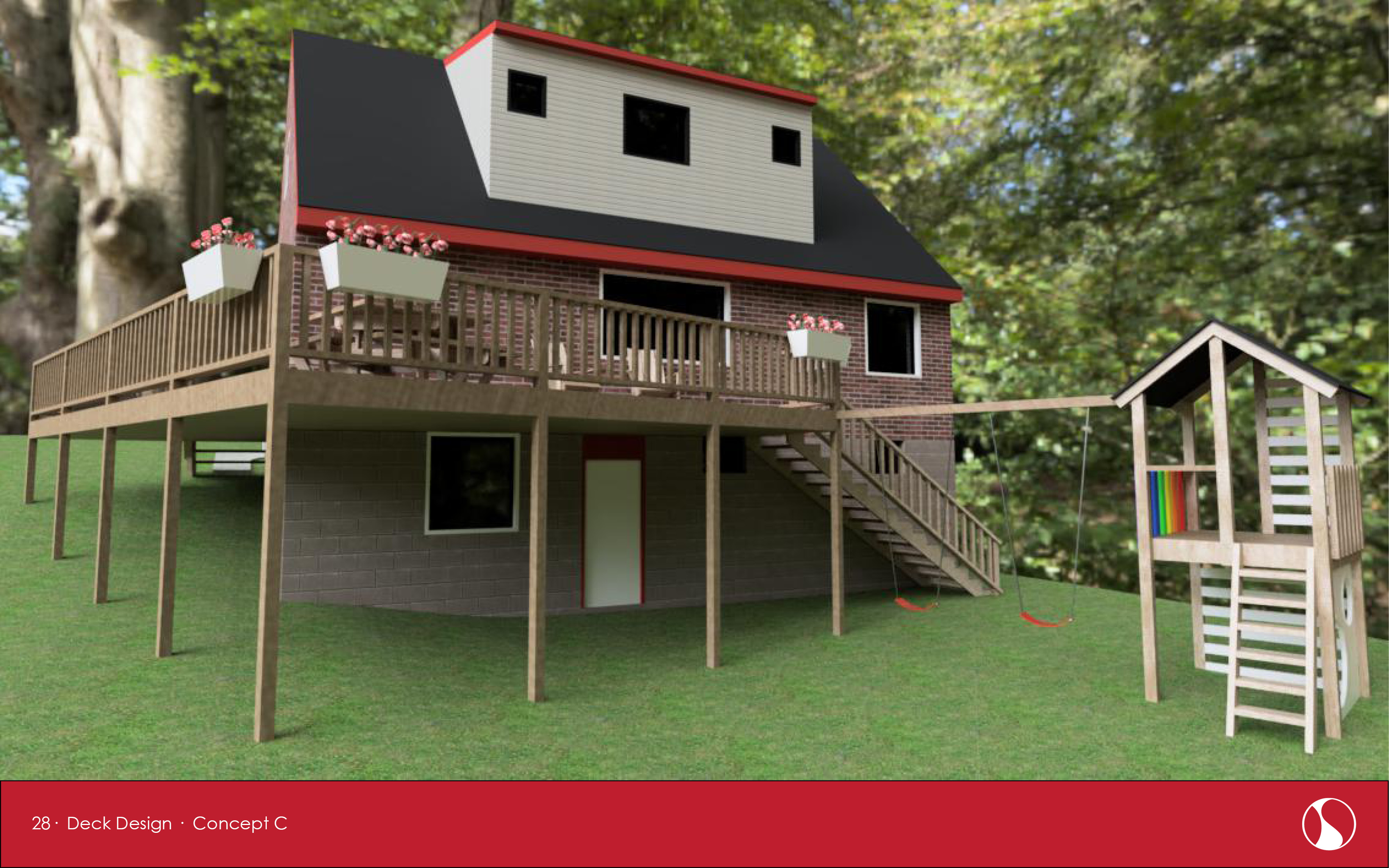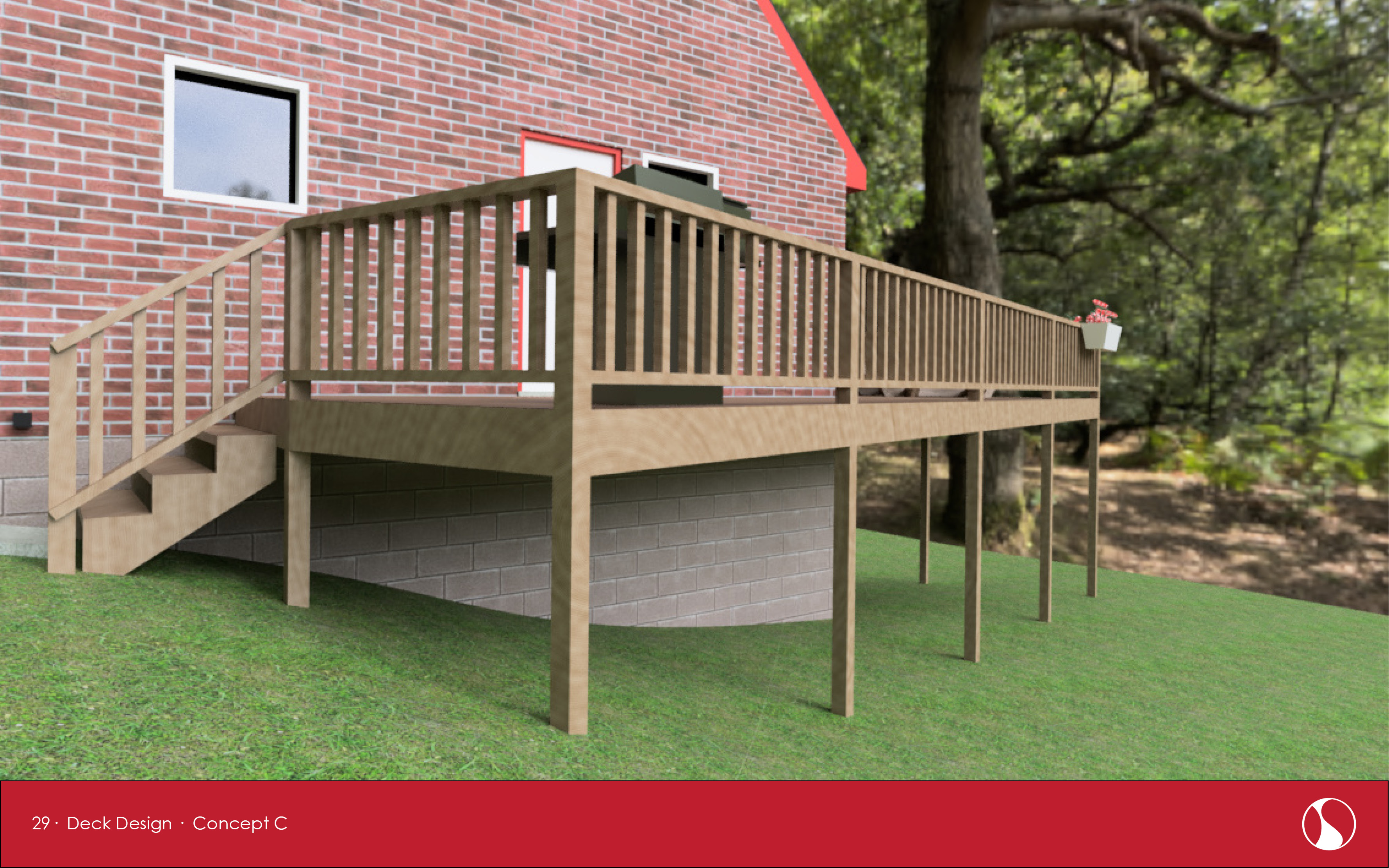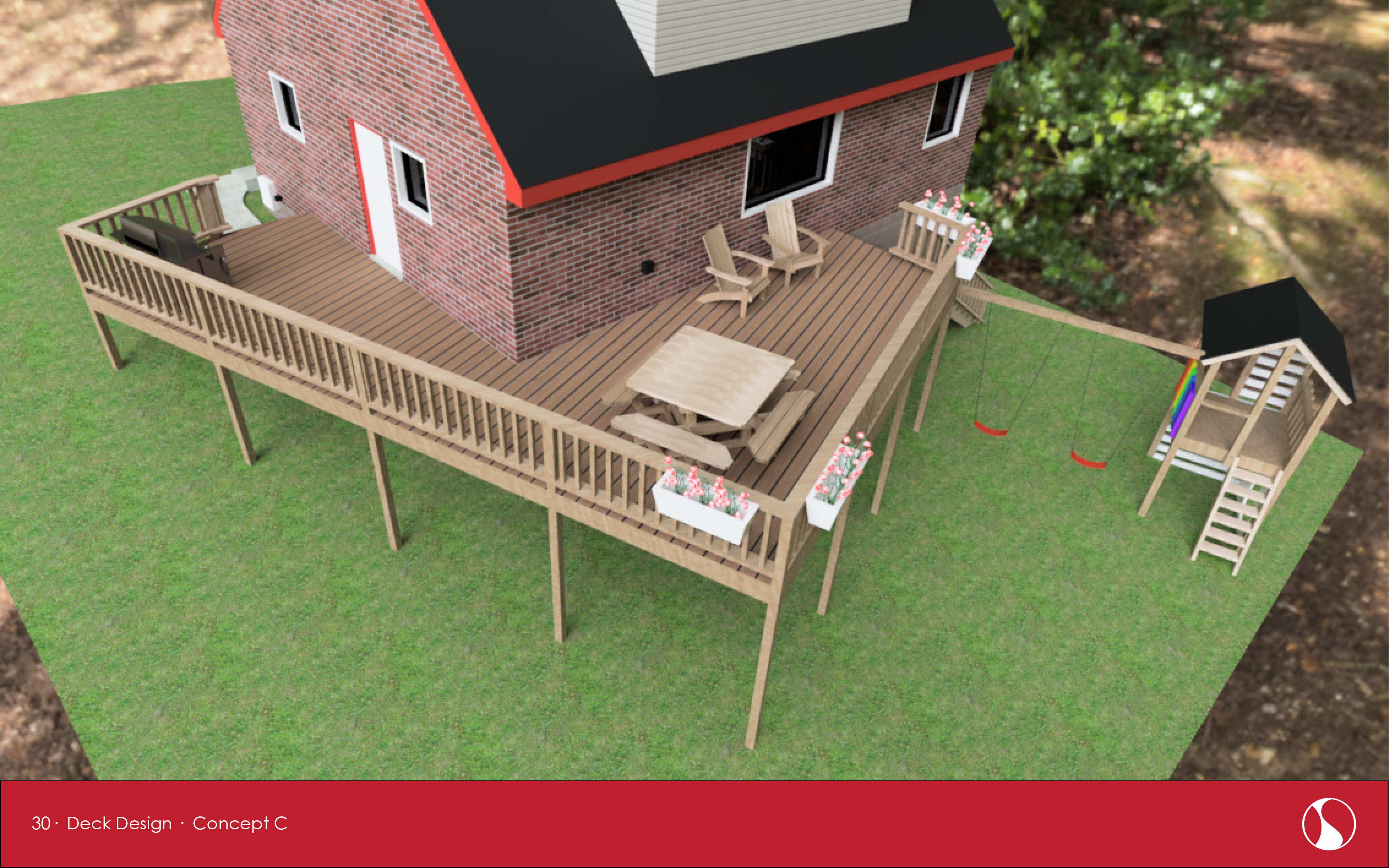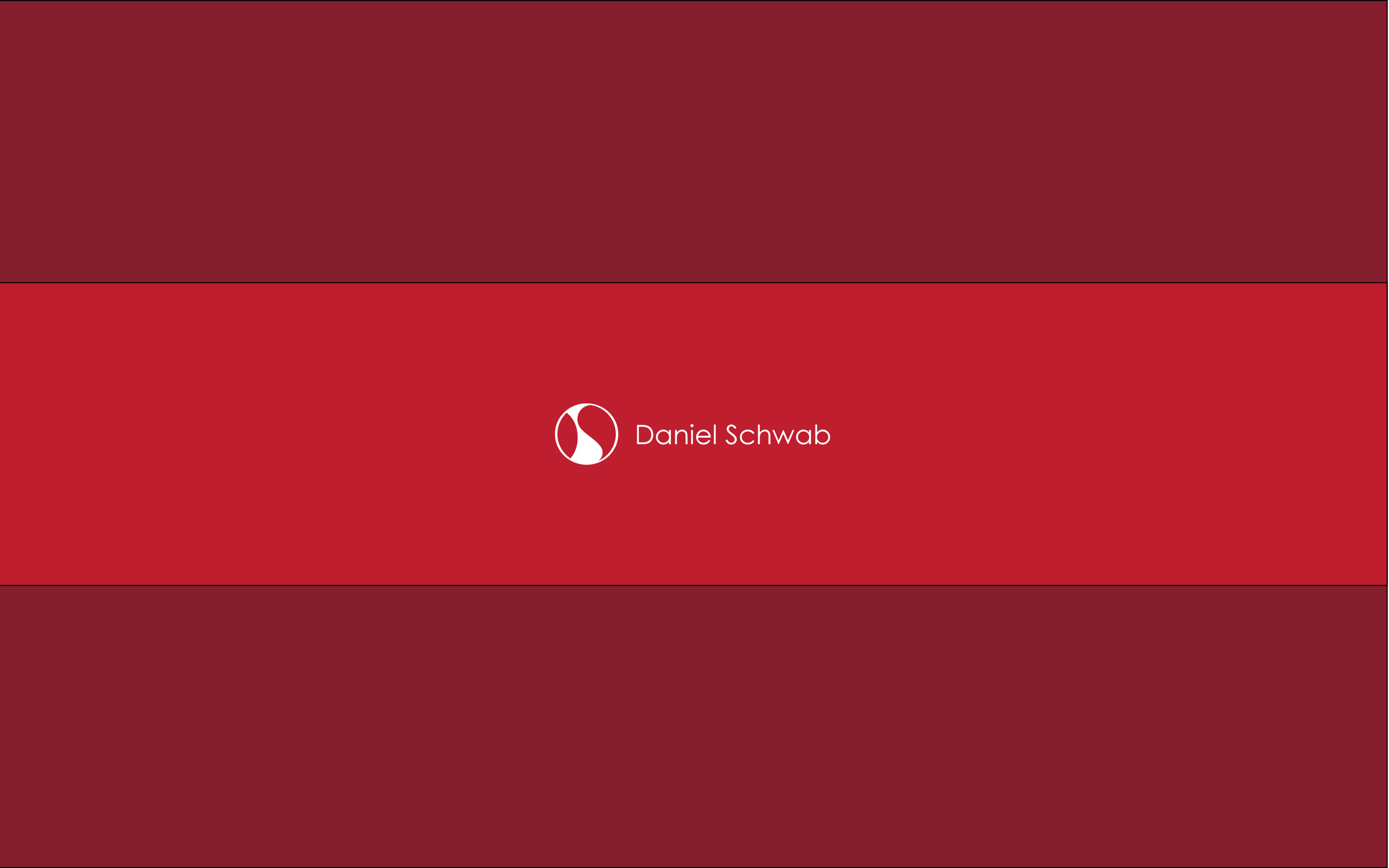 I modeled the house, decks, and playset. I did not model the deck furniture.
---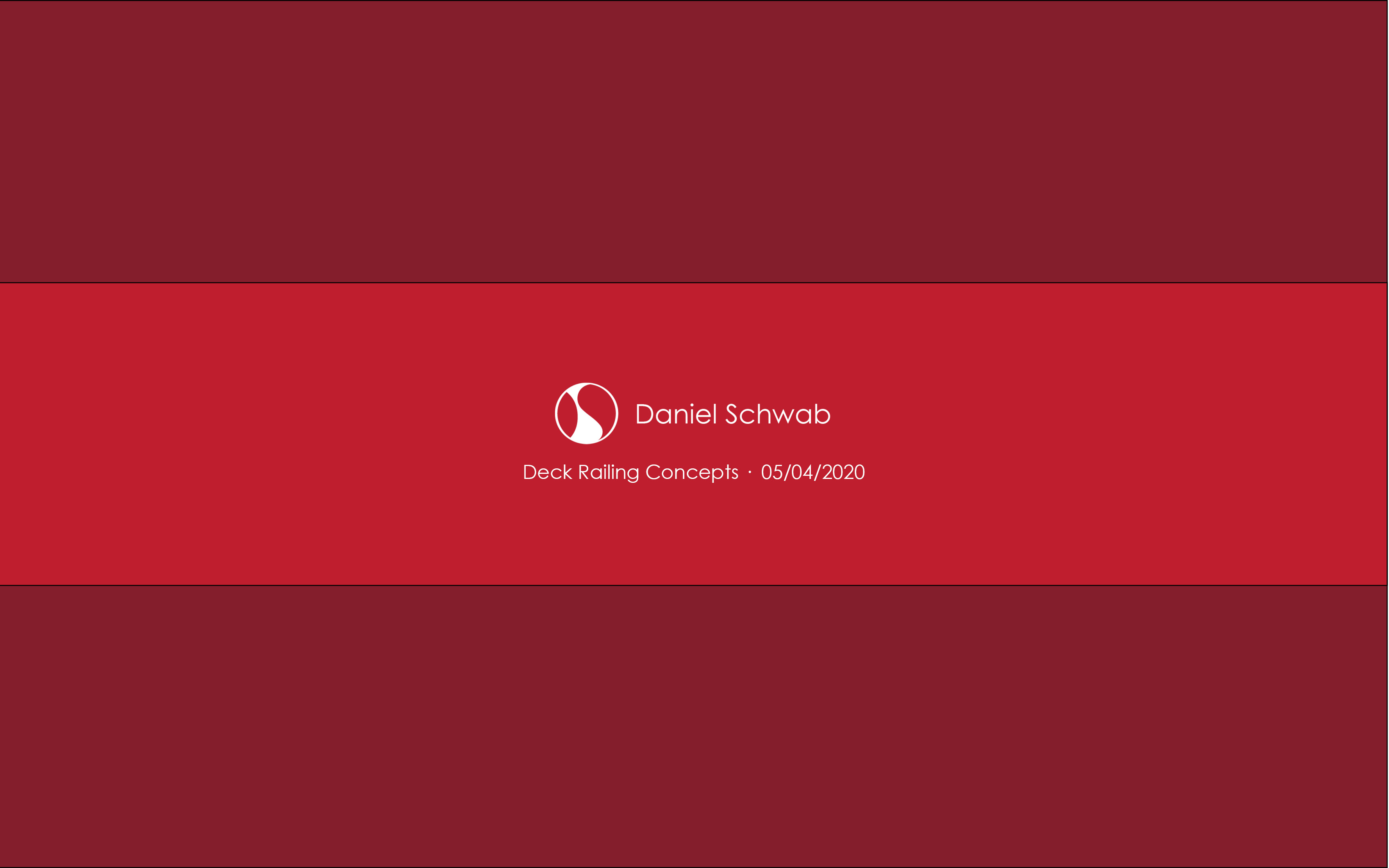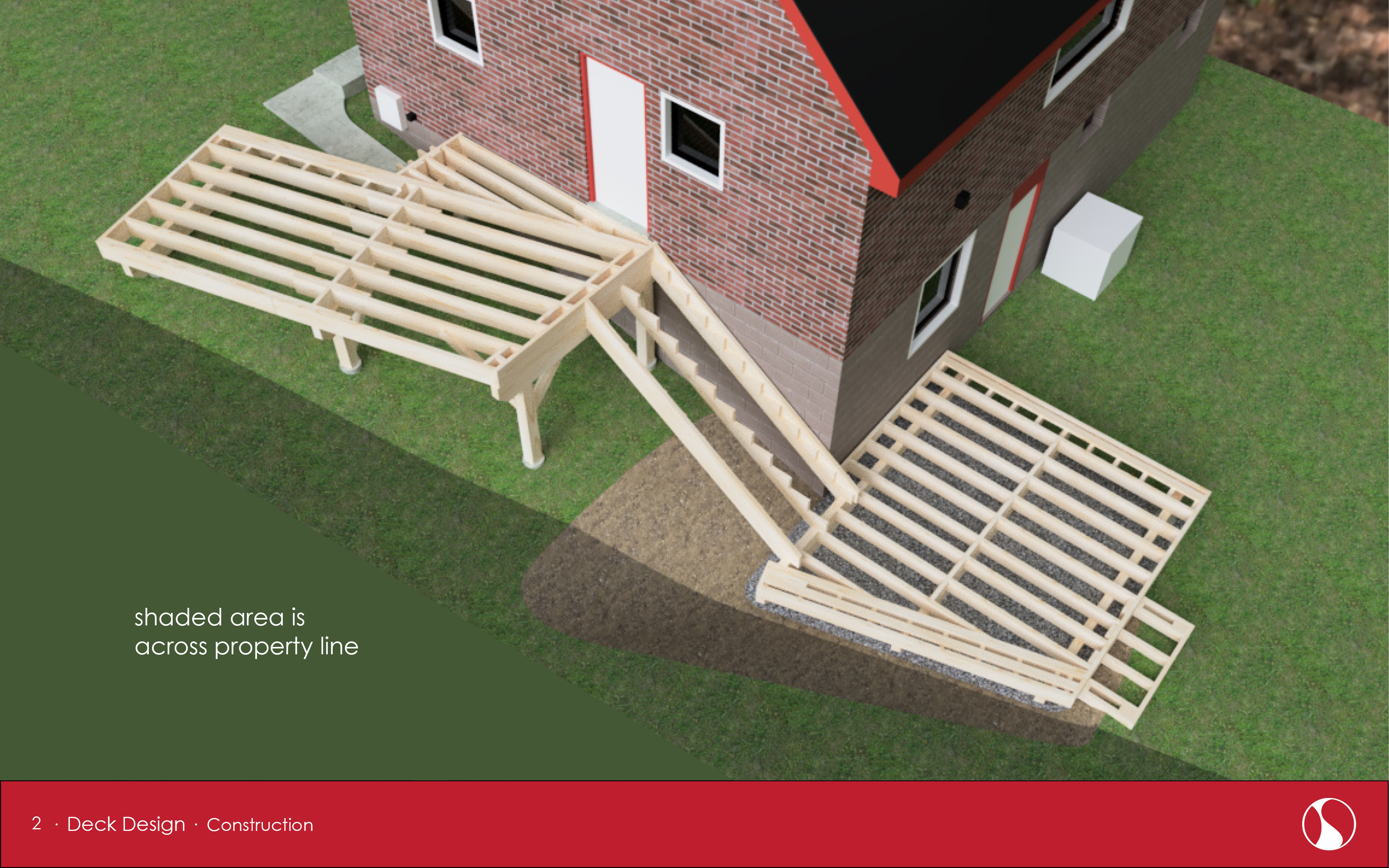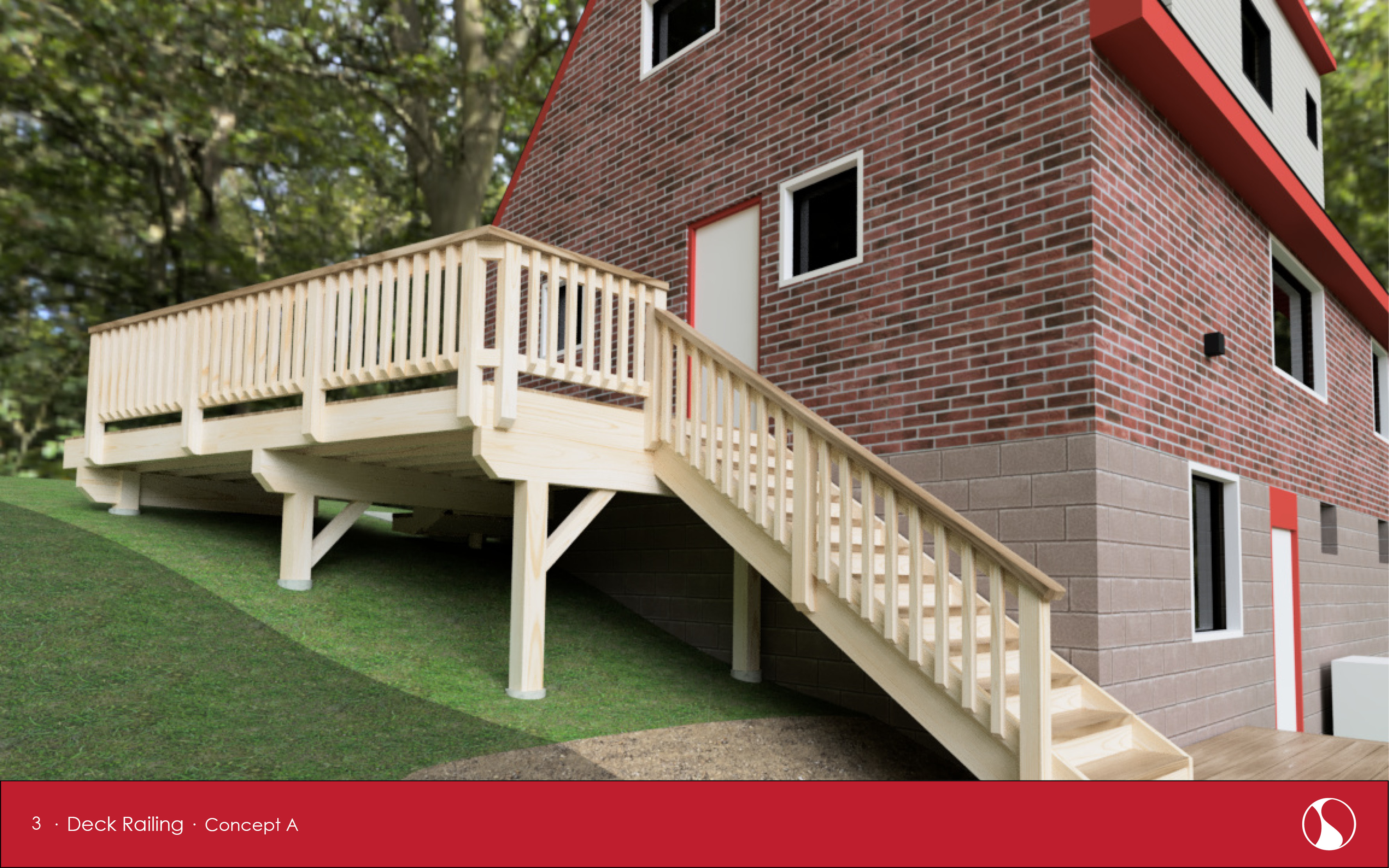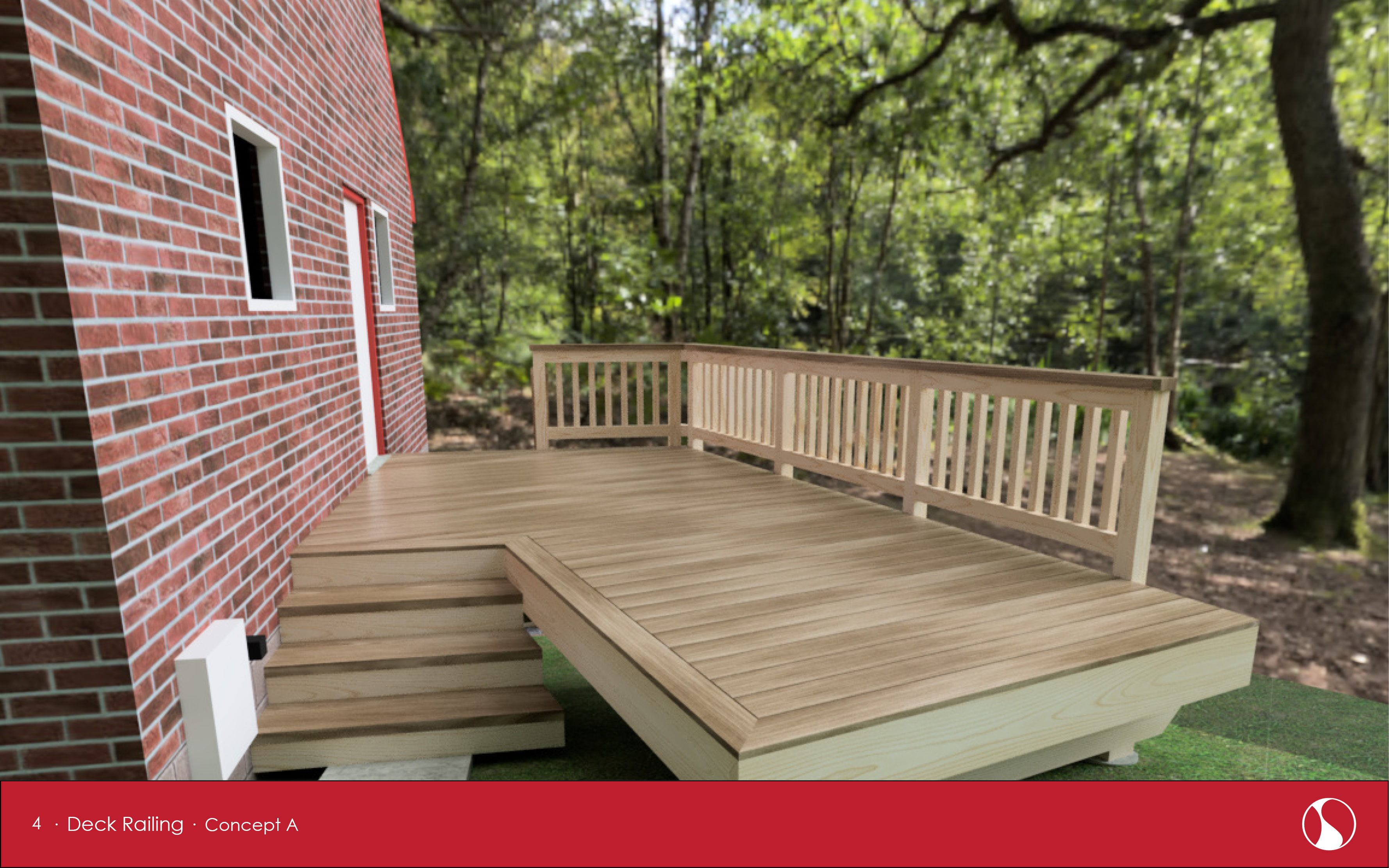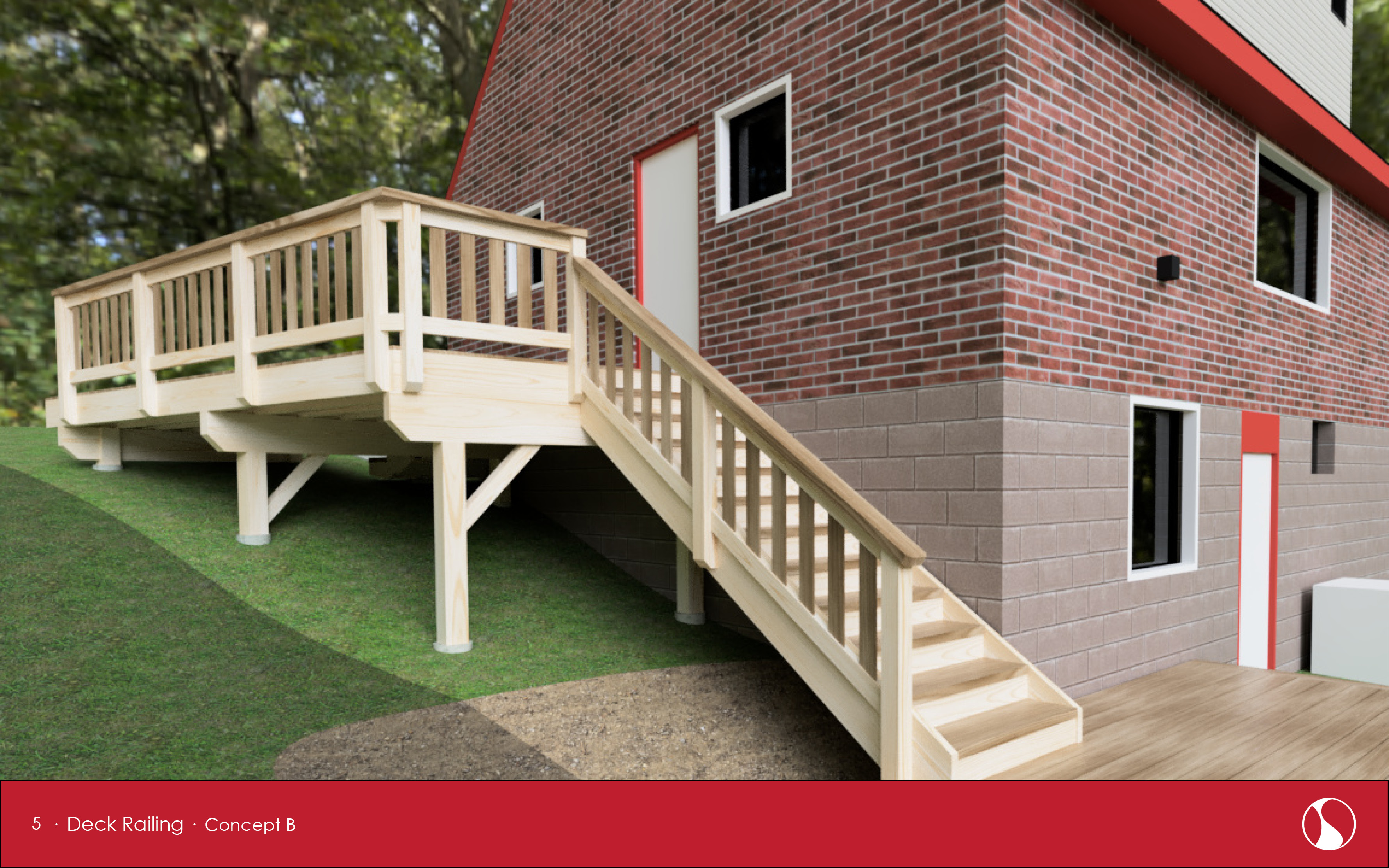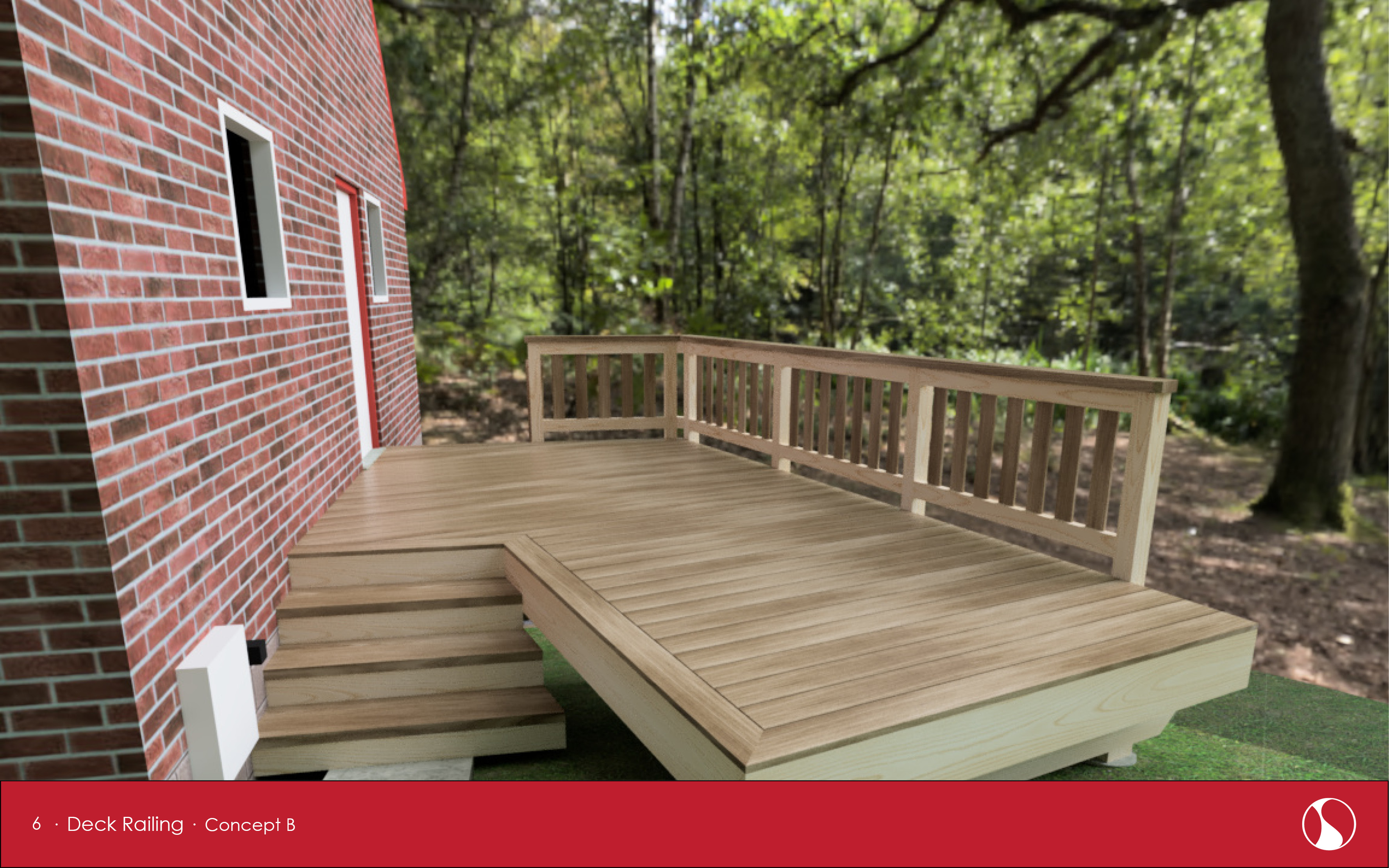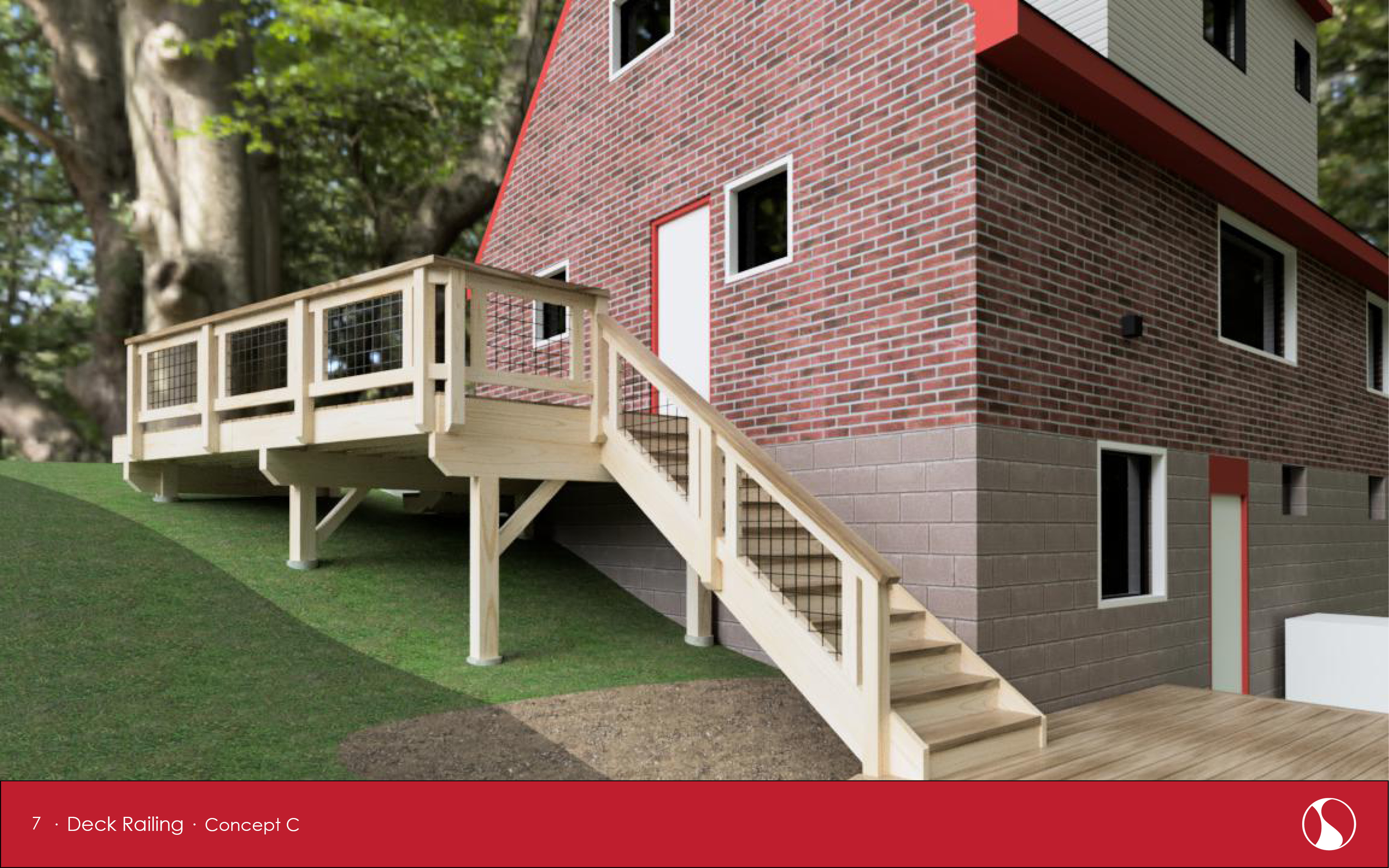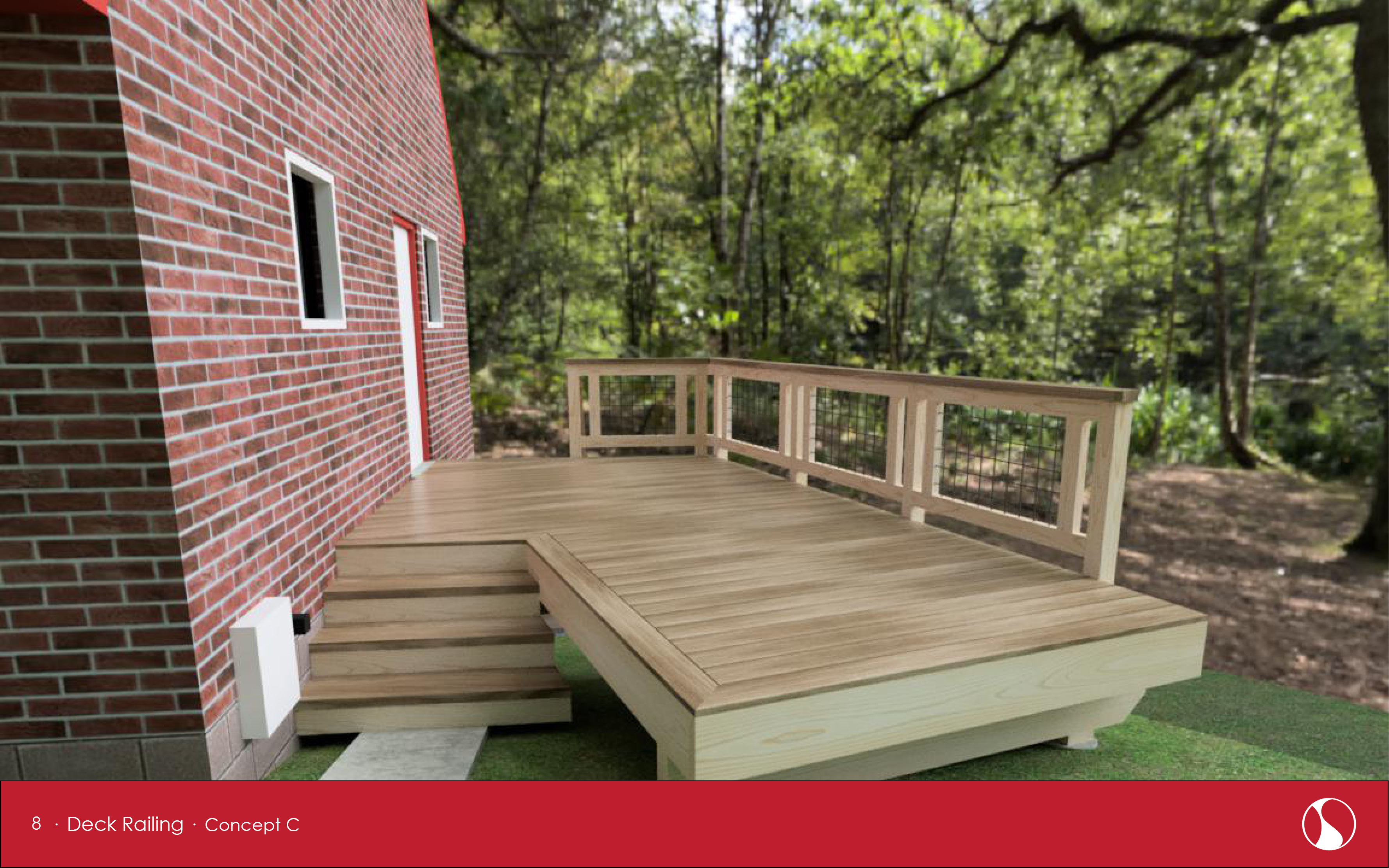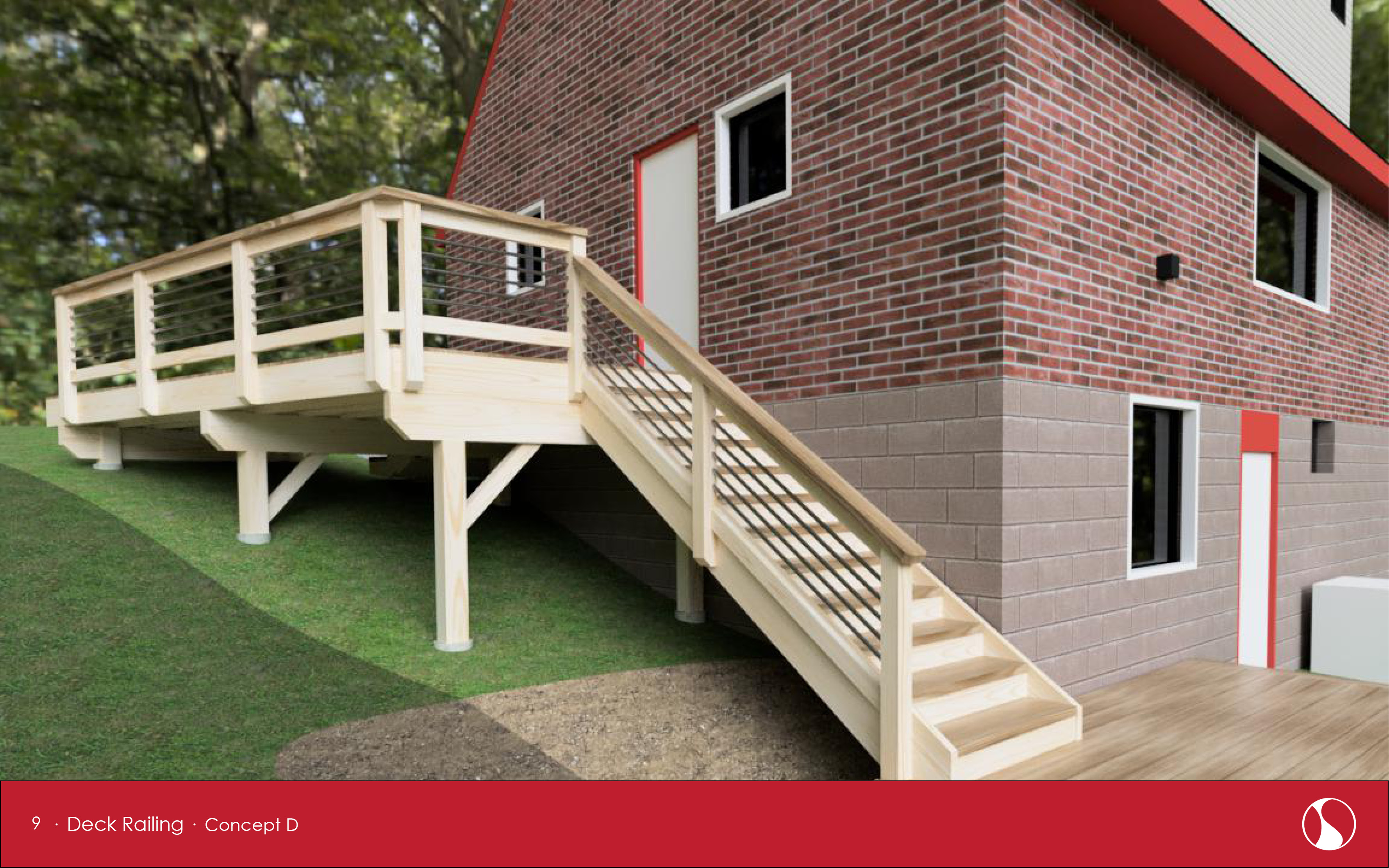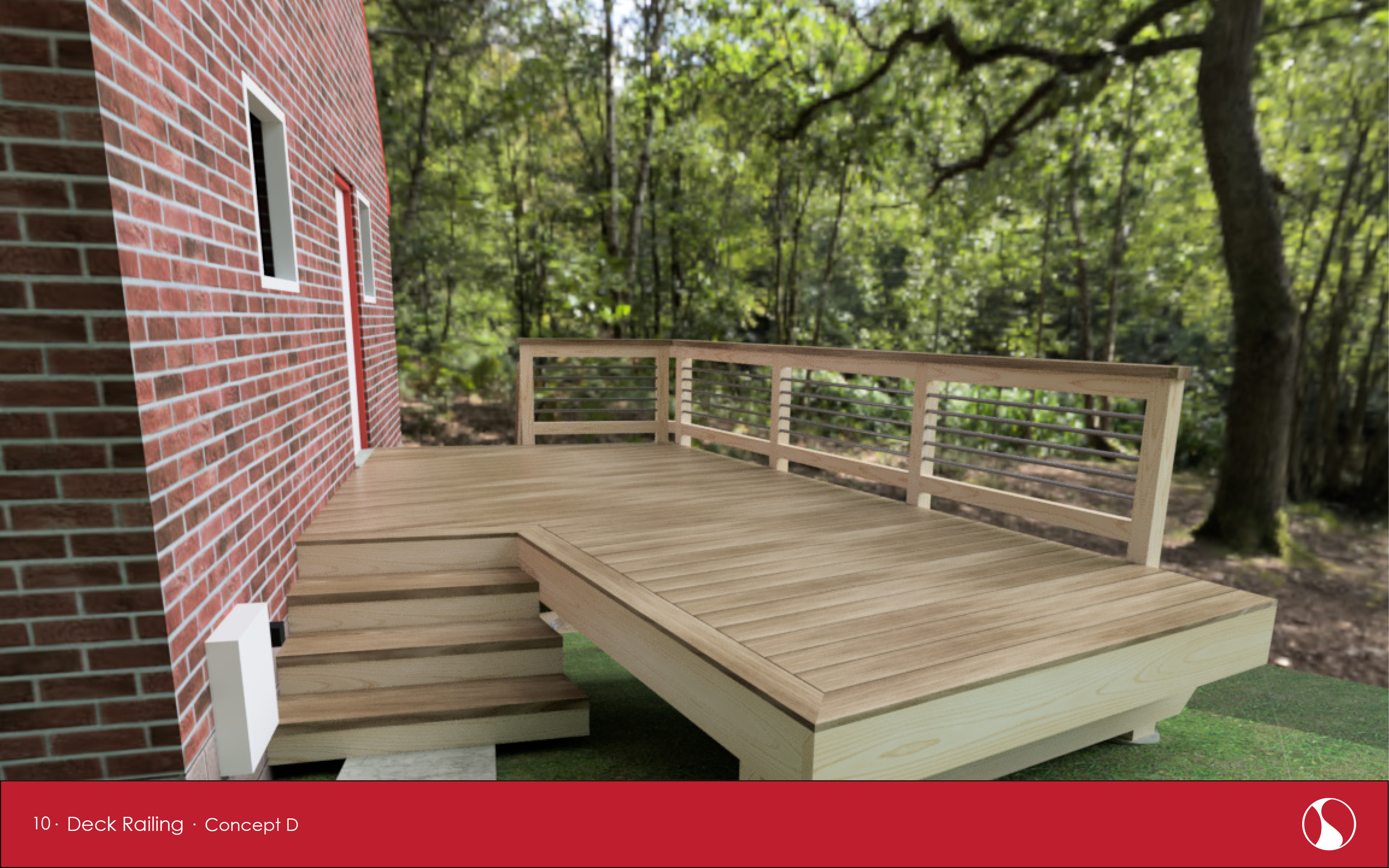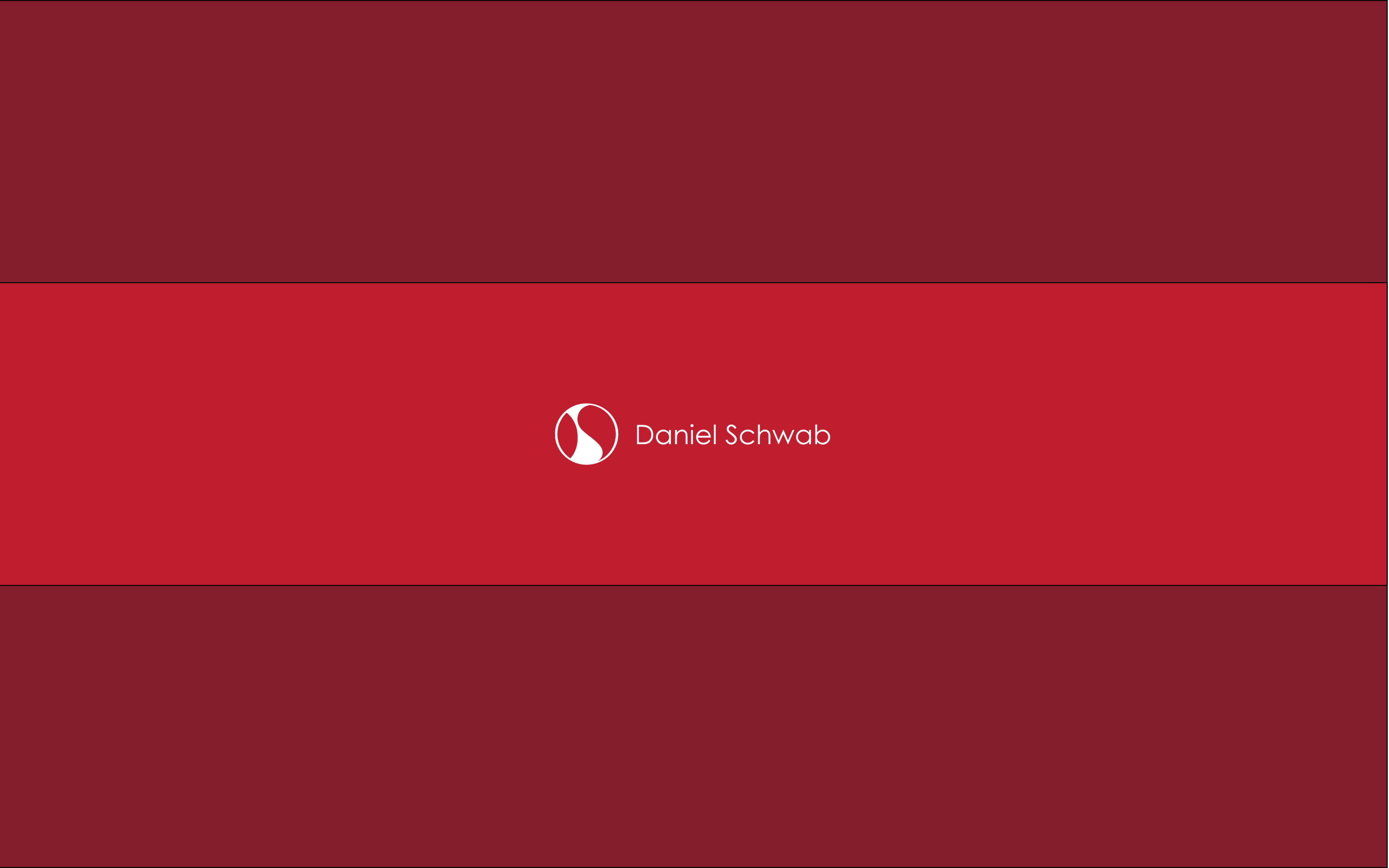 ---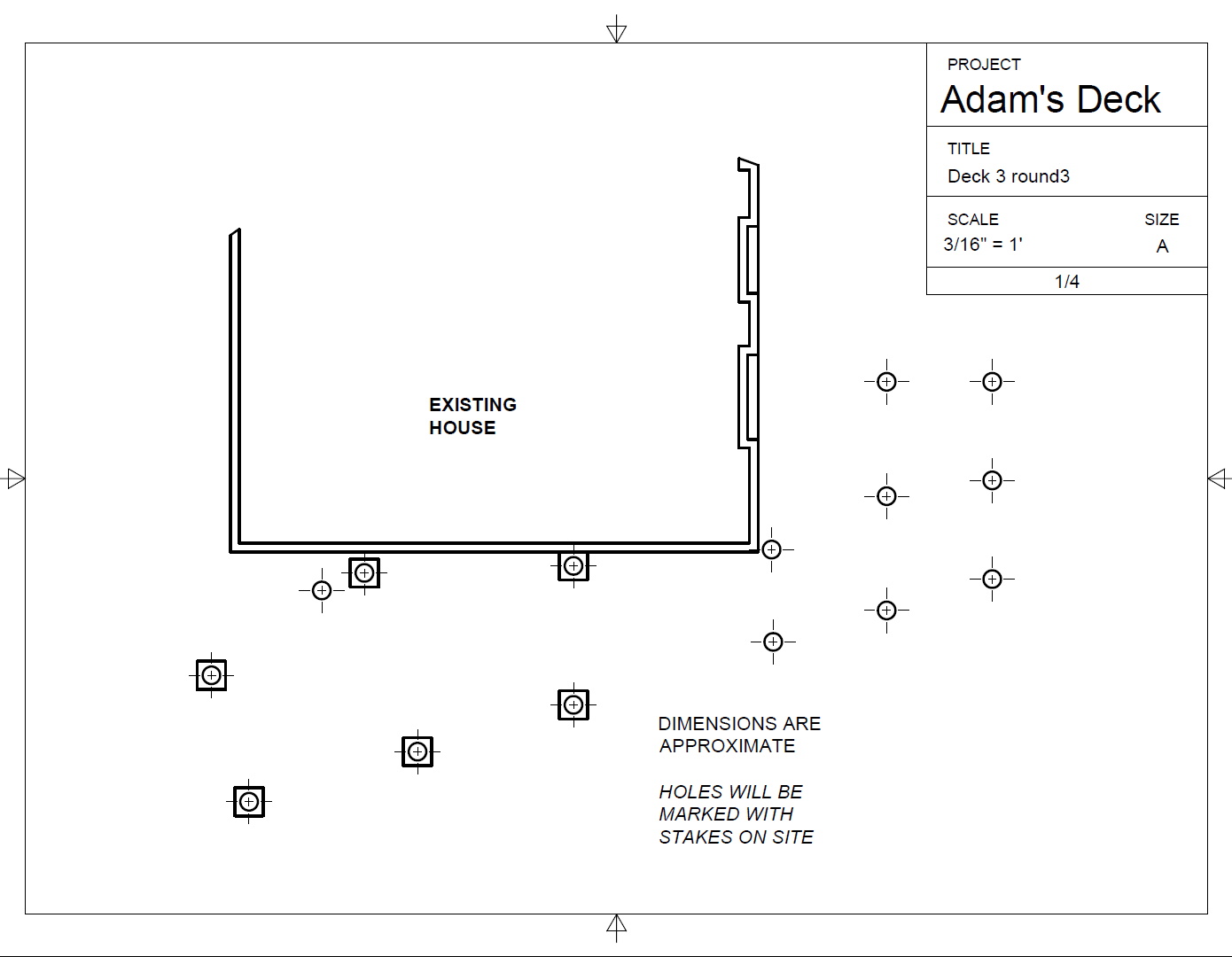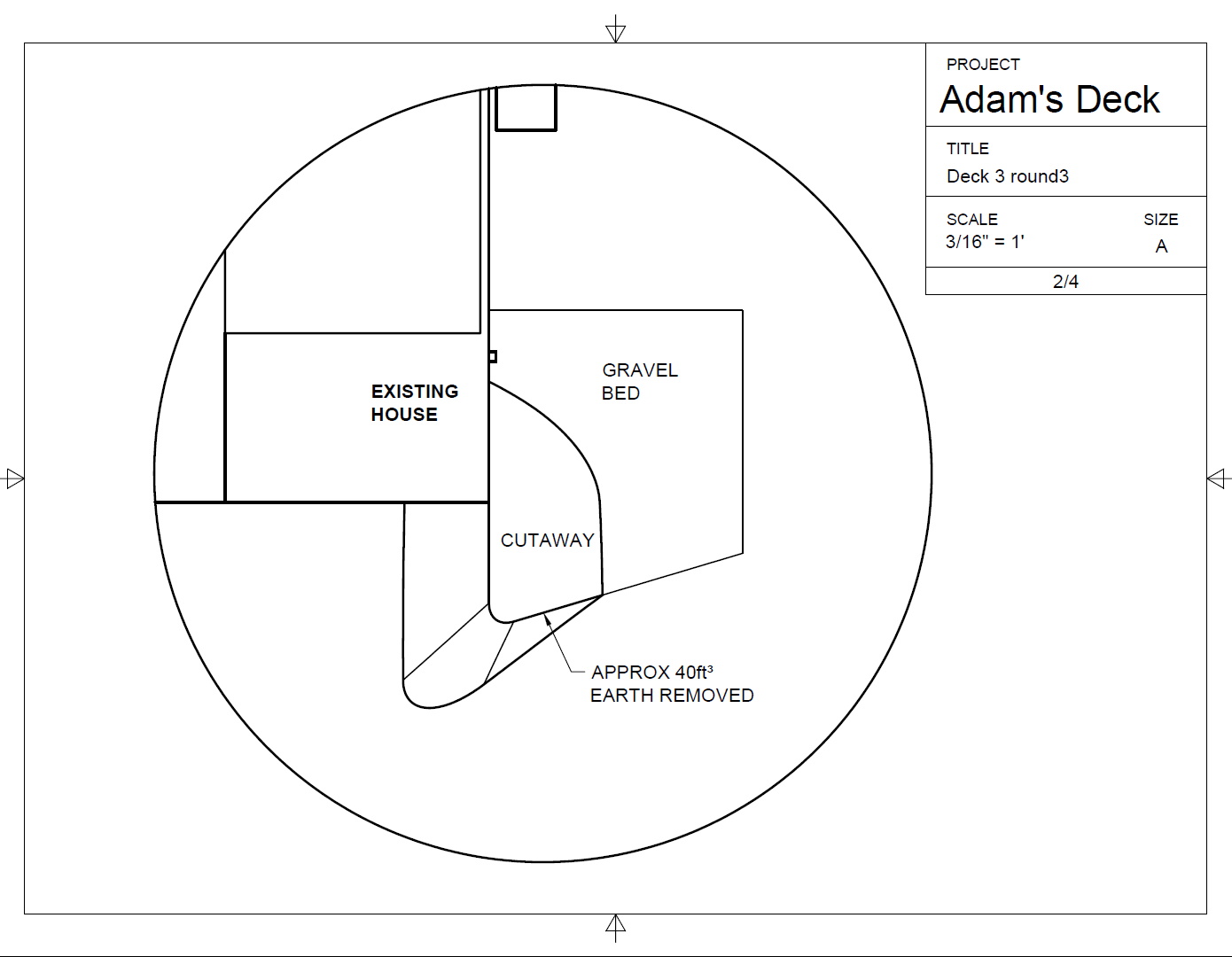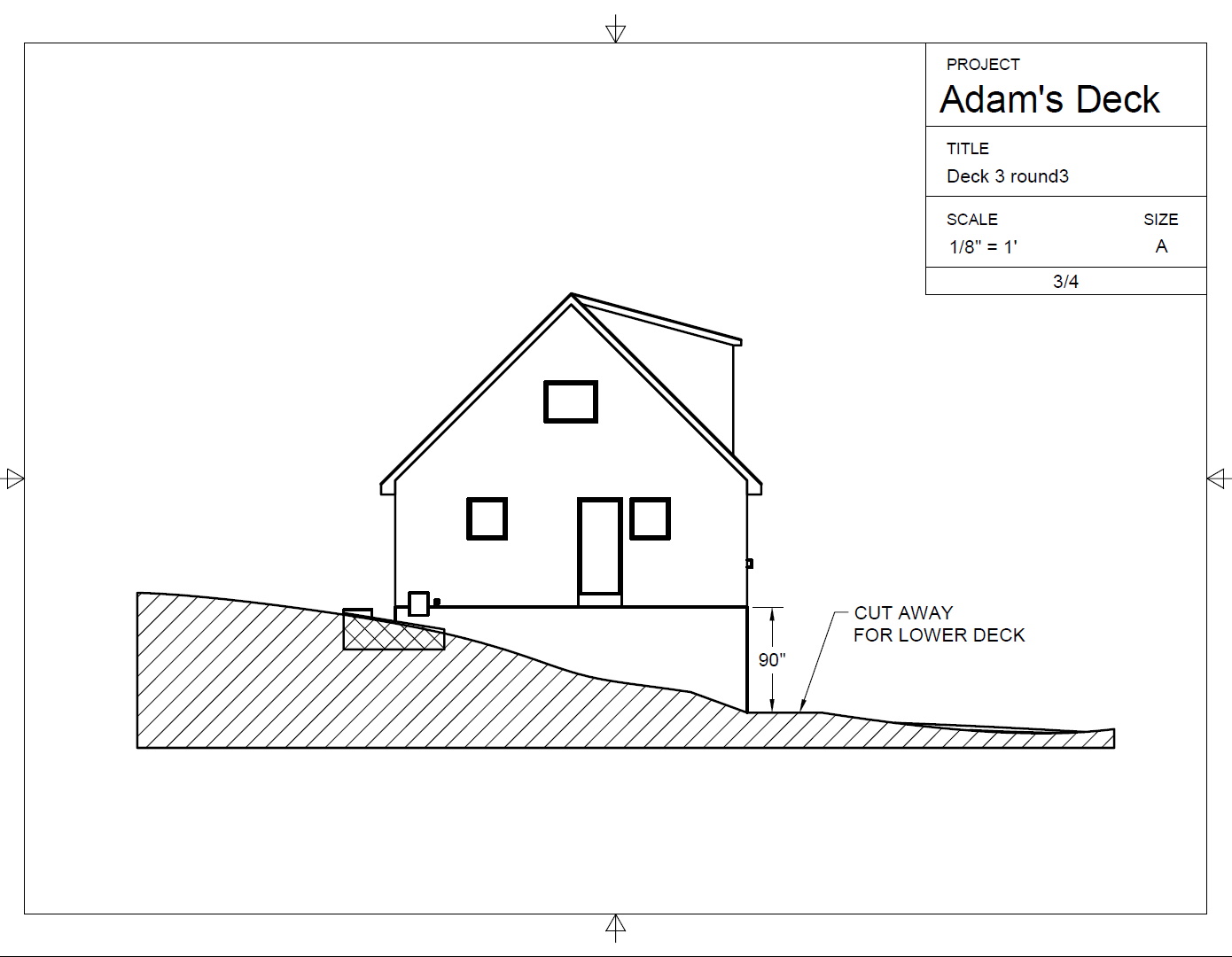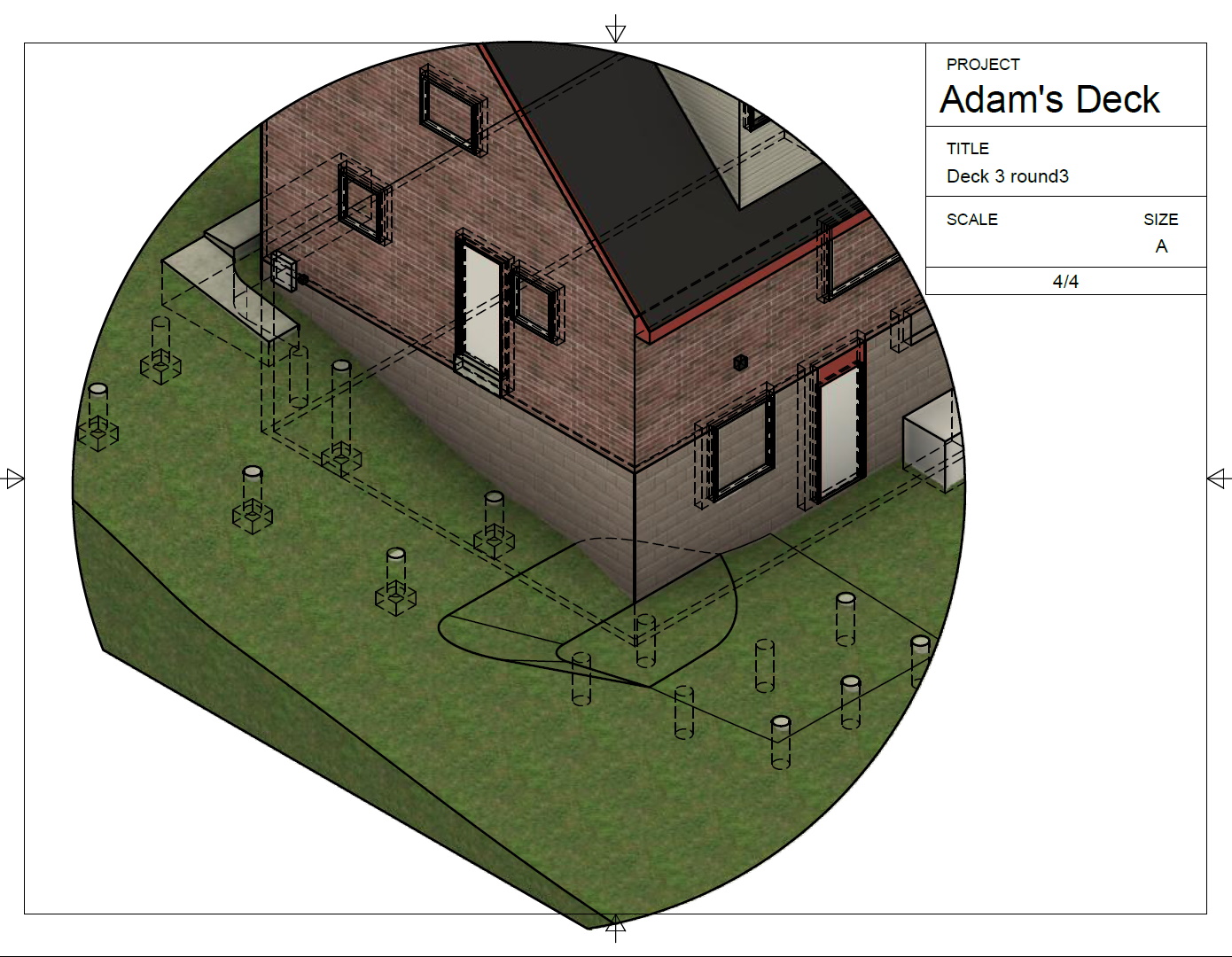 ---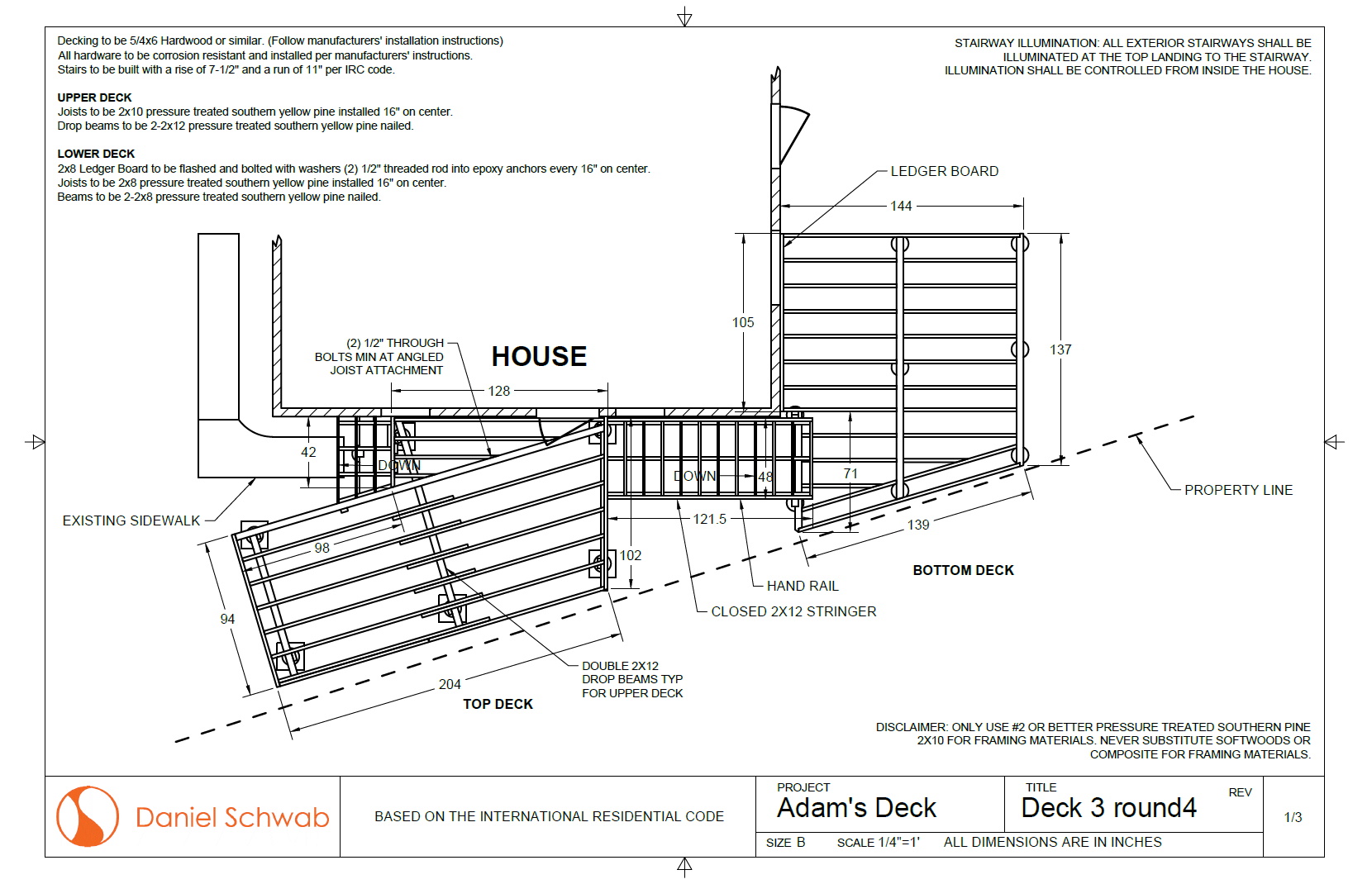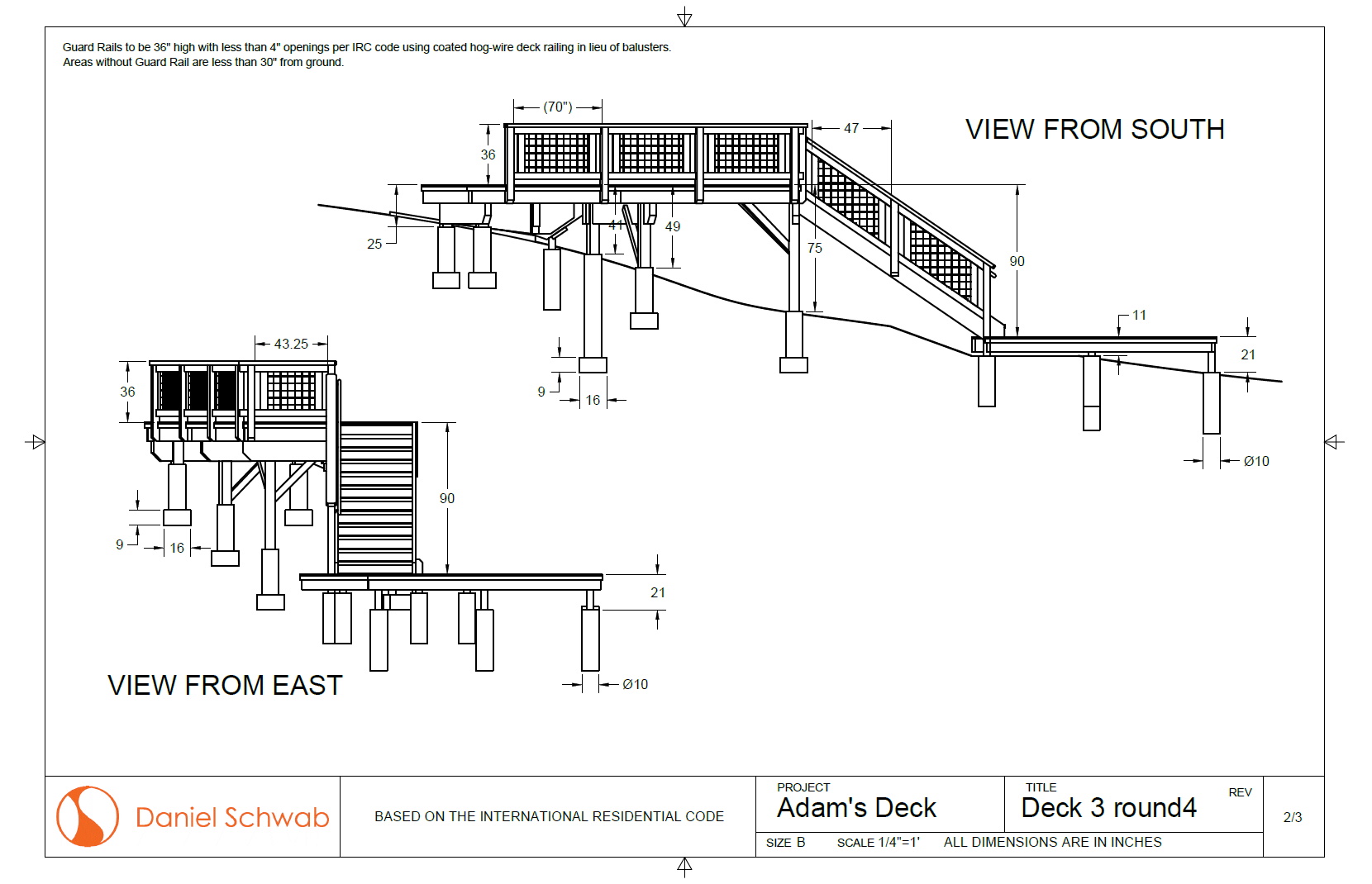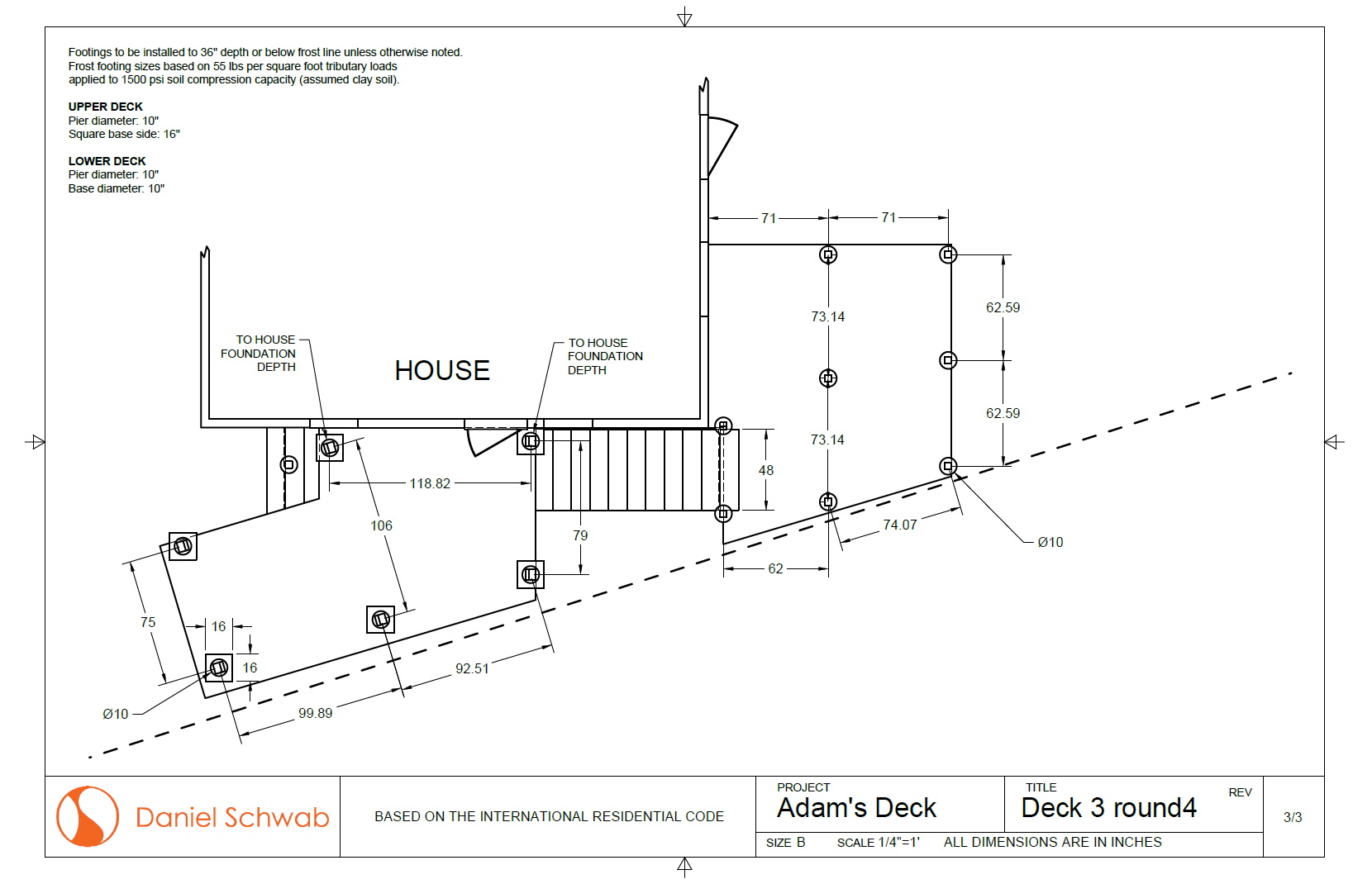 Senior capstone: Classroom Furniture System
This project was born out of my desire to design furniture for childhood education. Primary research revealed a design opportunity for special education furniture, which further directed my research. I sought to design a single, modular, space saving classroom furniture system which accommodates children of all abilities and enhances the storage of necessary seating and activity devices.
Comprehensive capstone process book (Download CapstoneBook.pdf):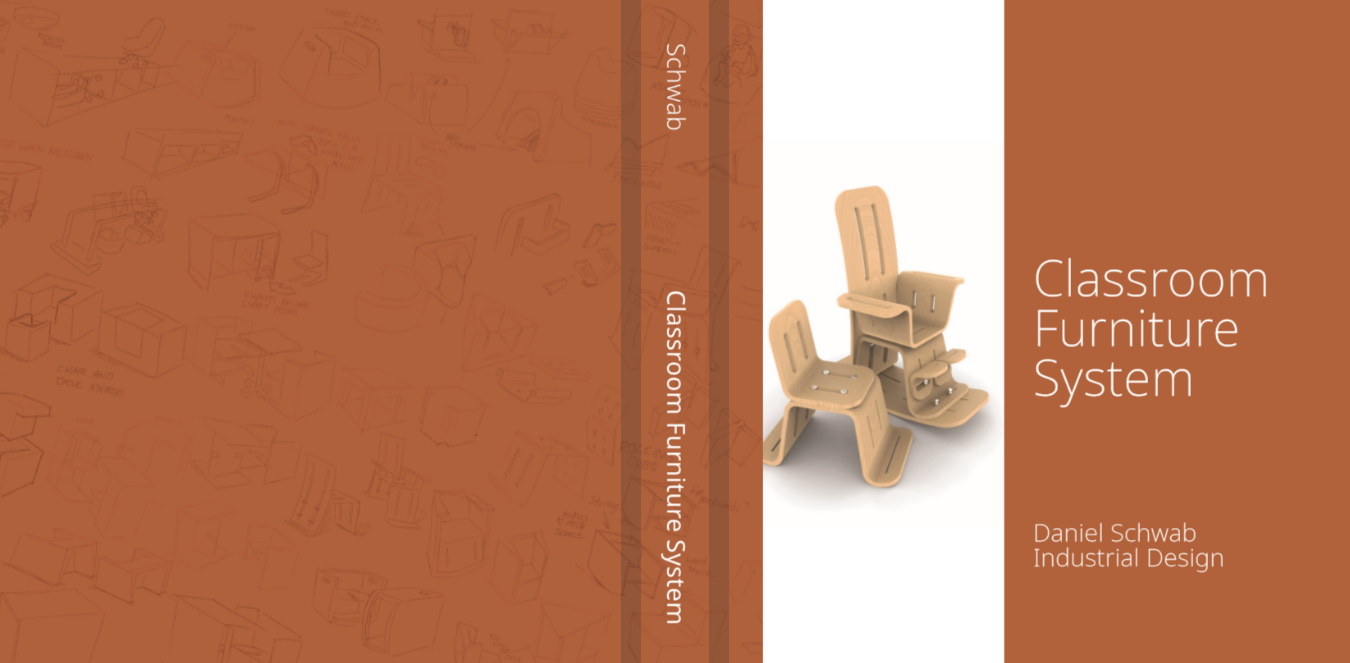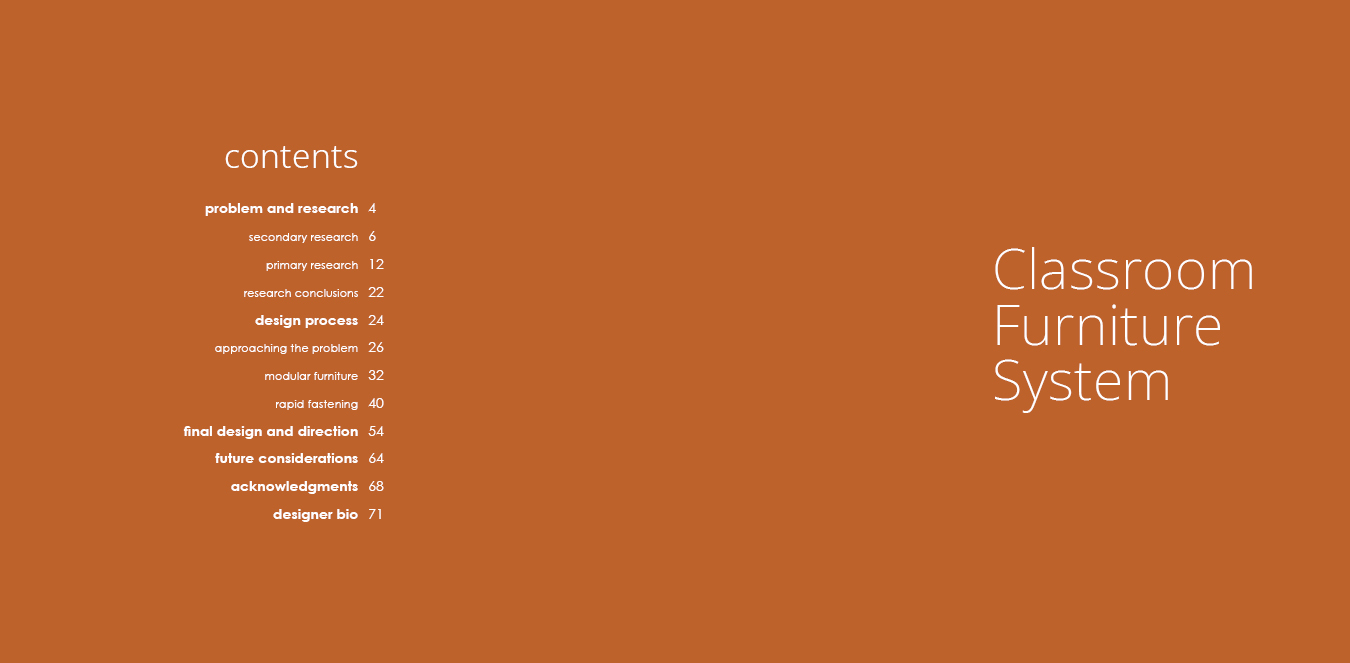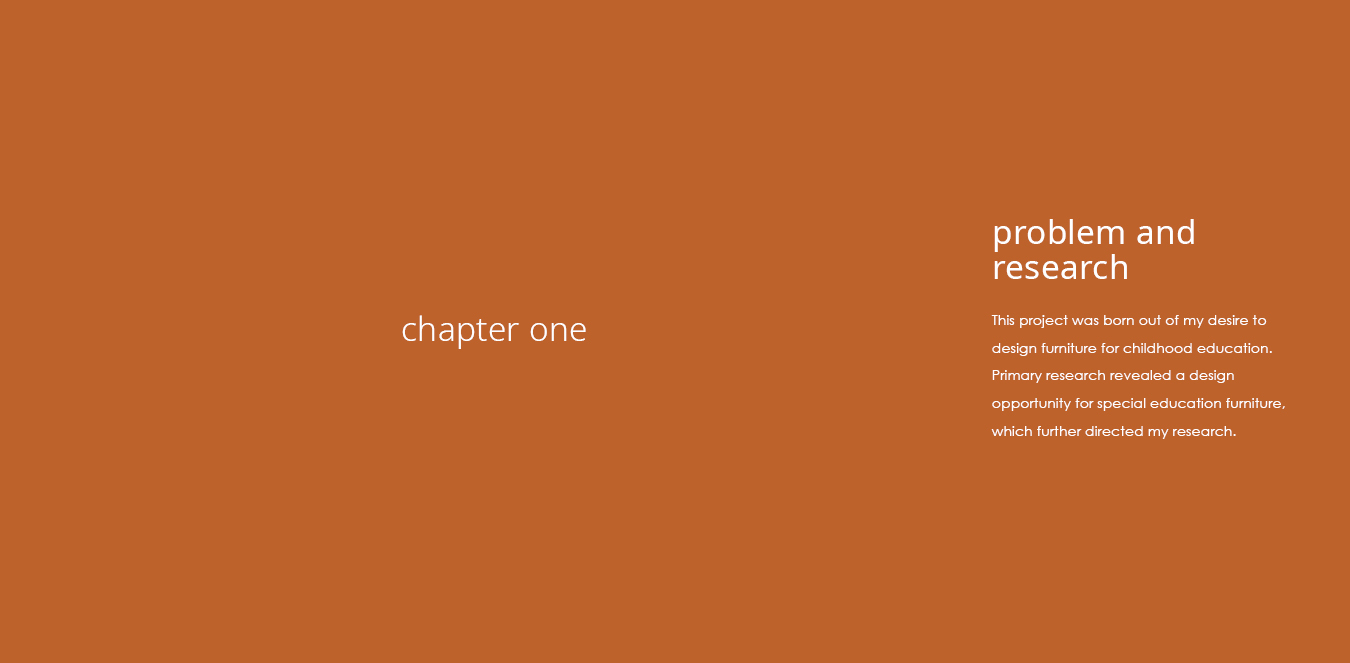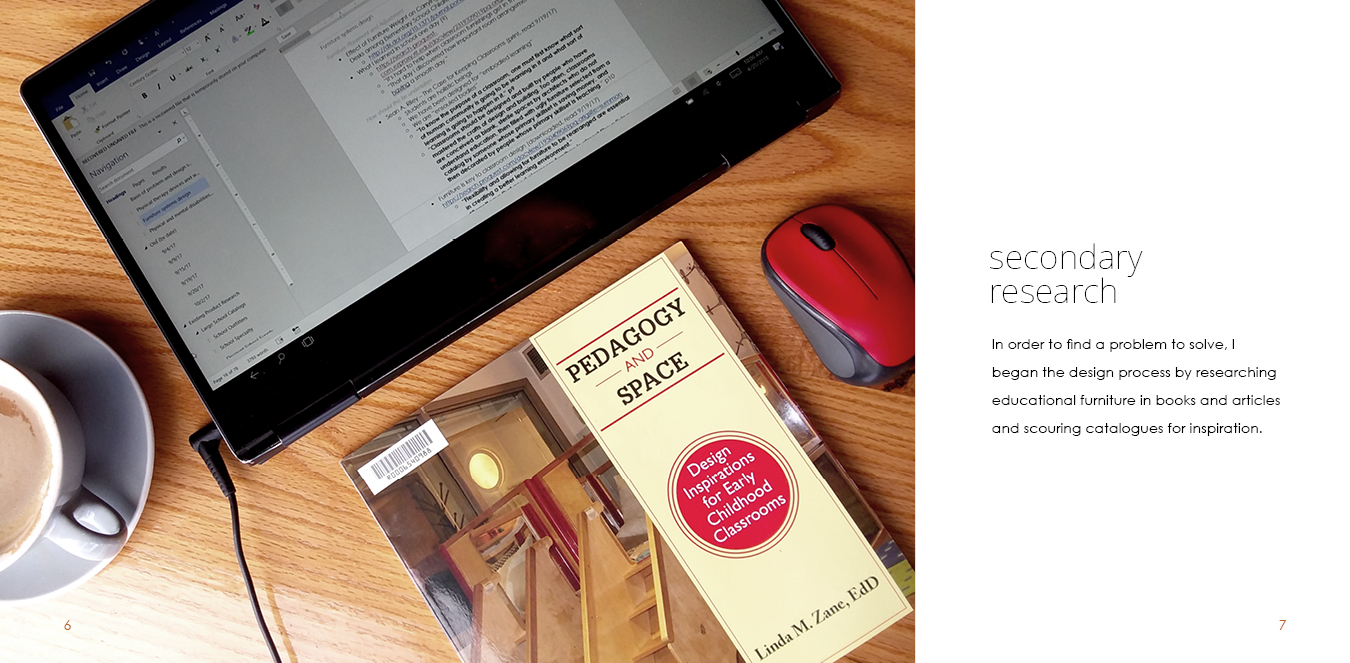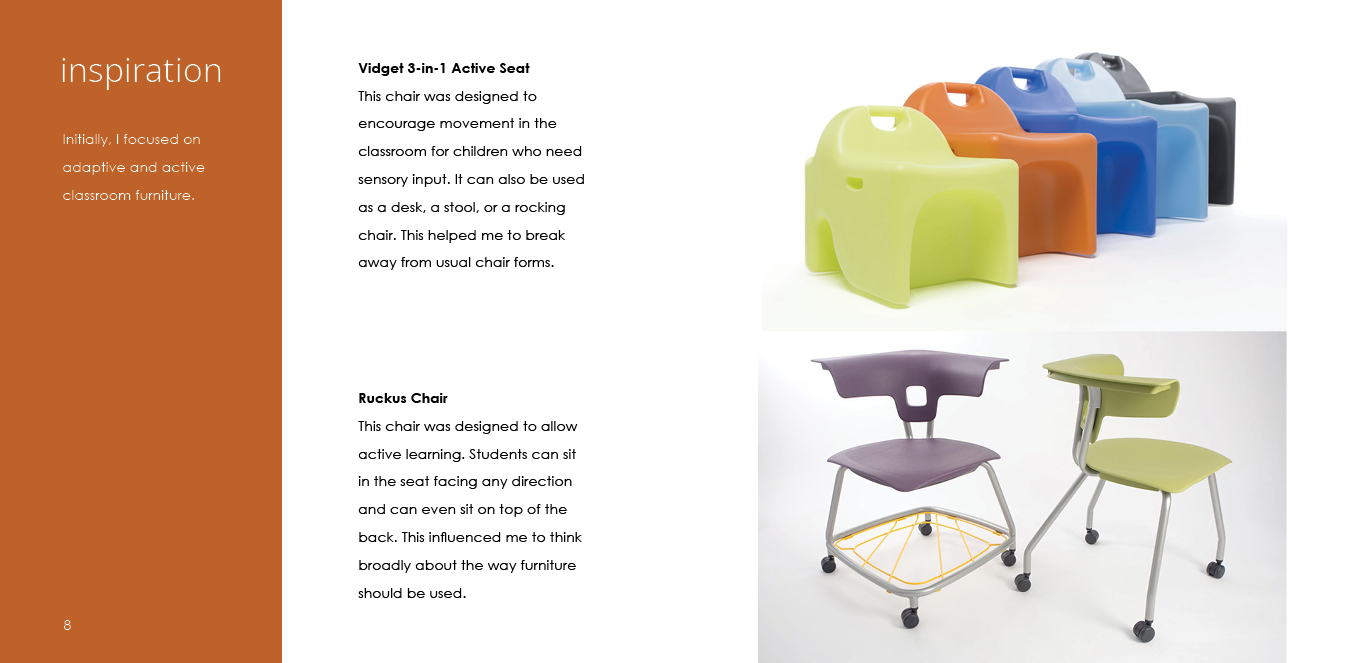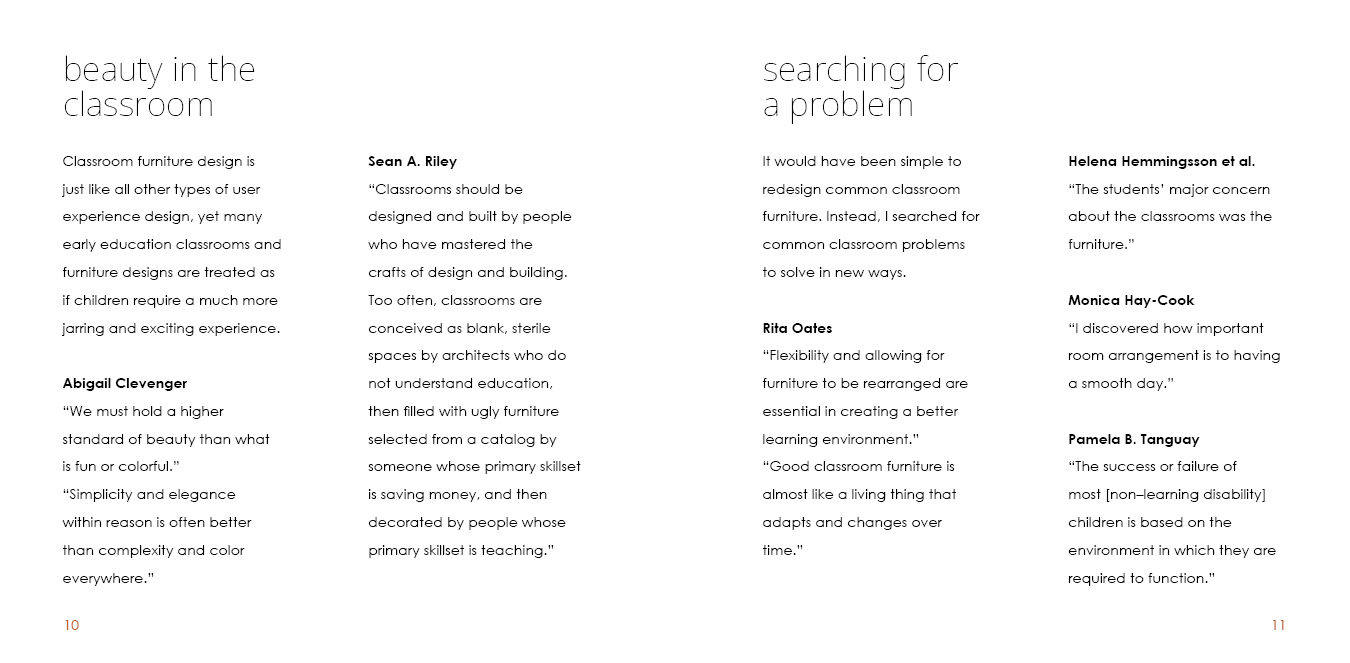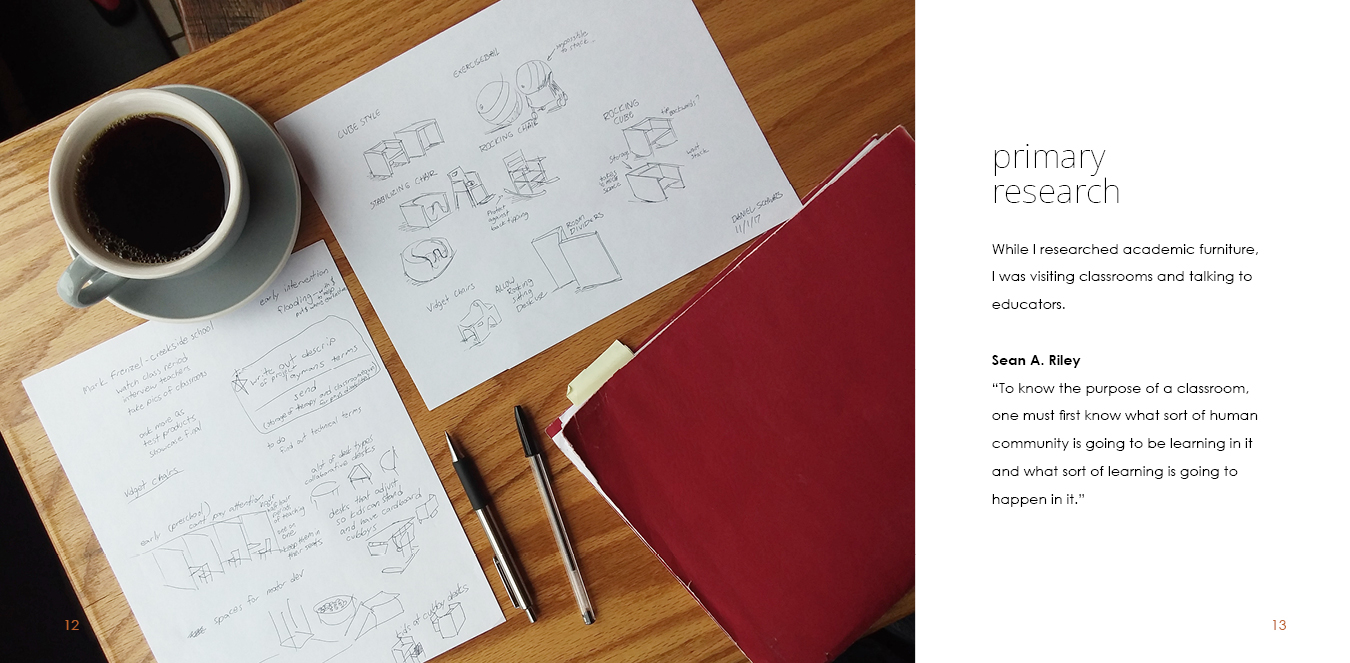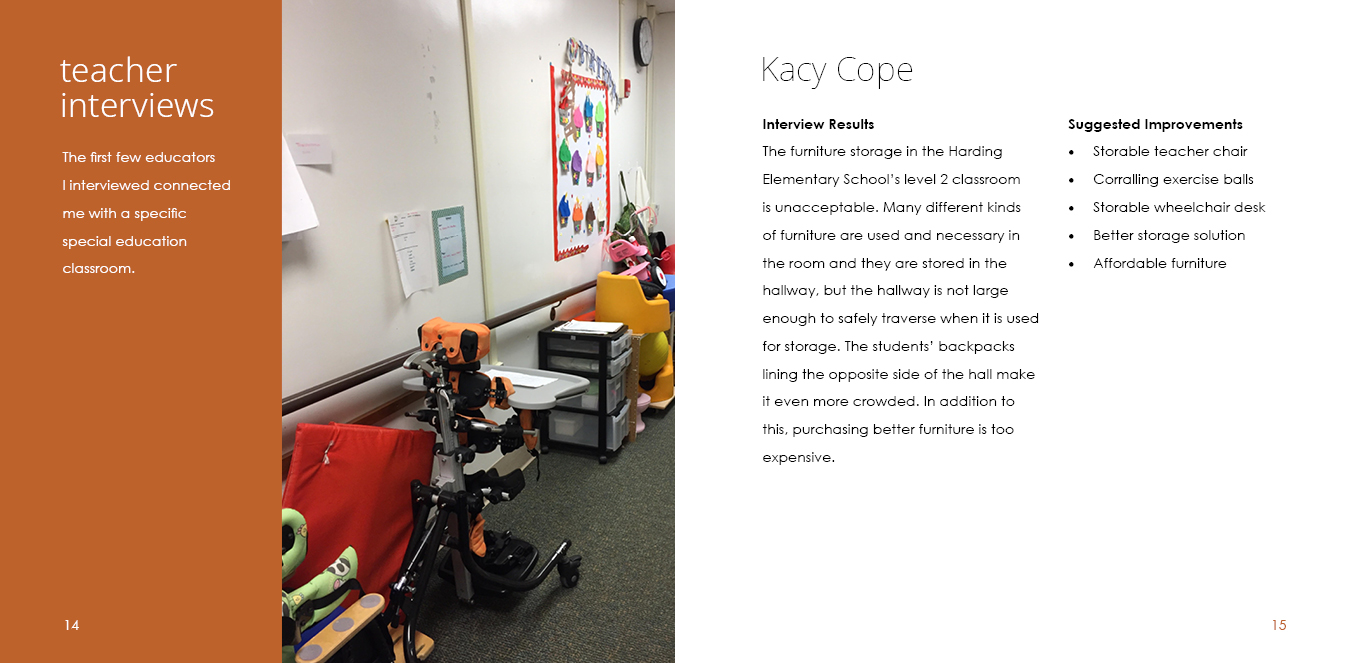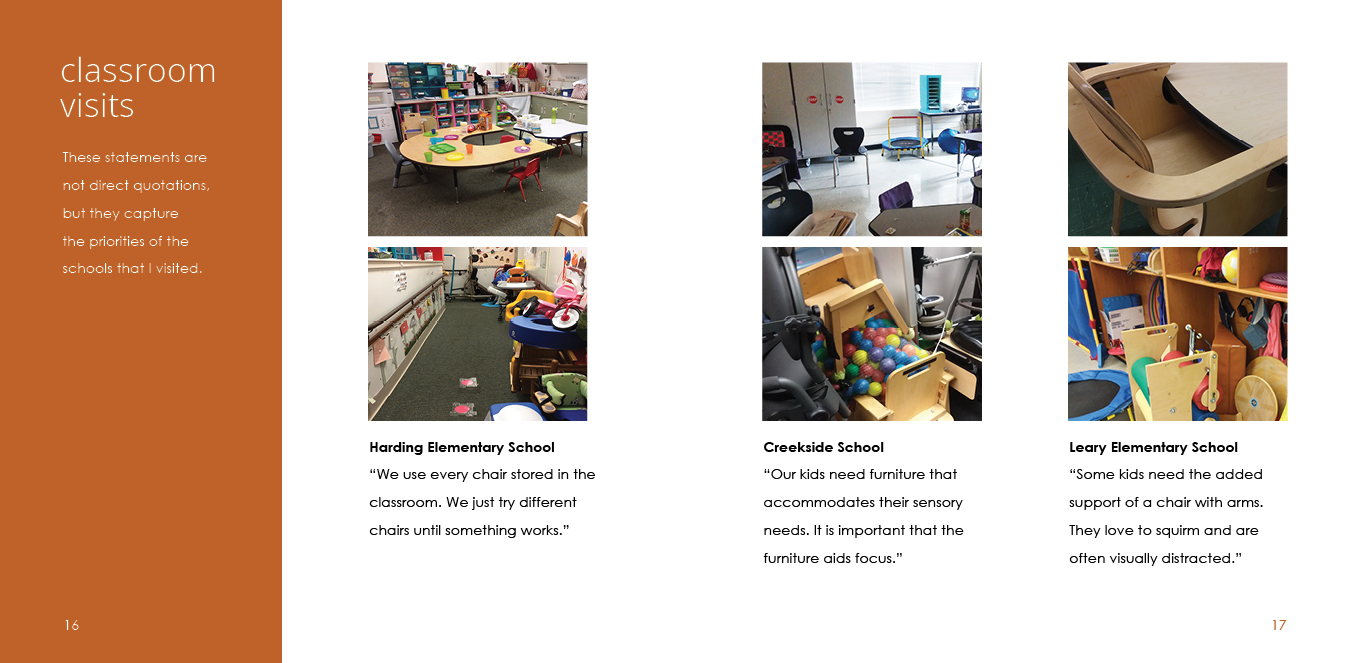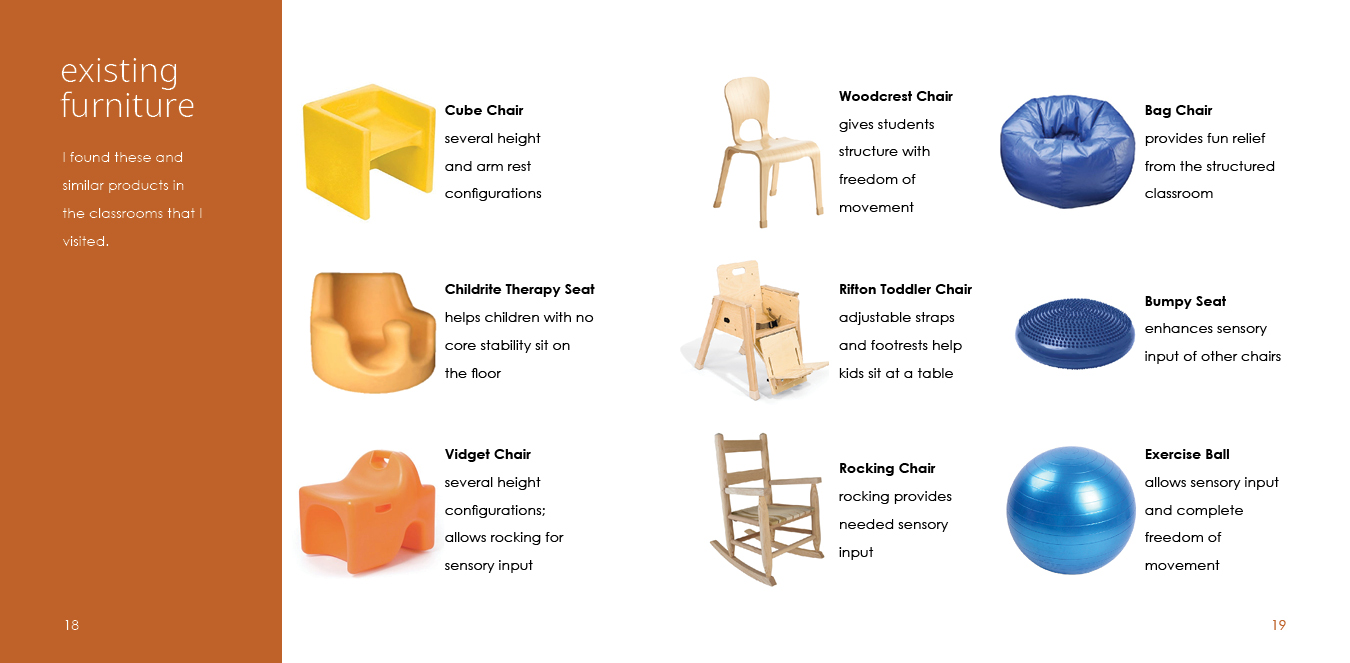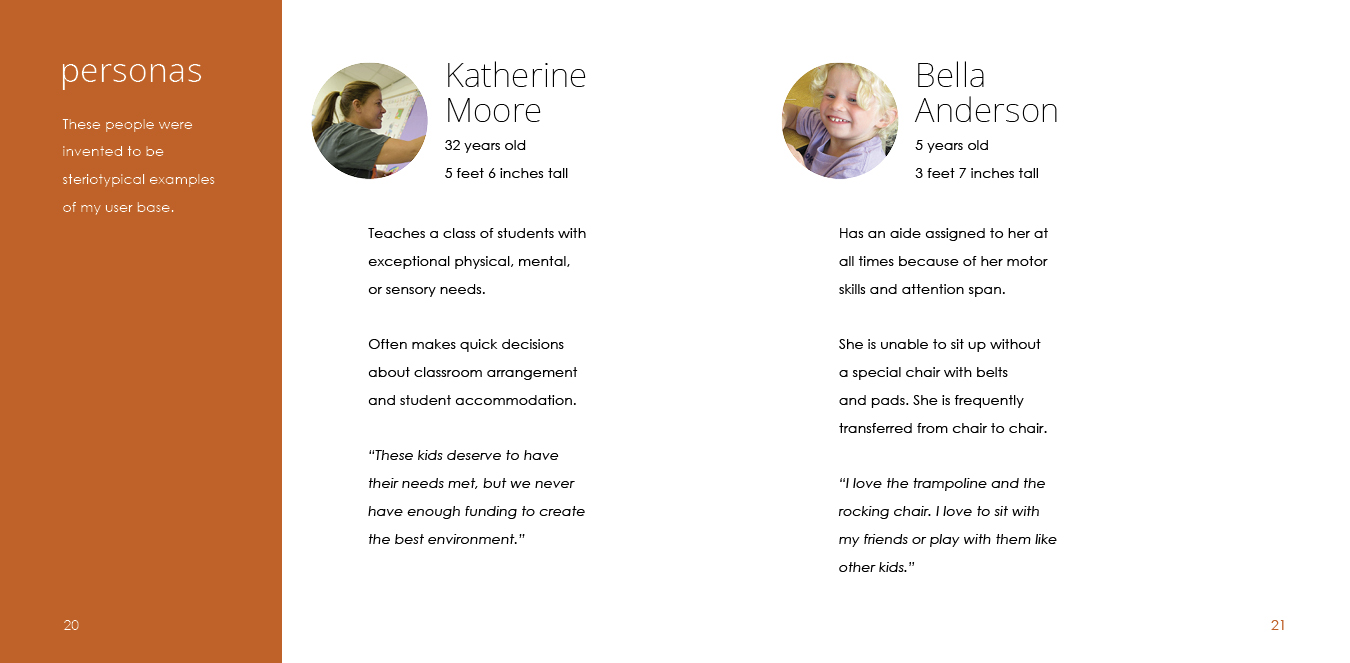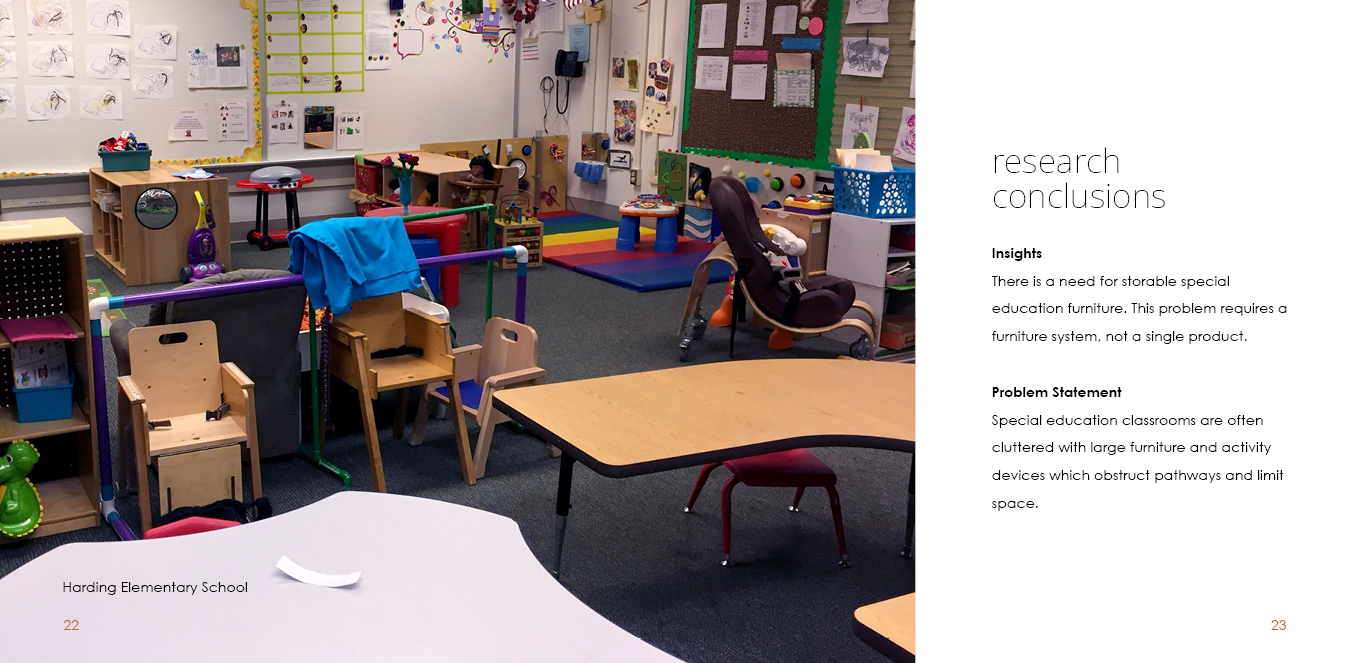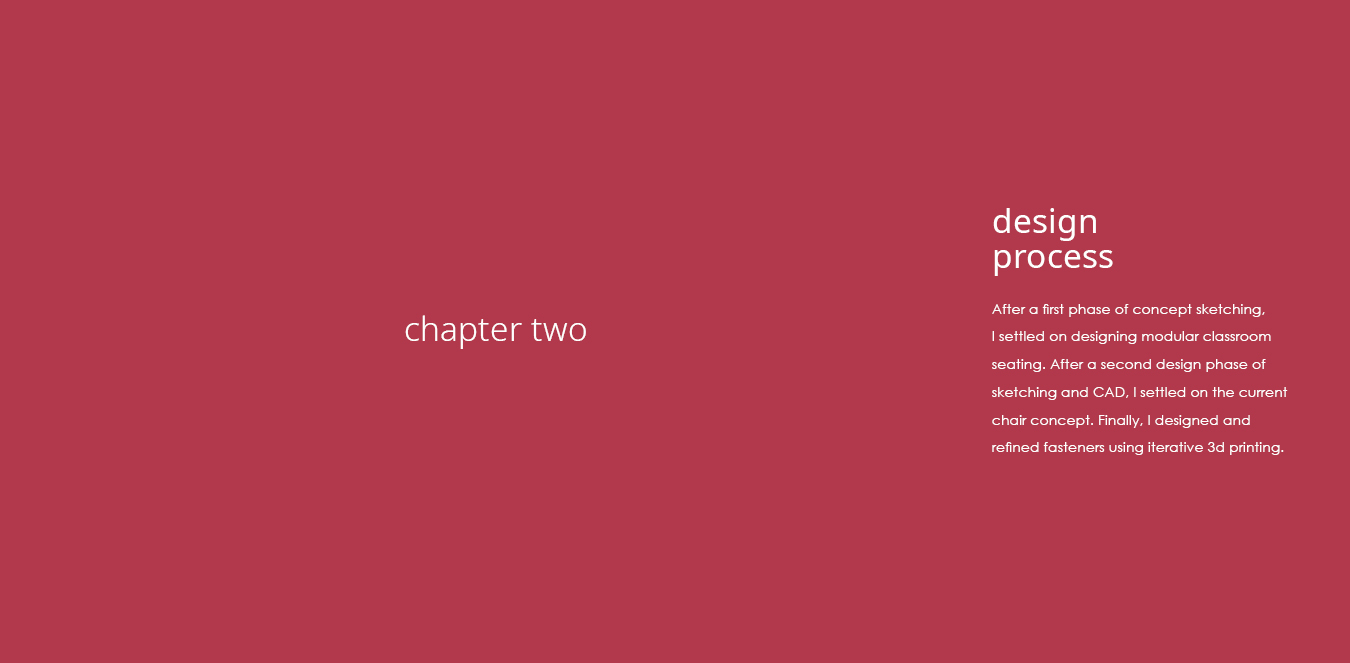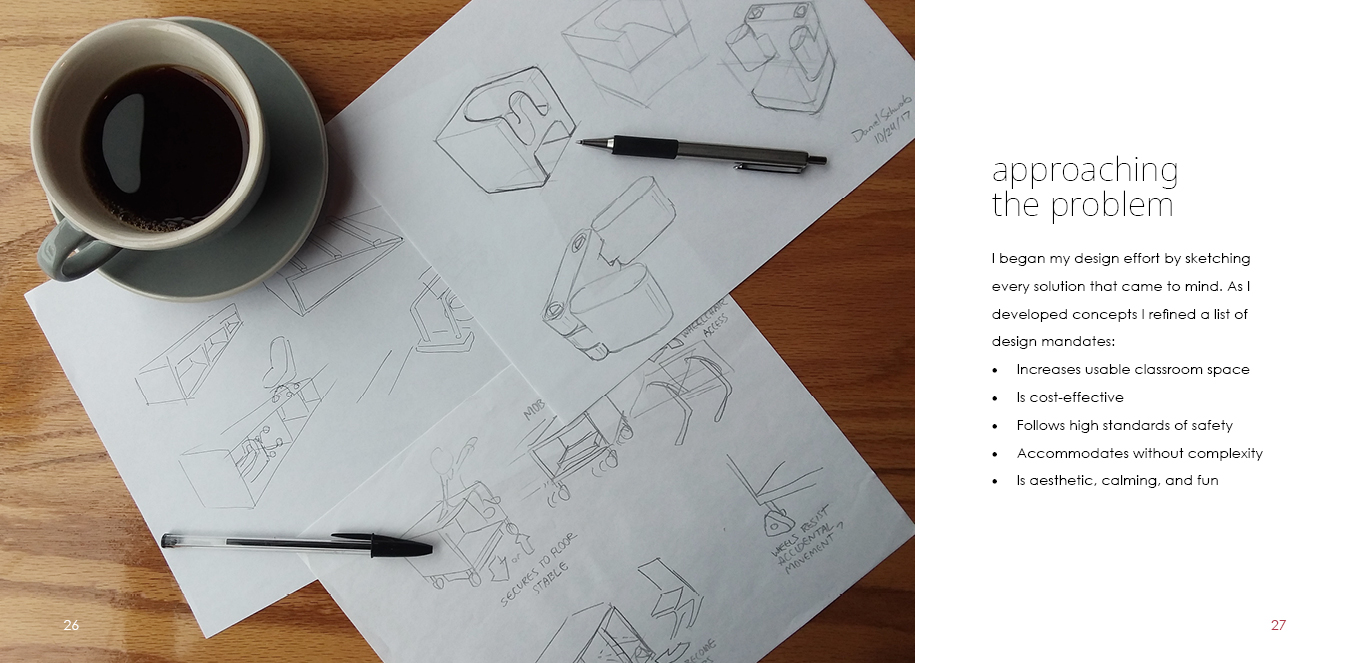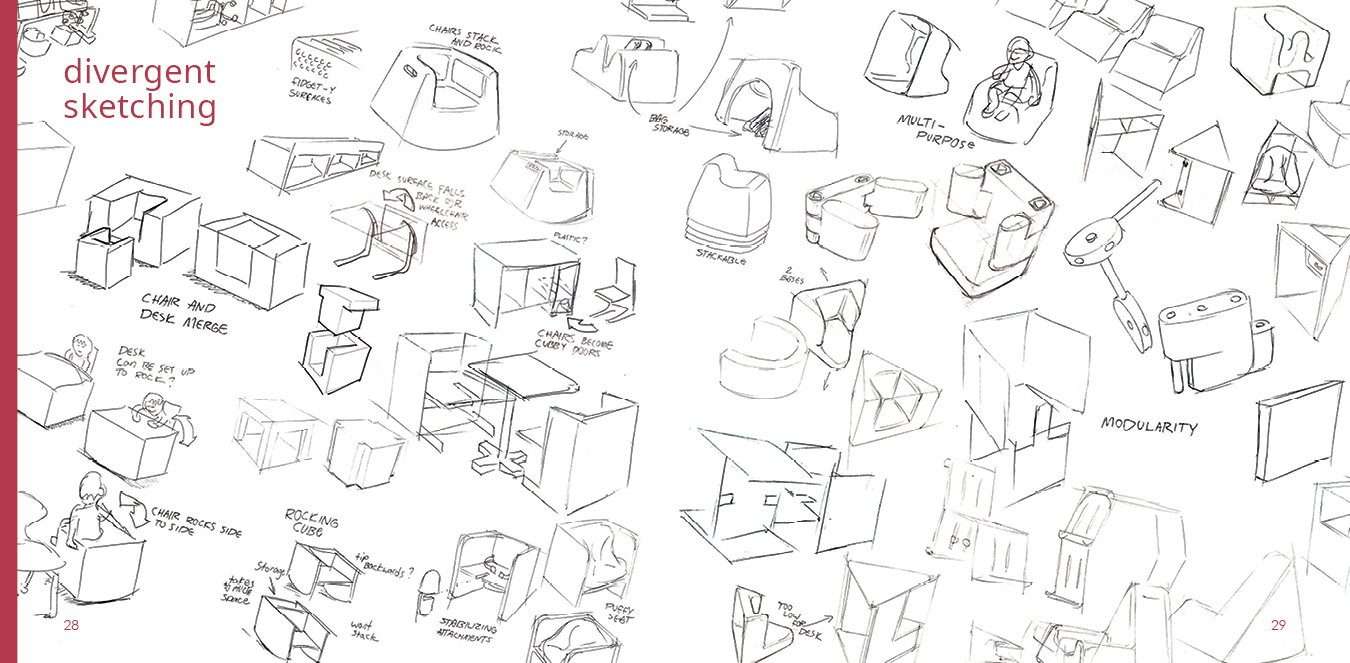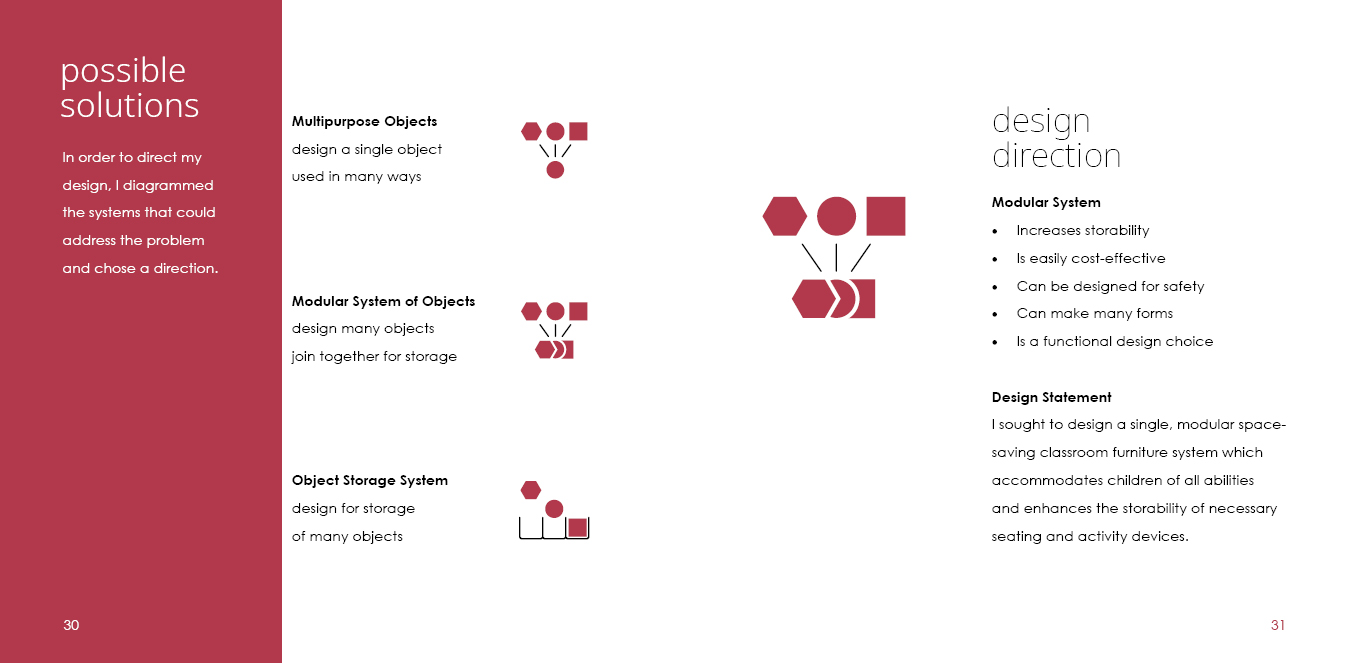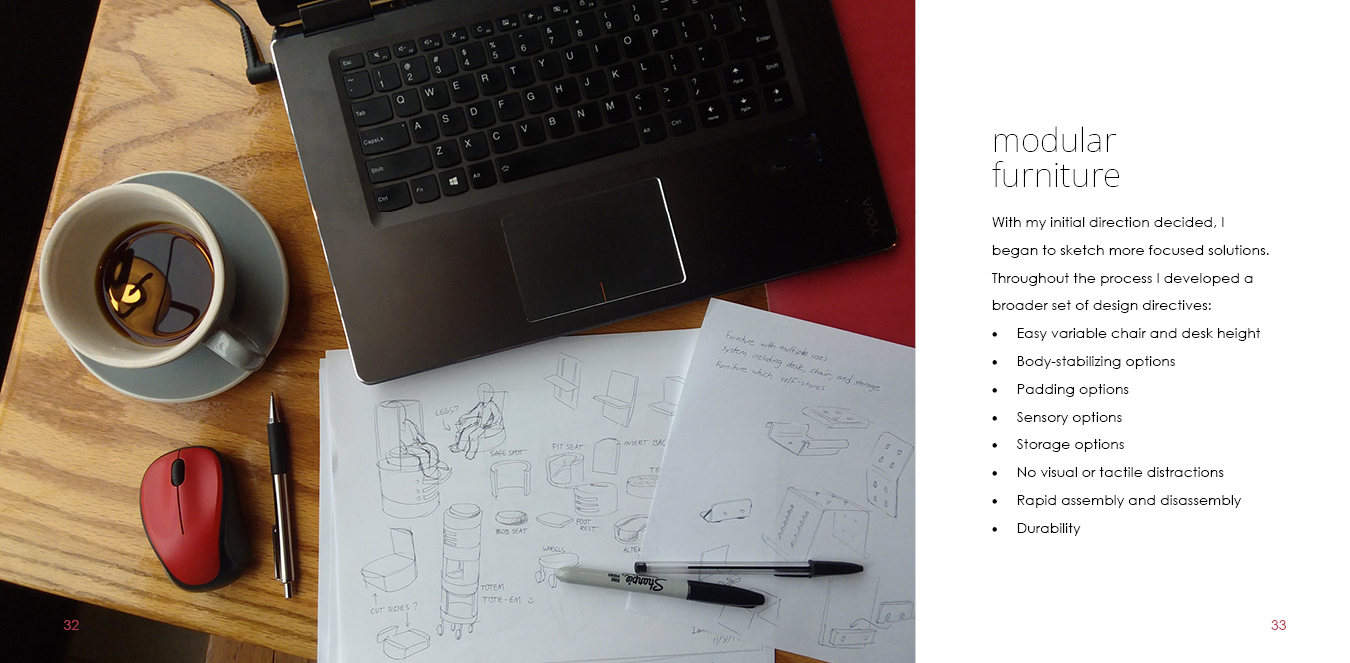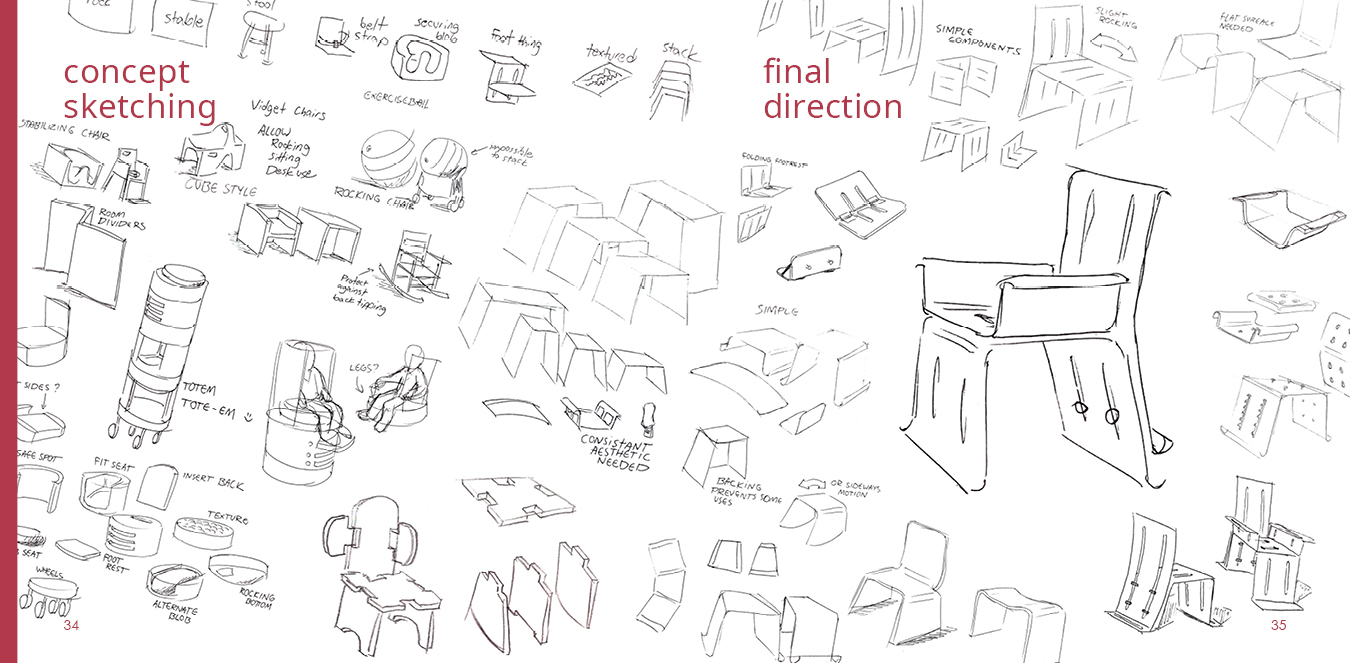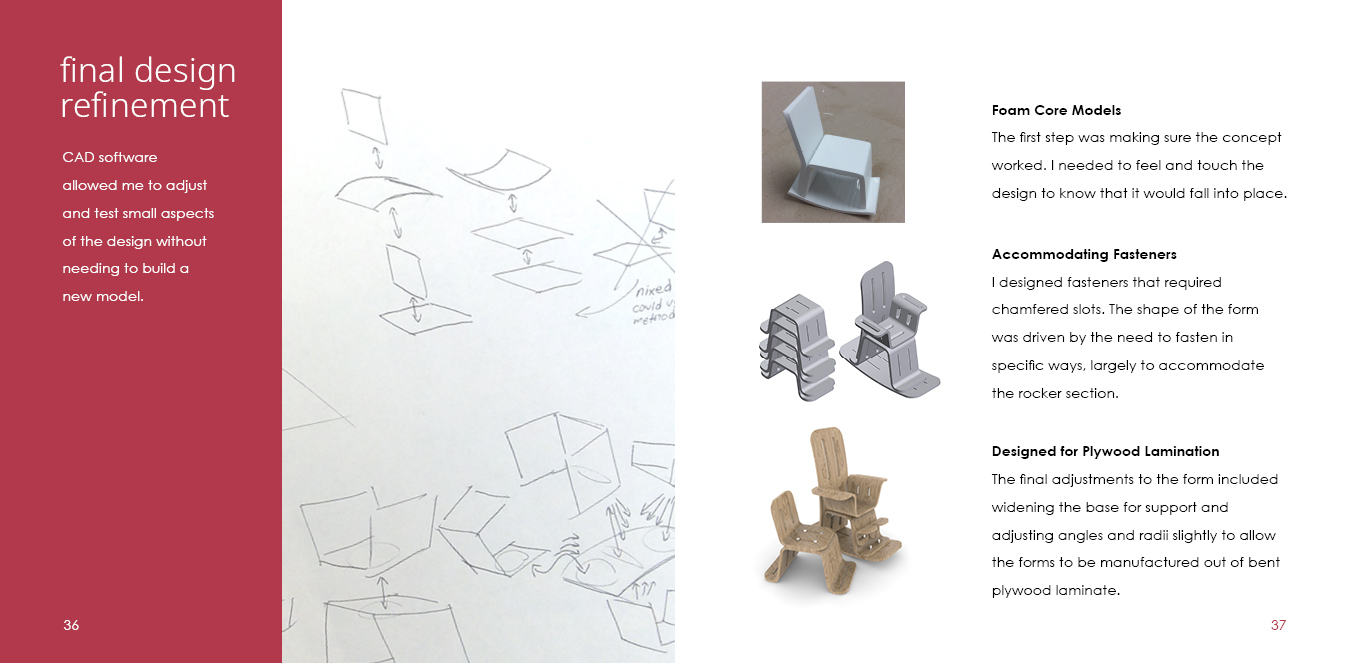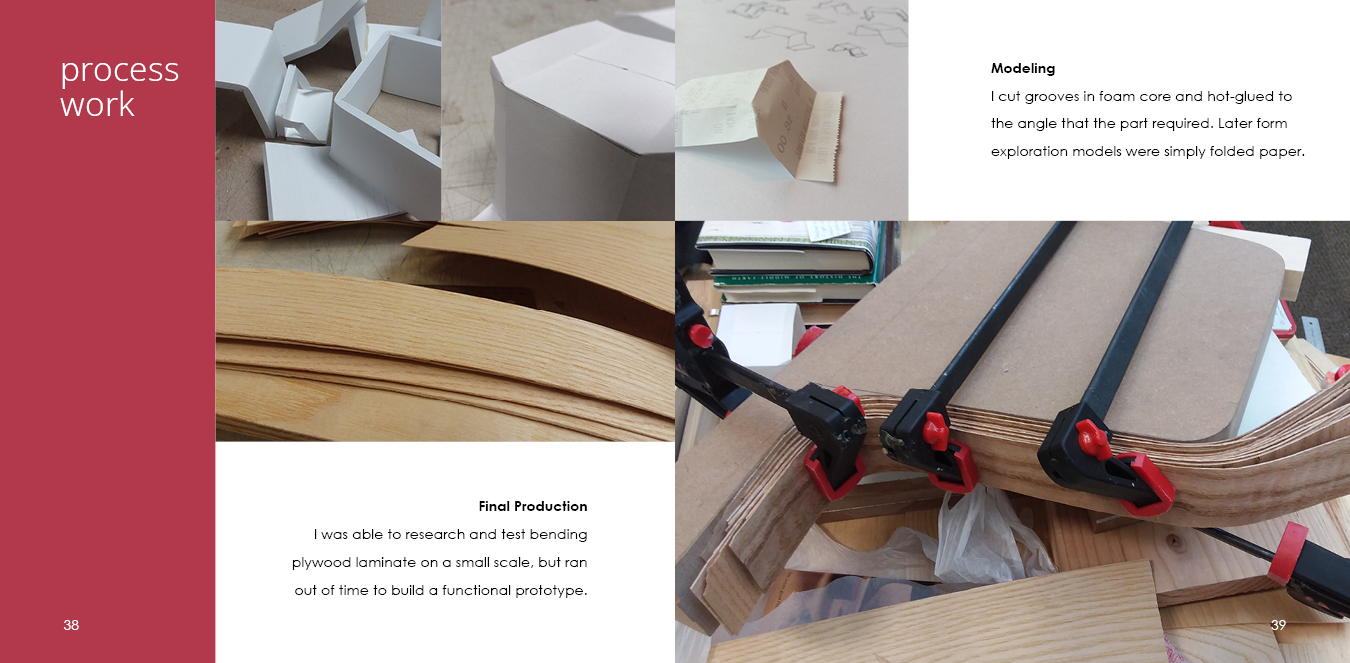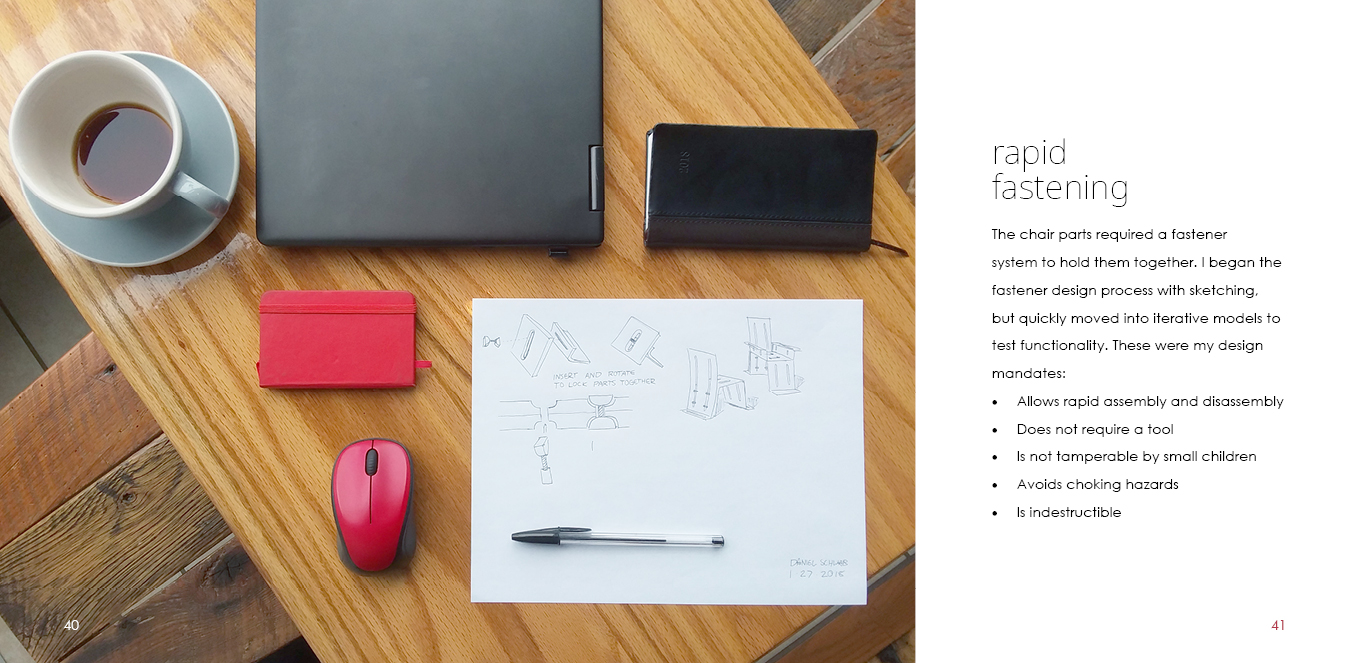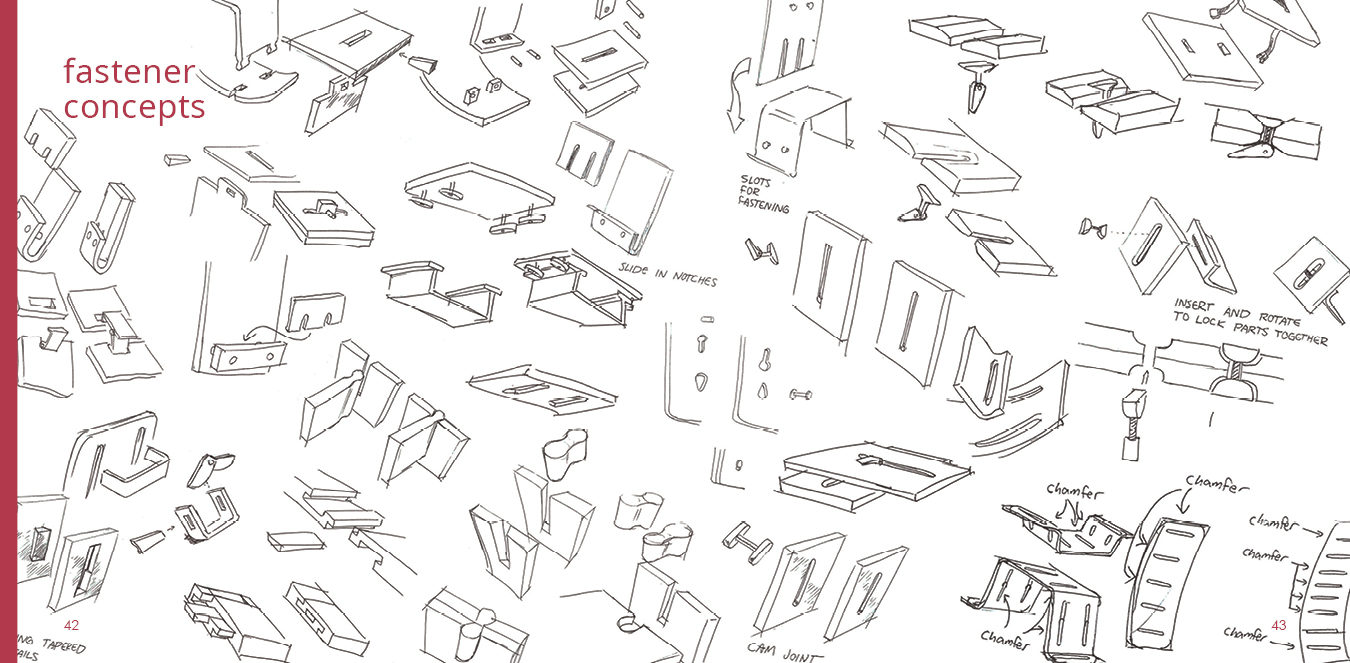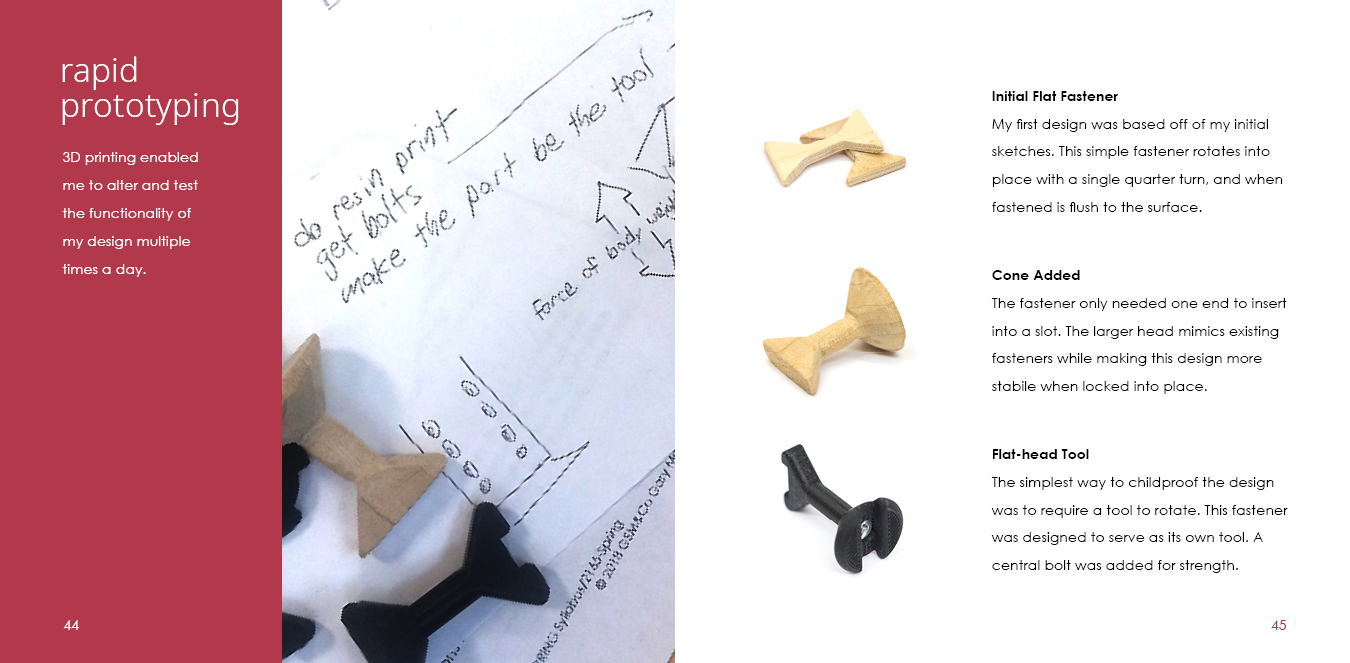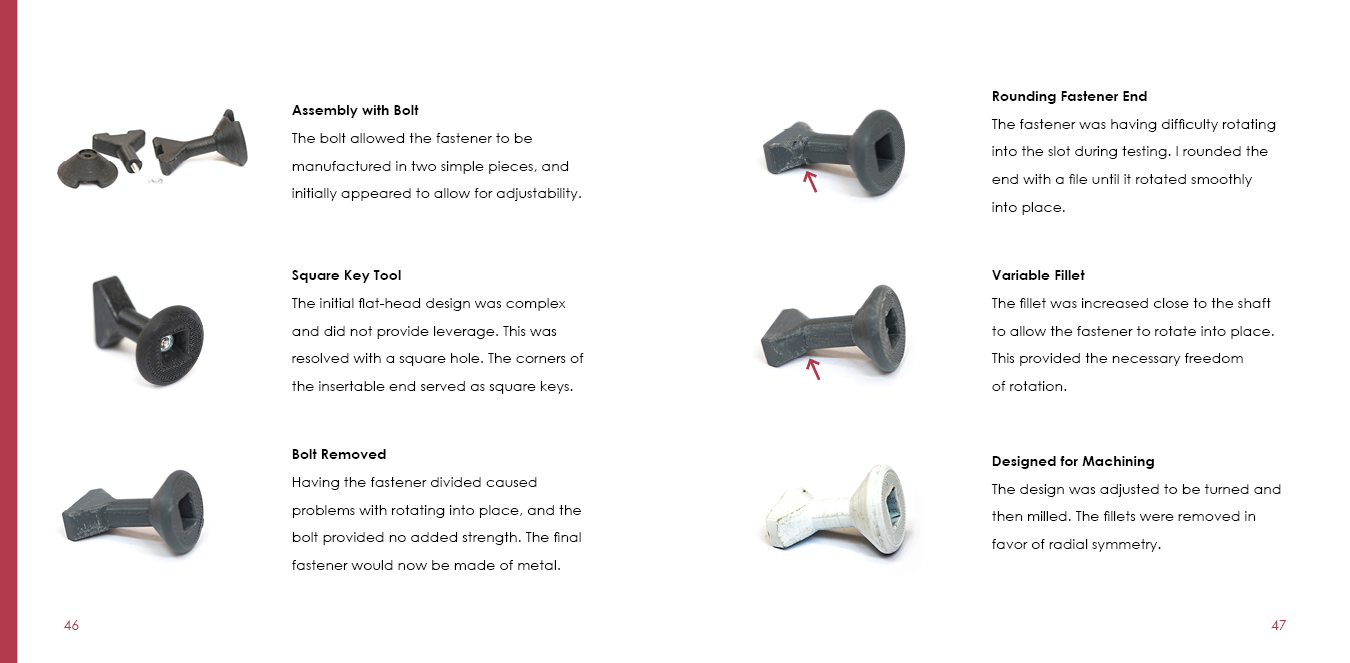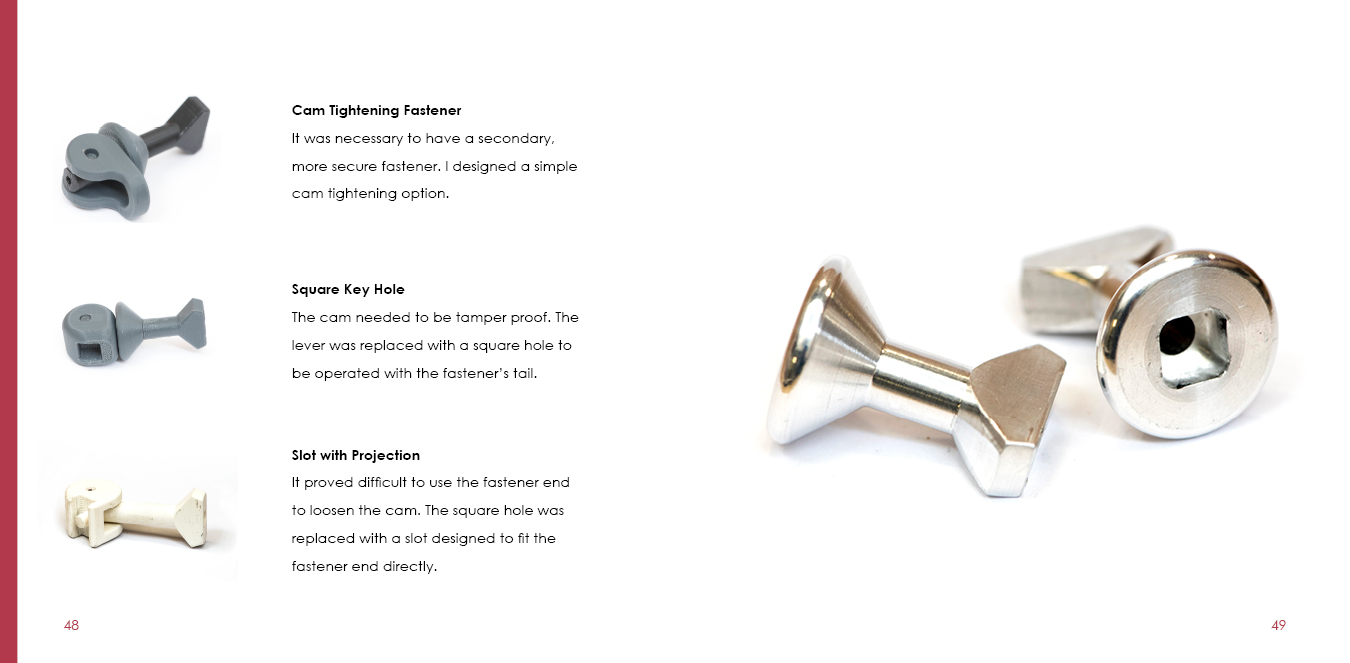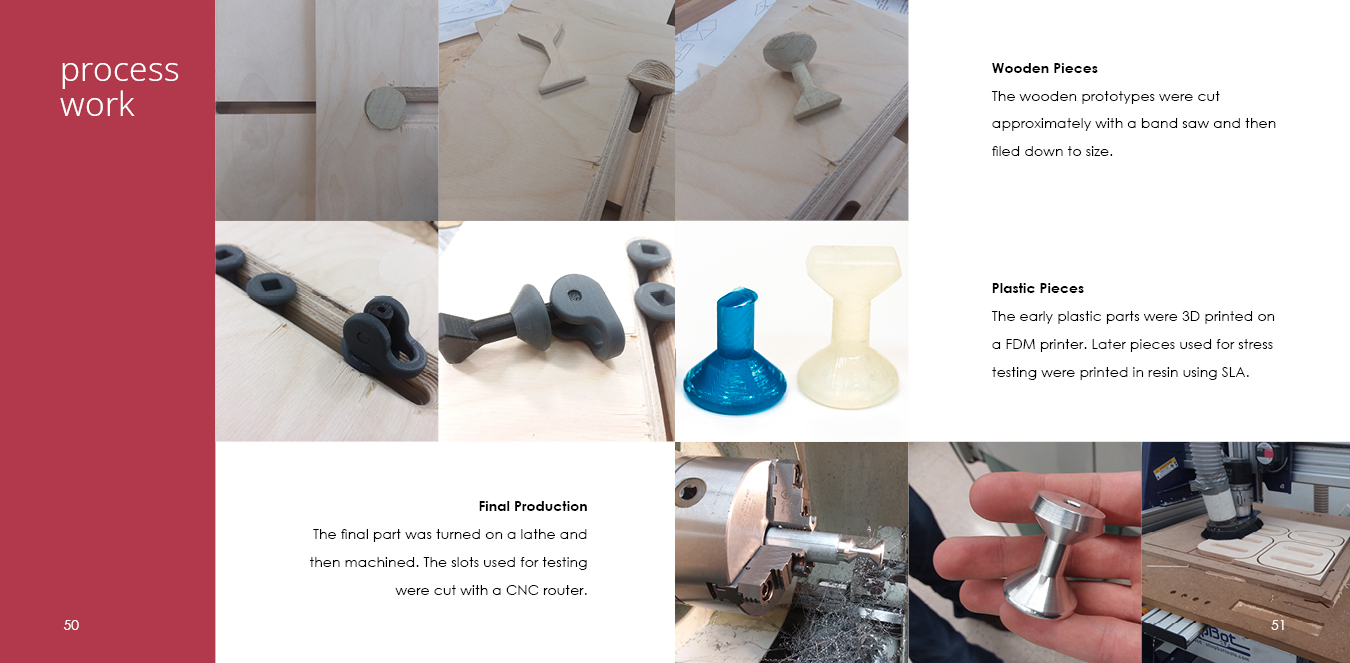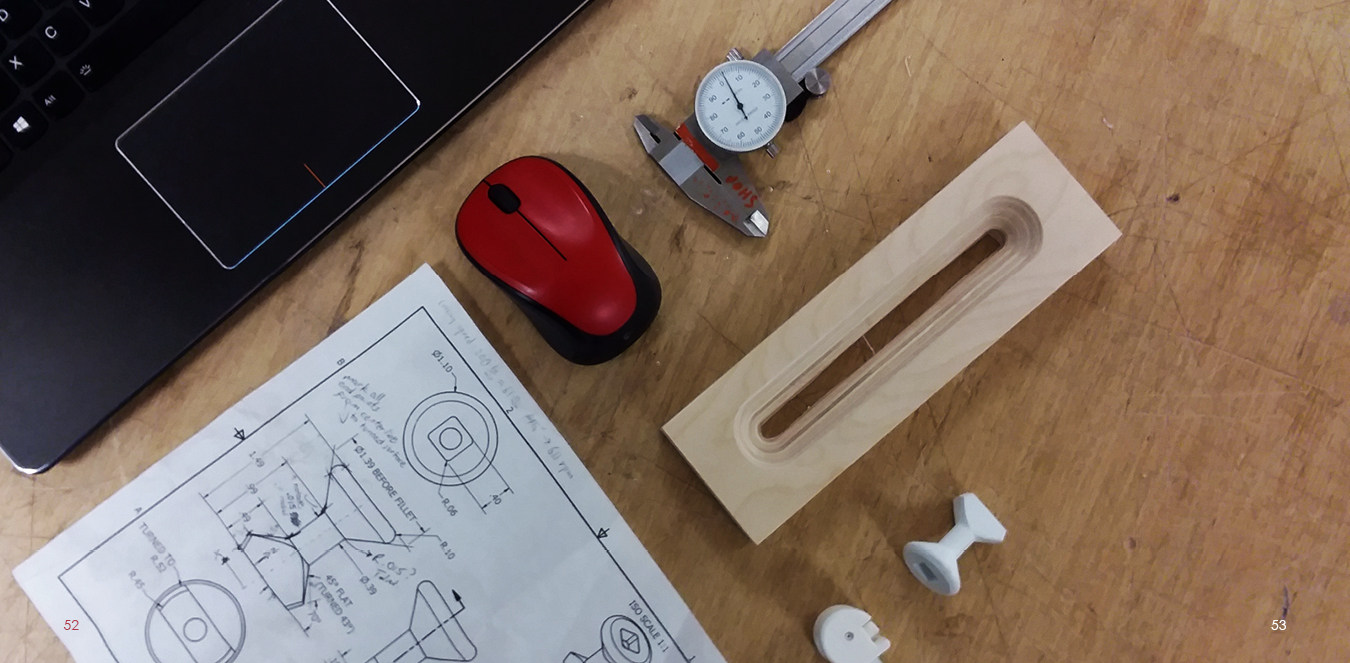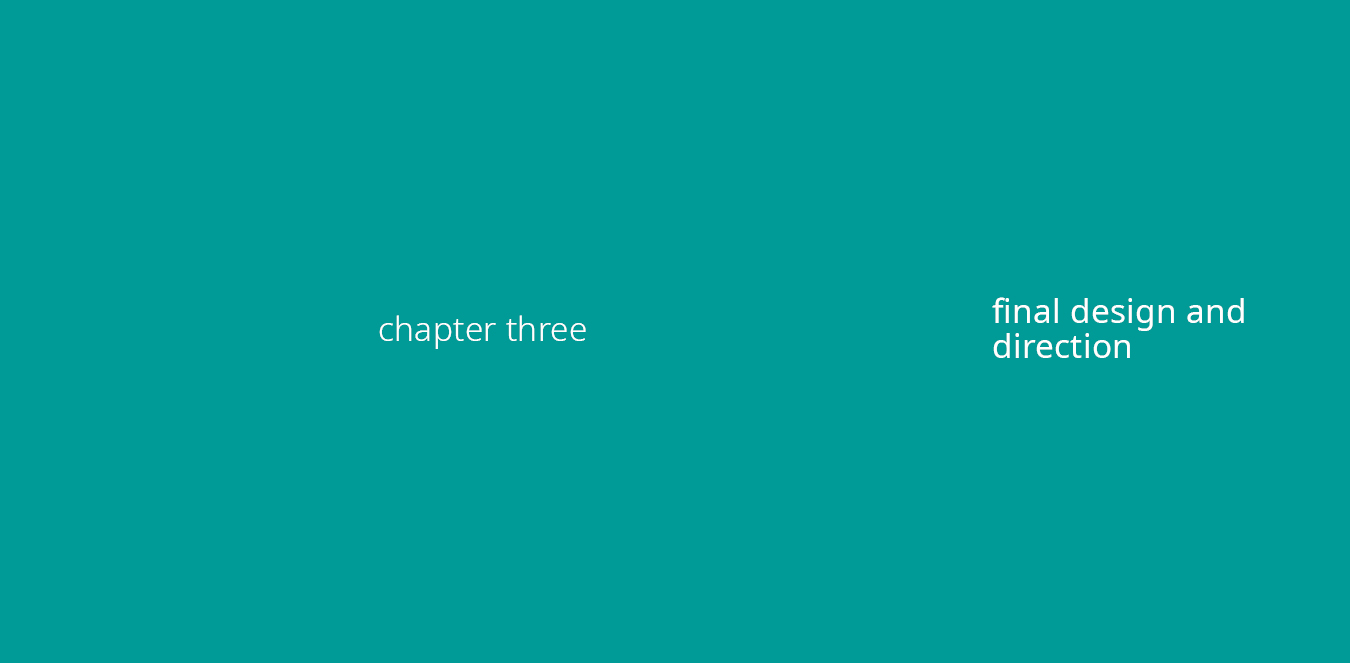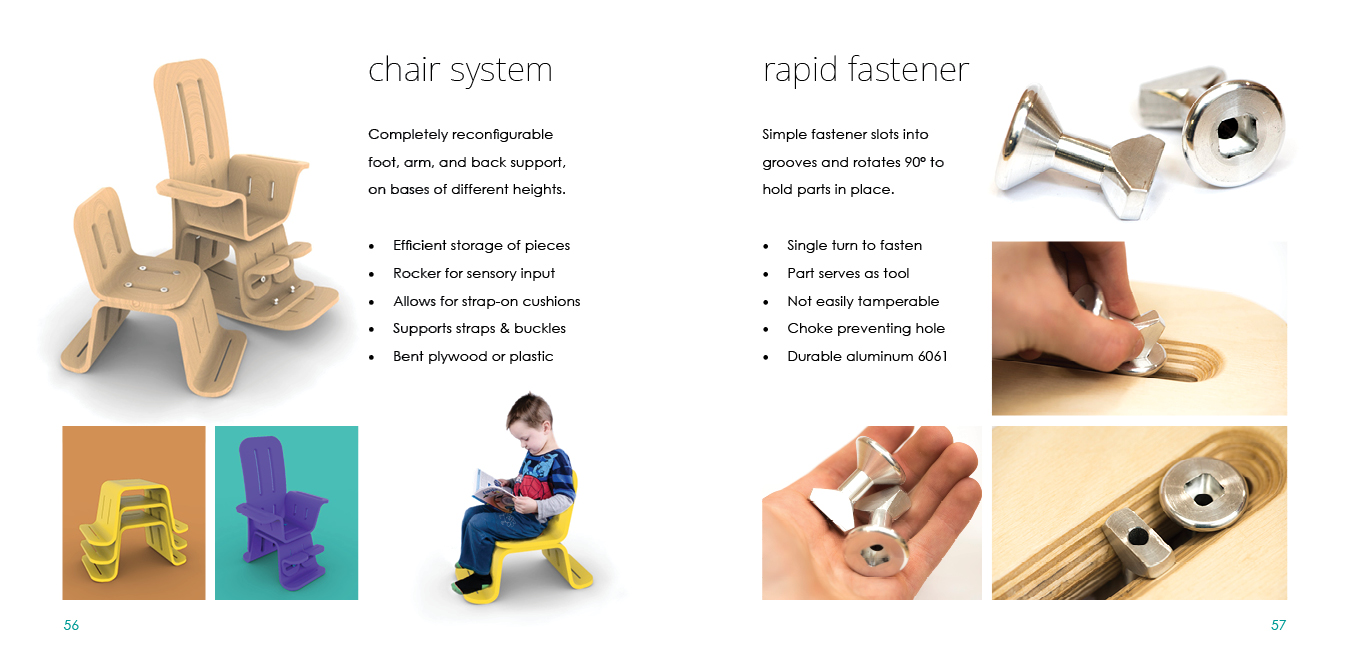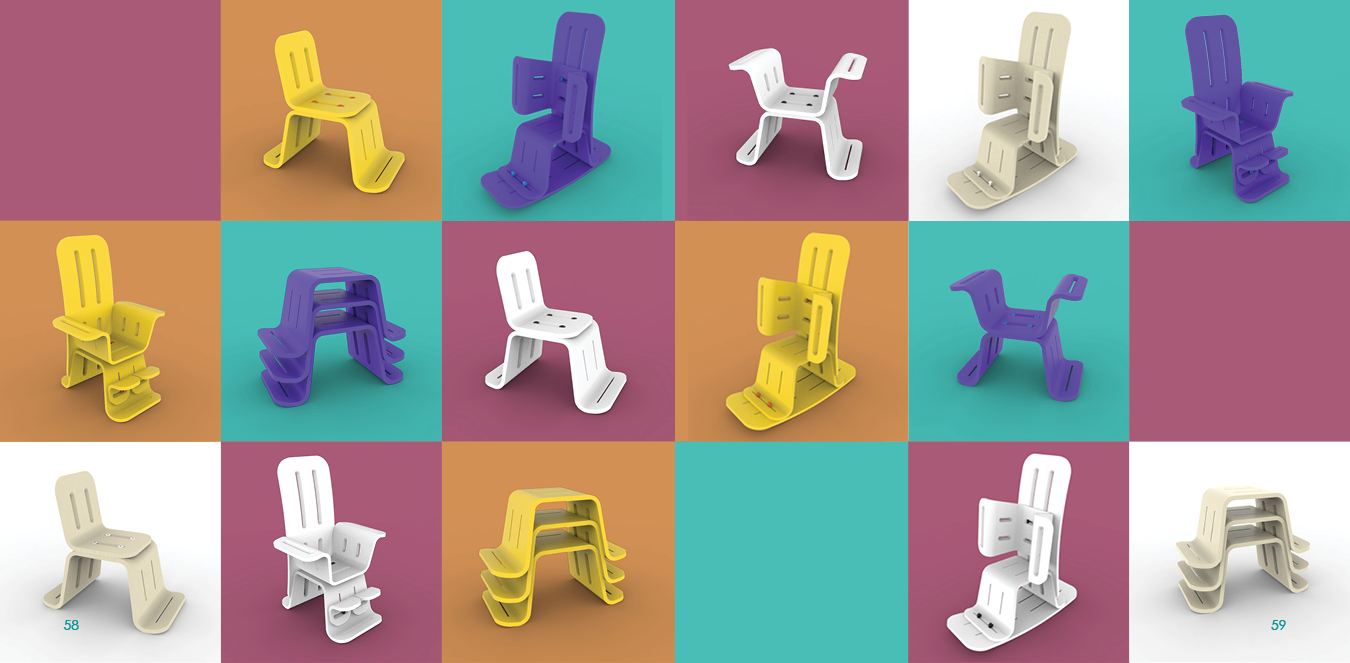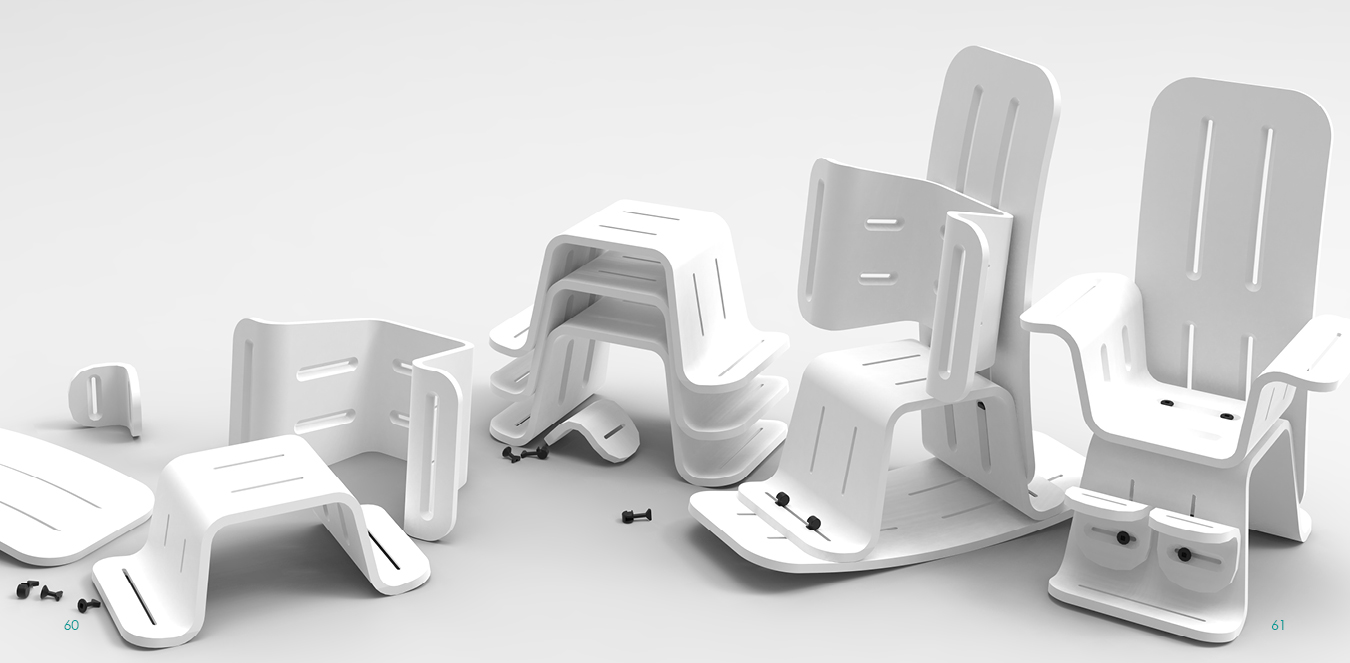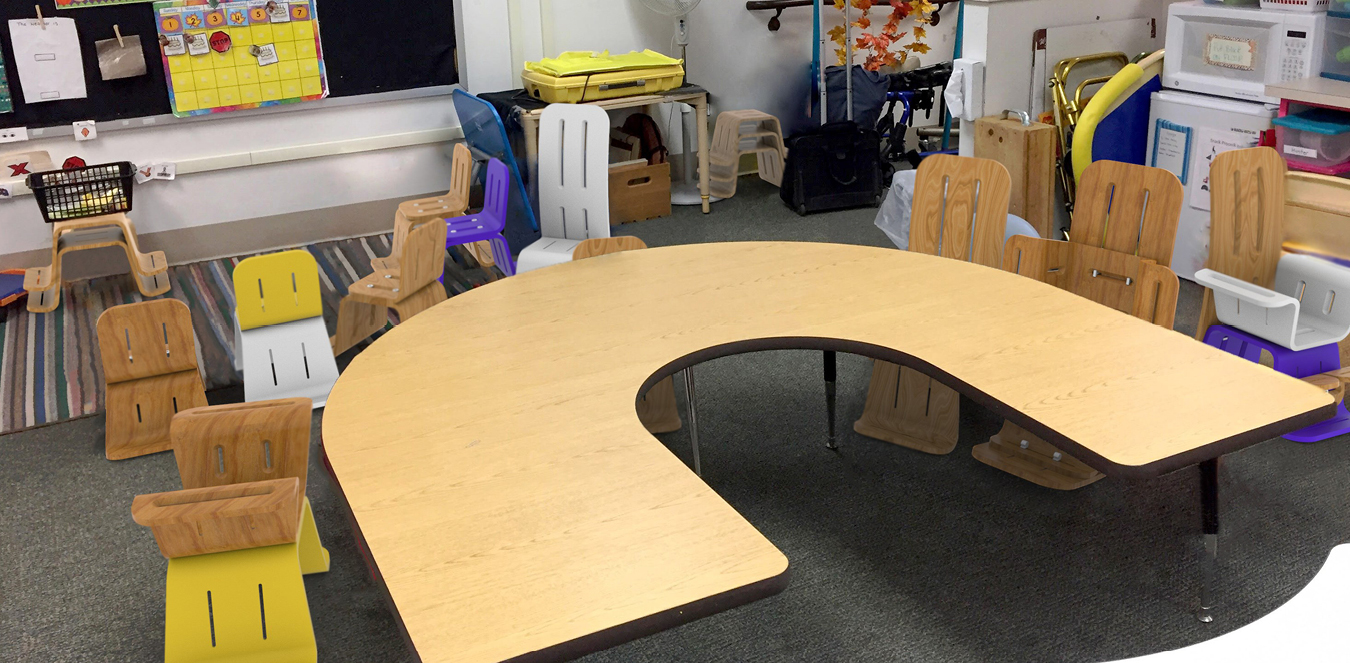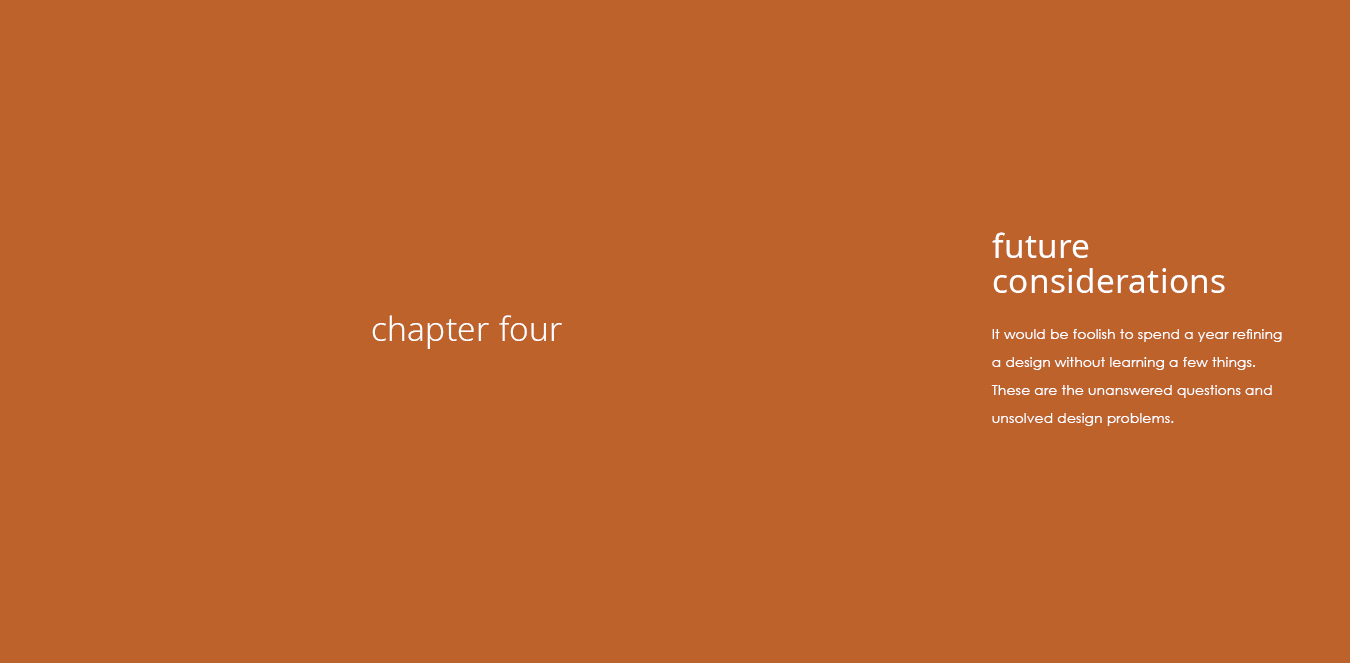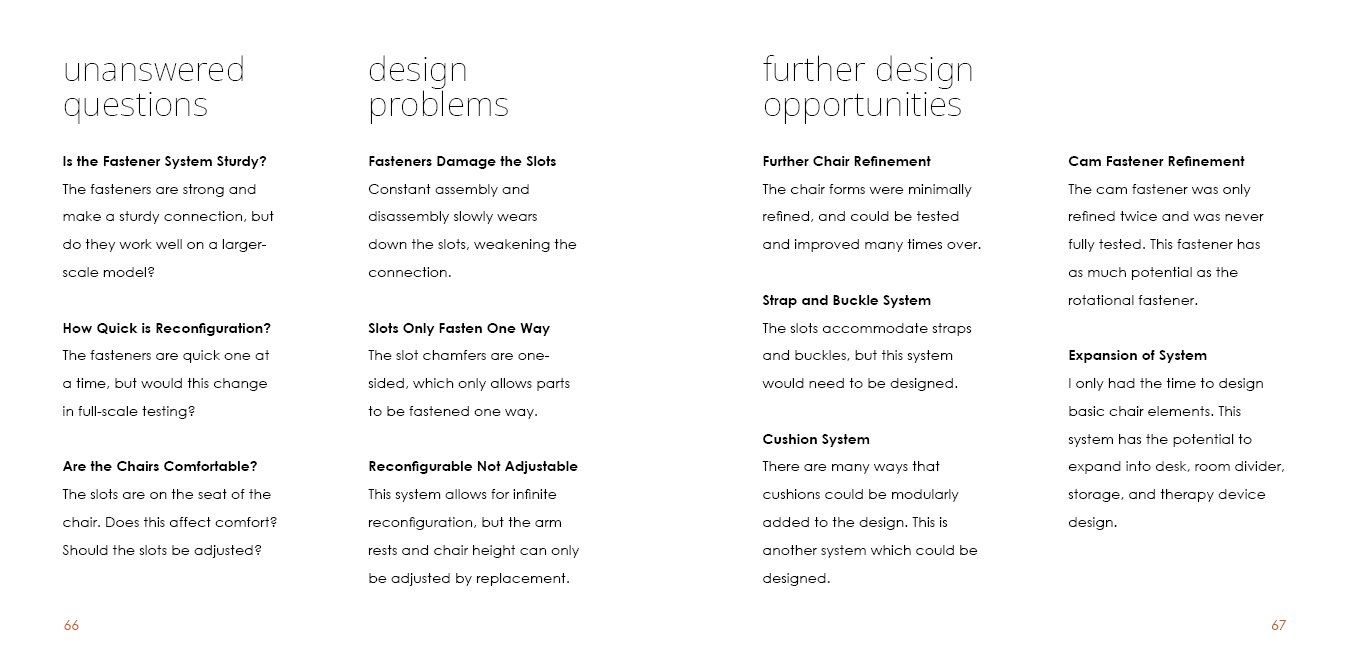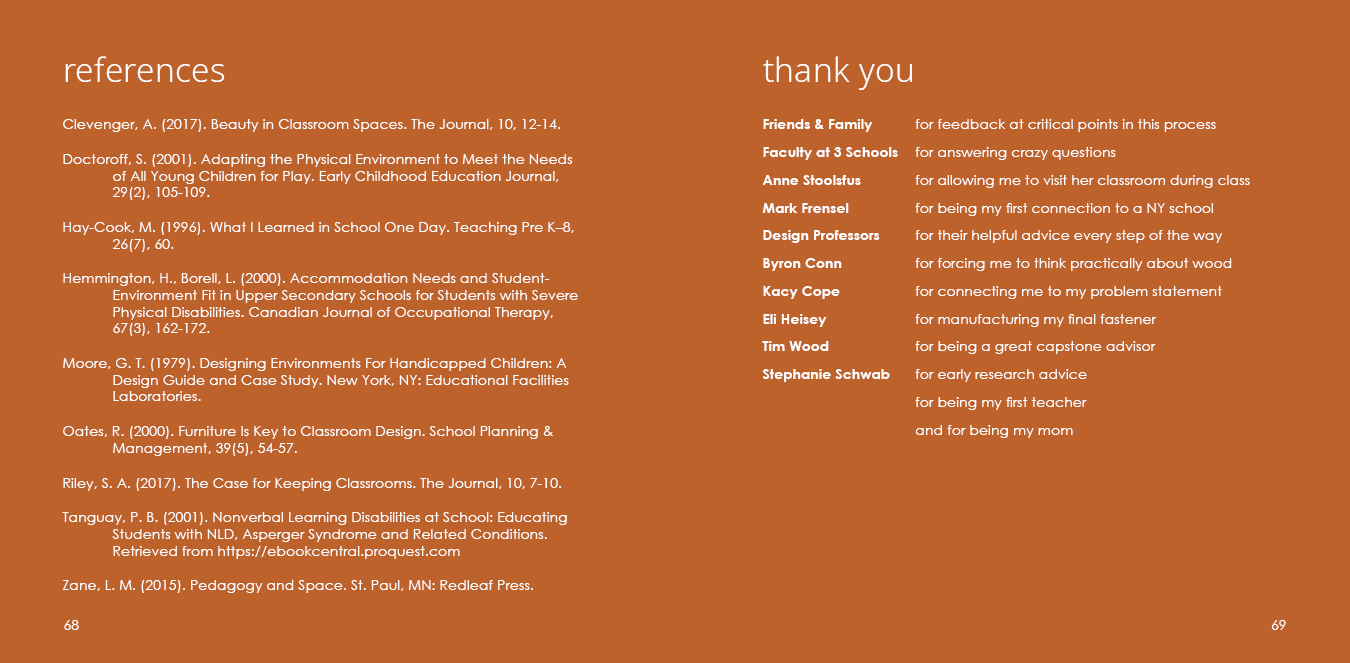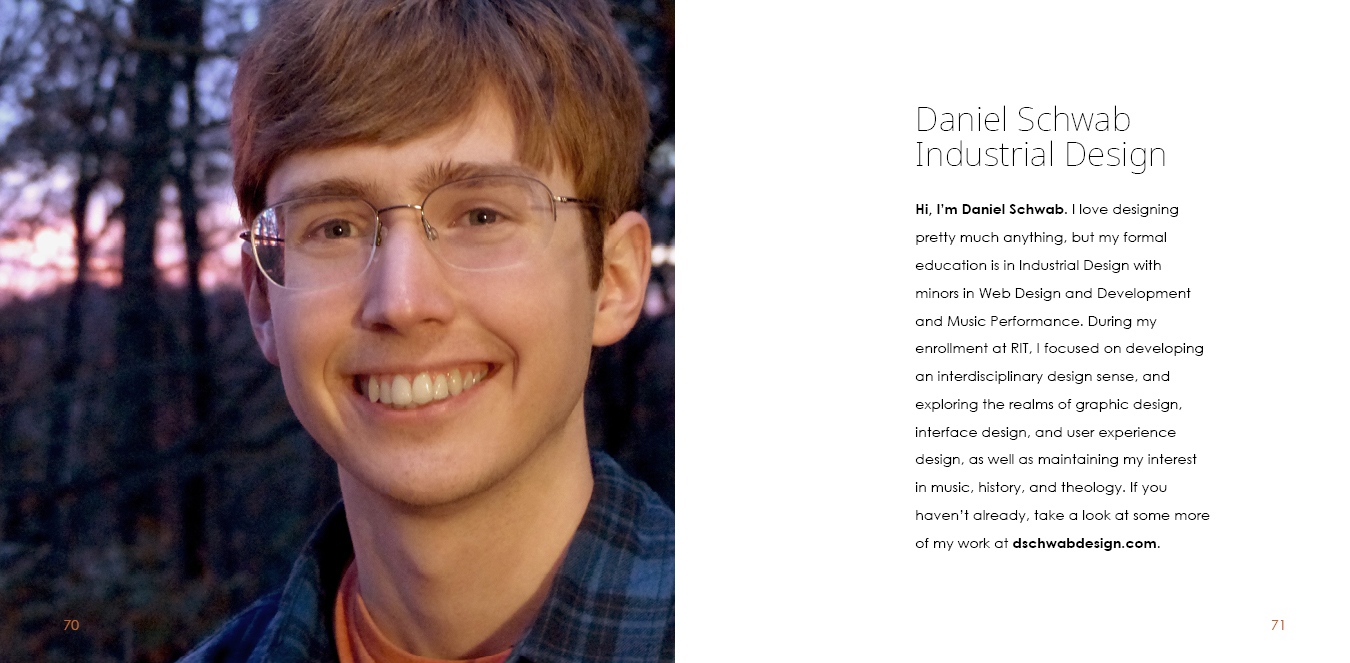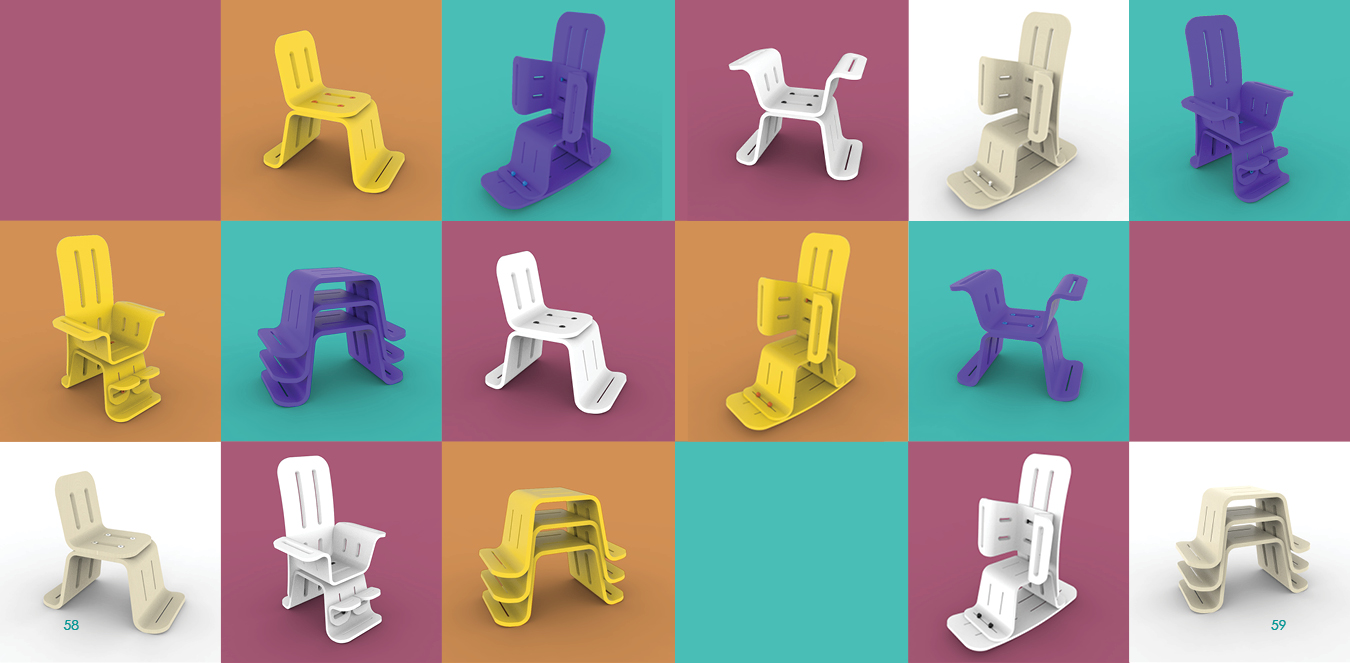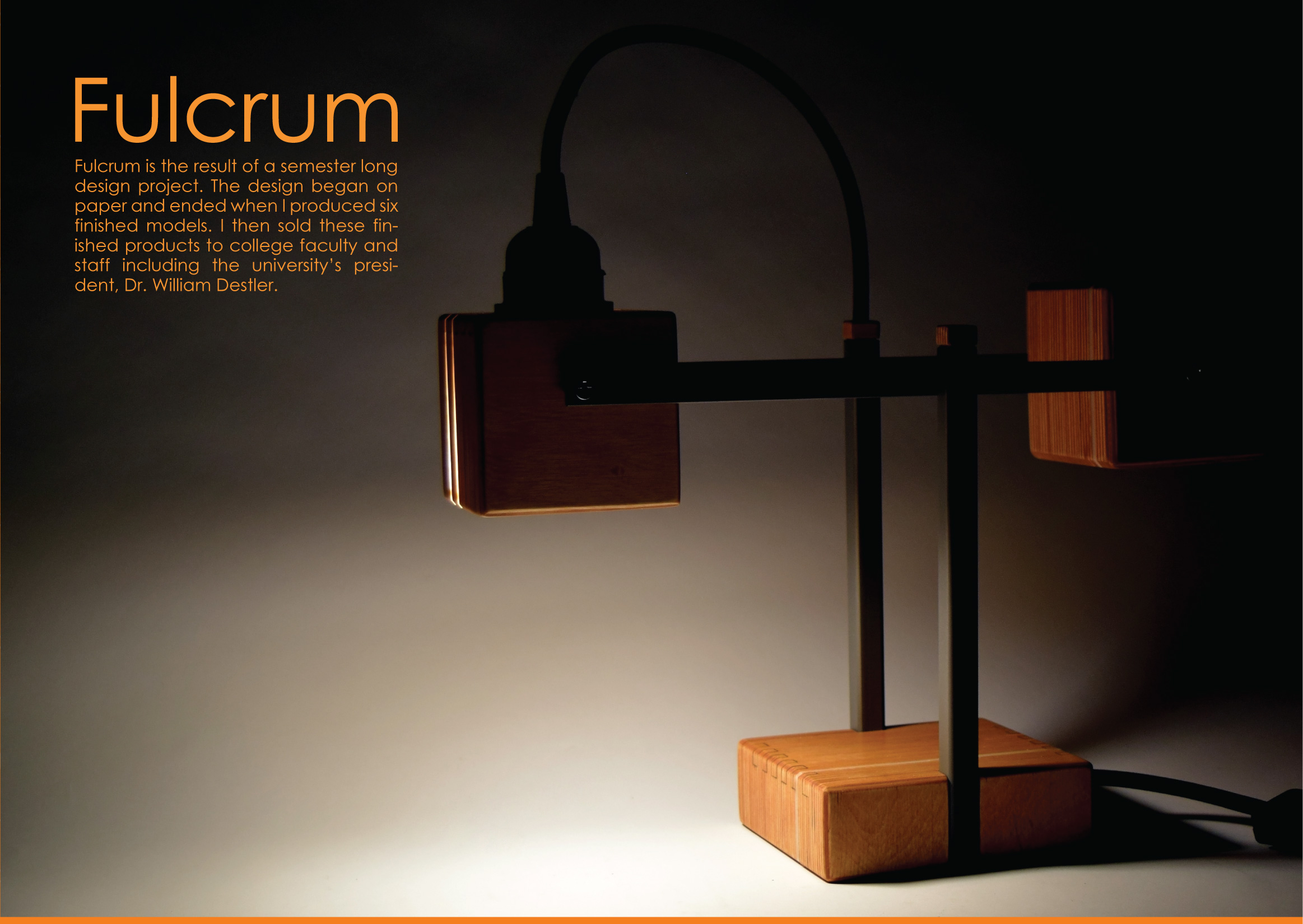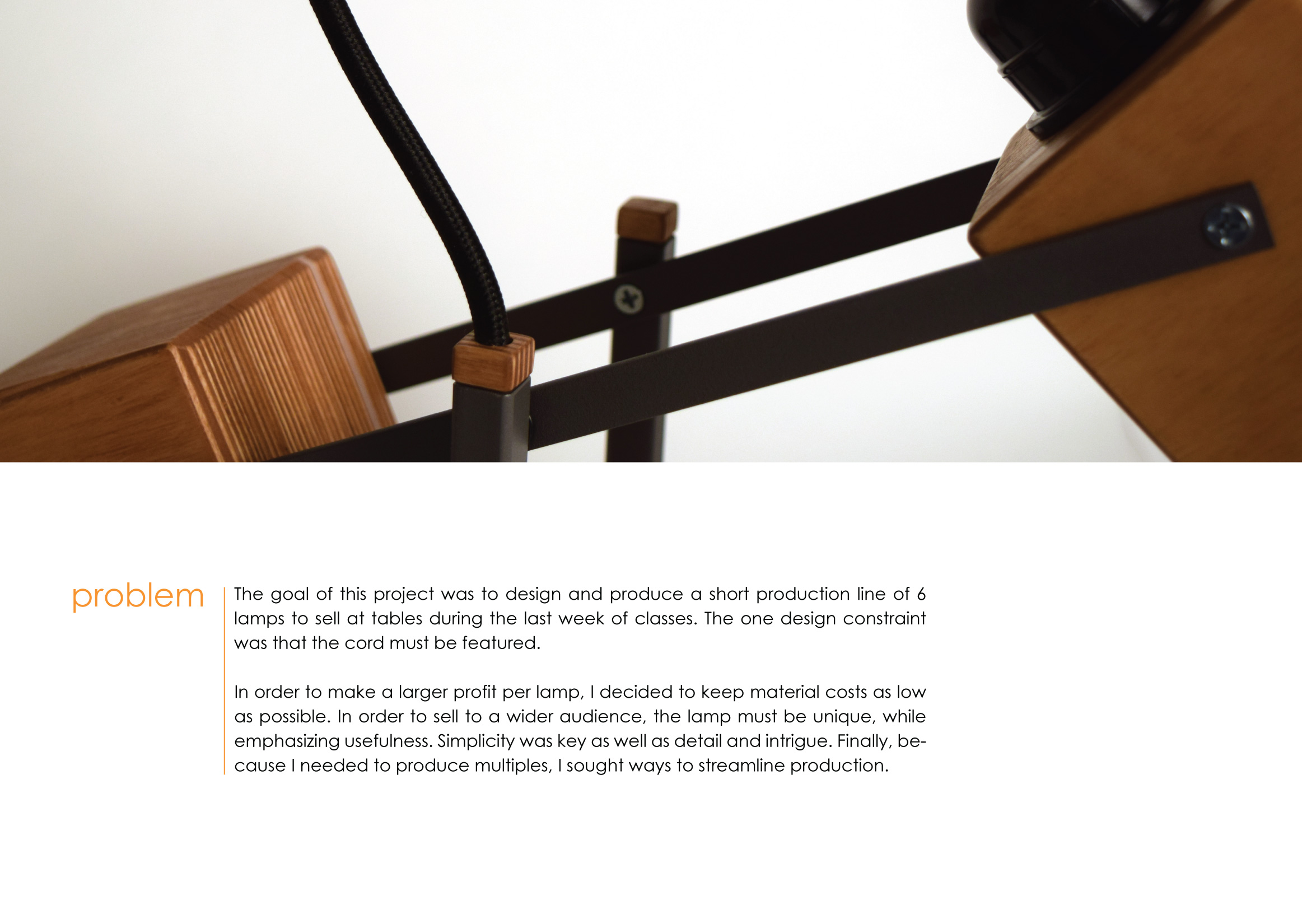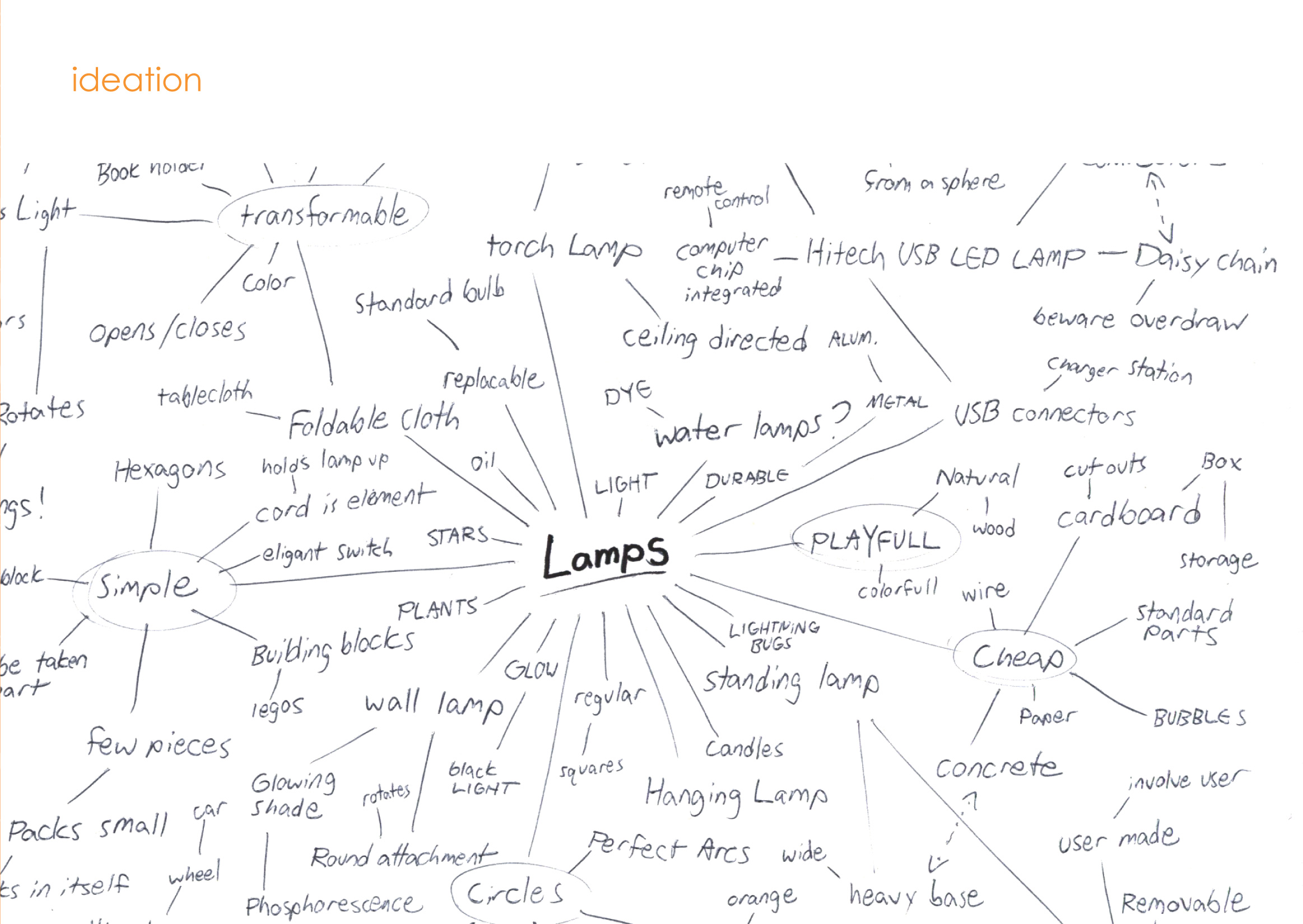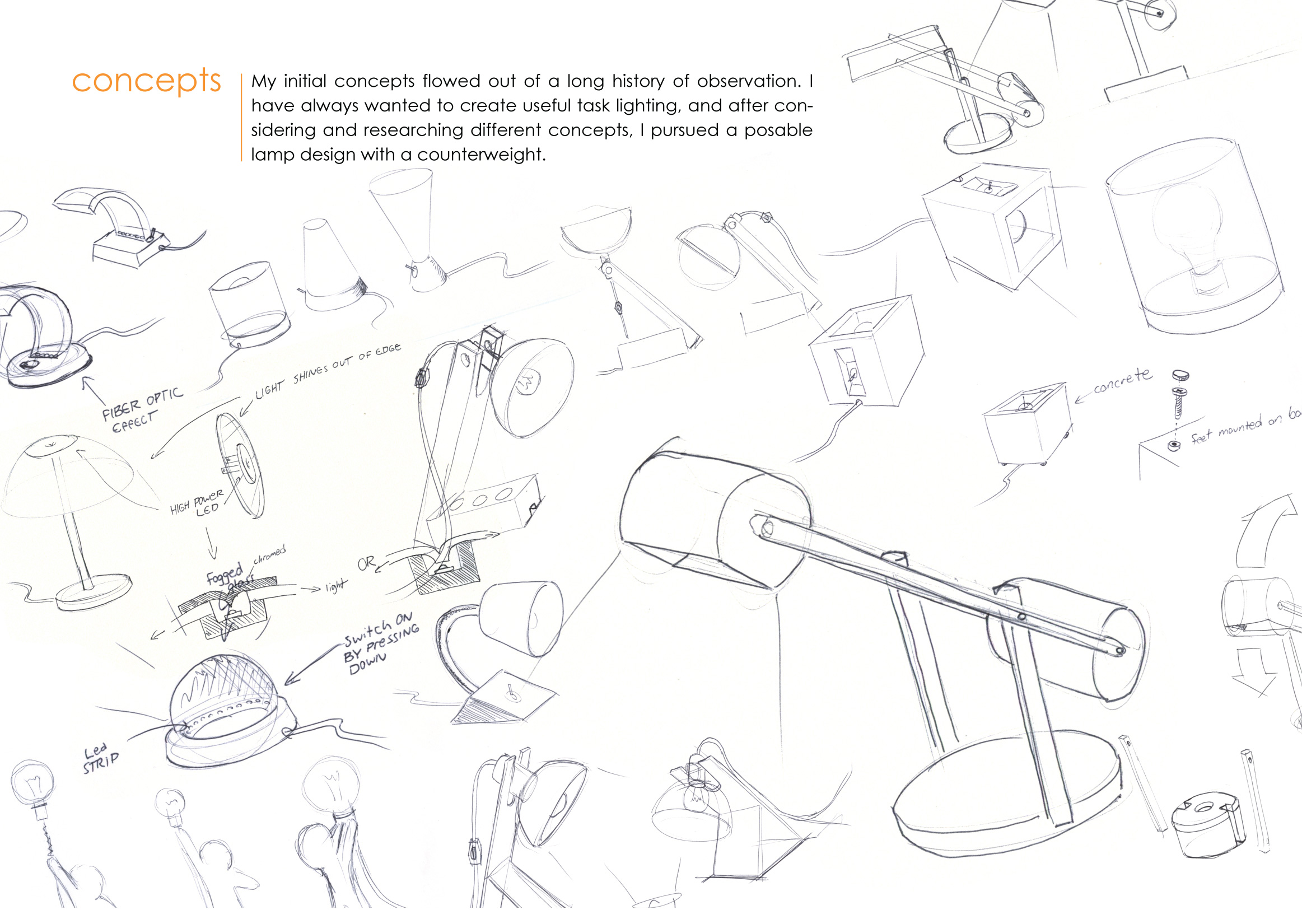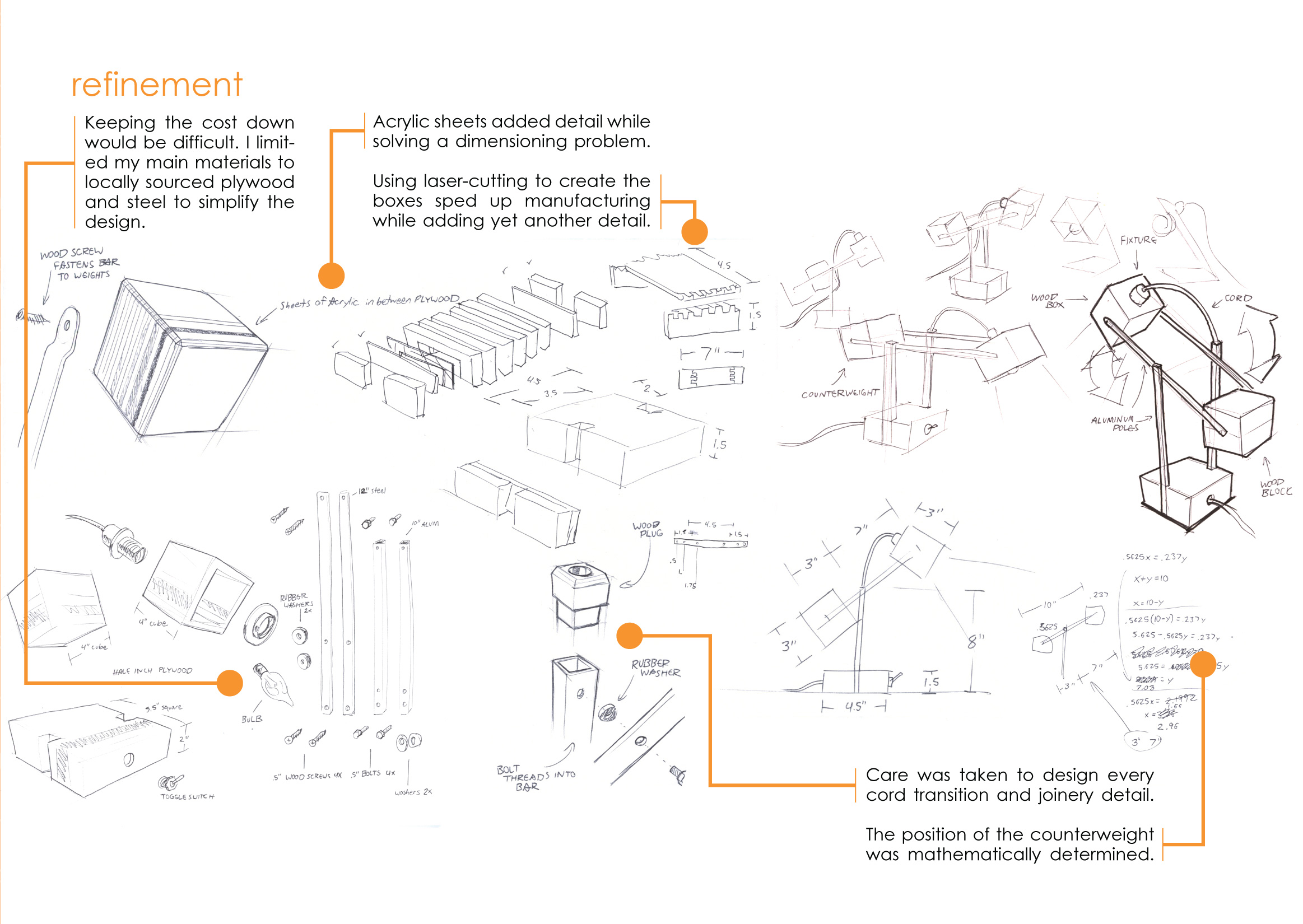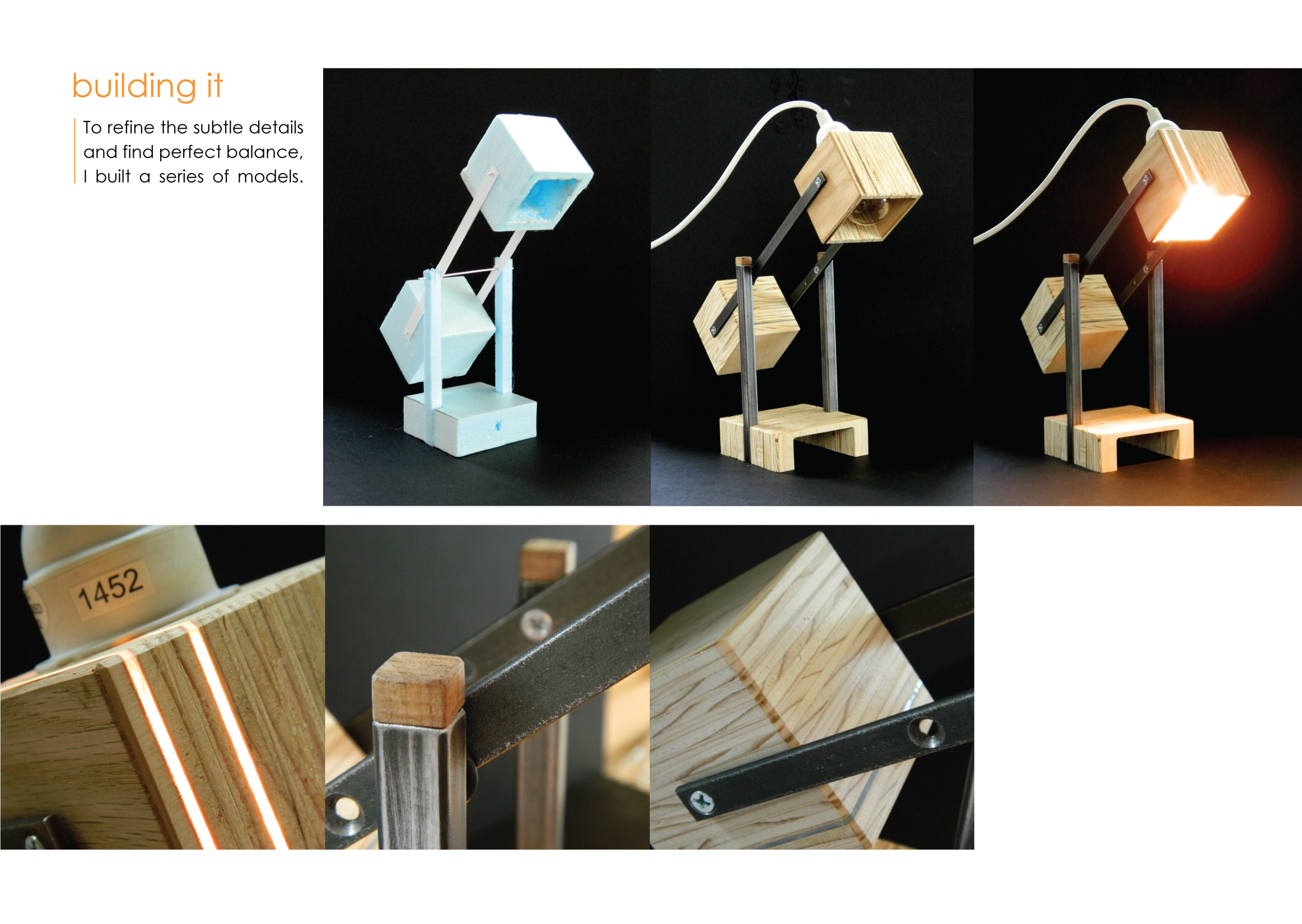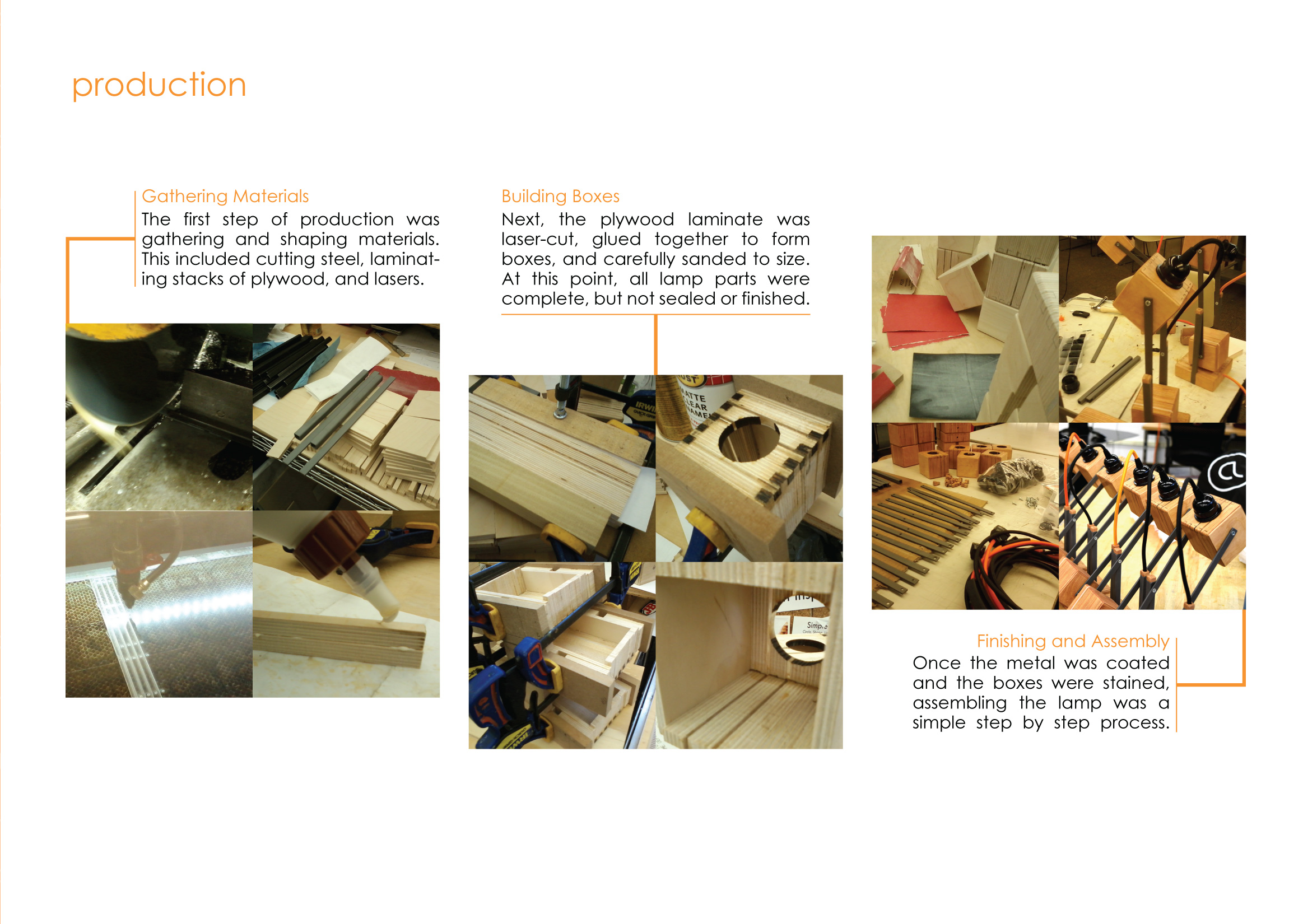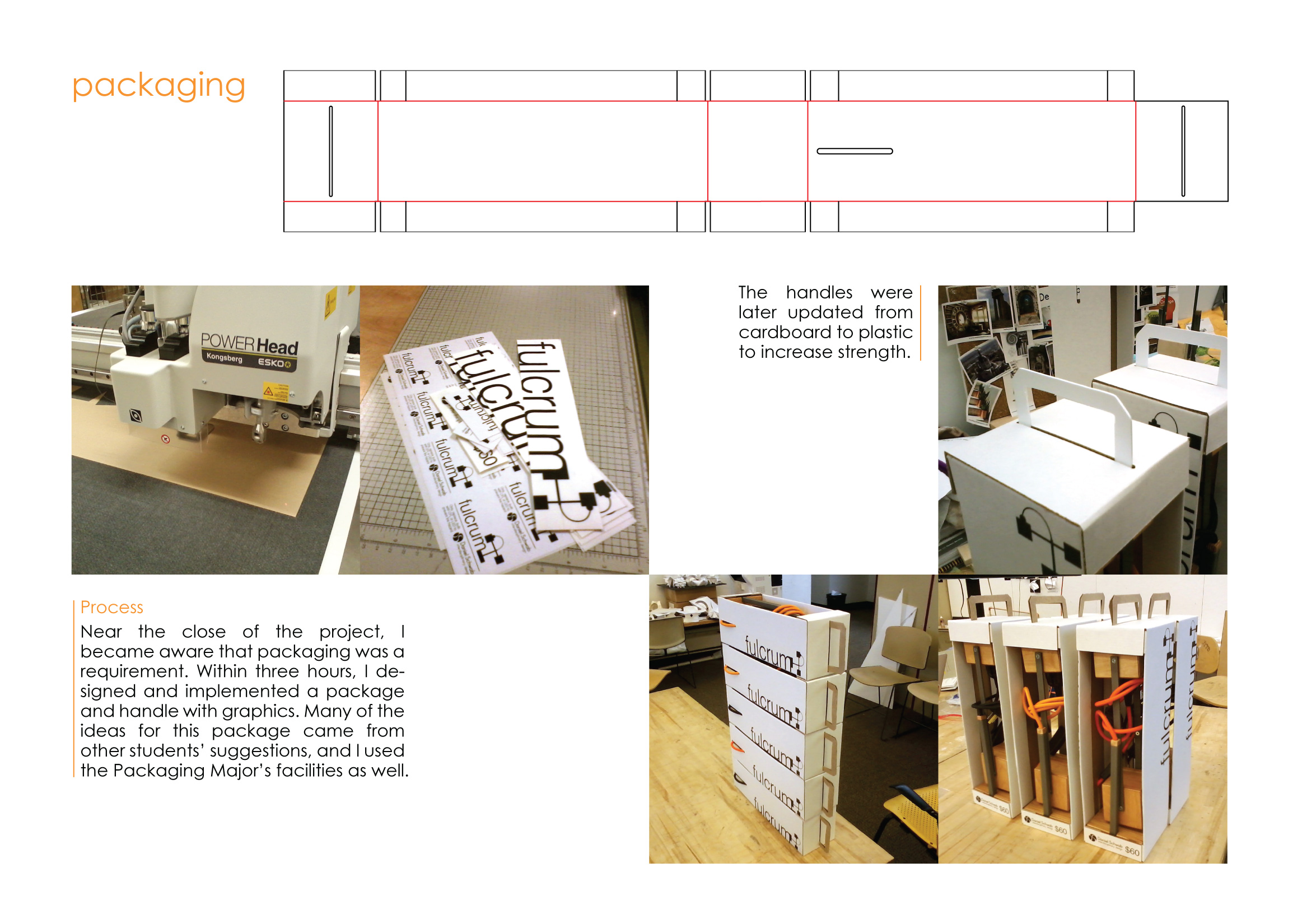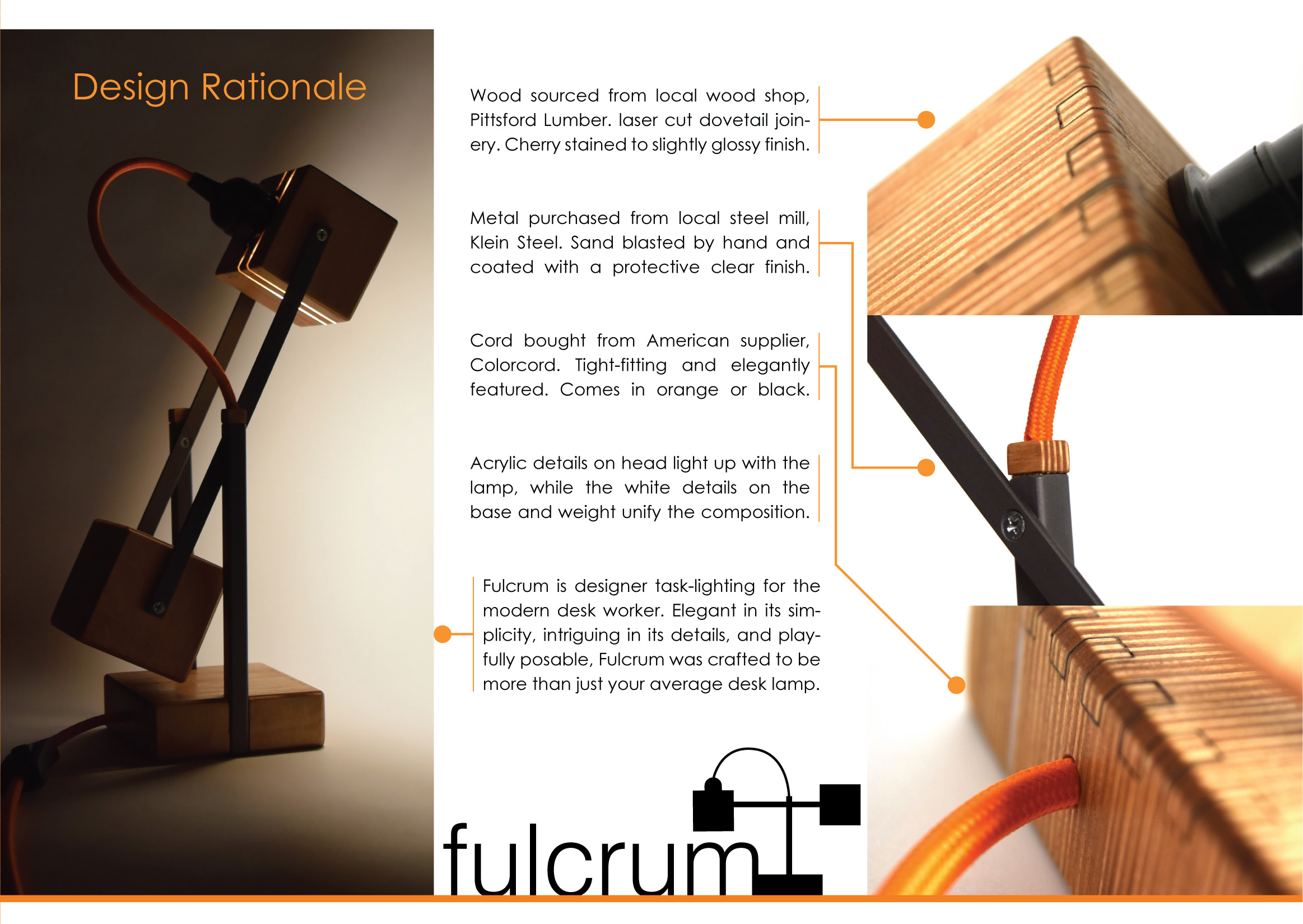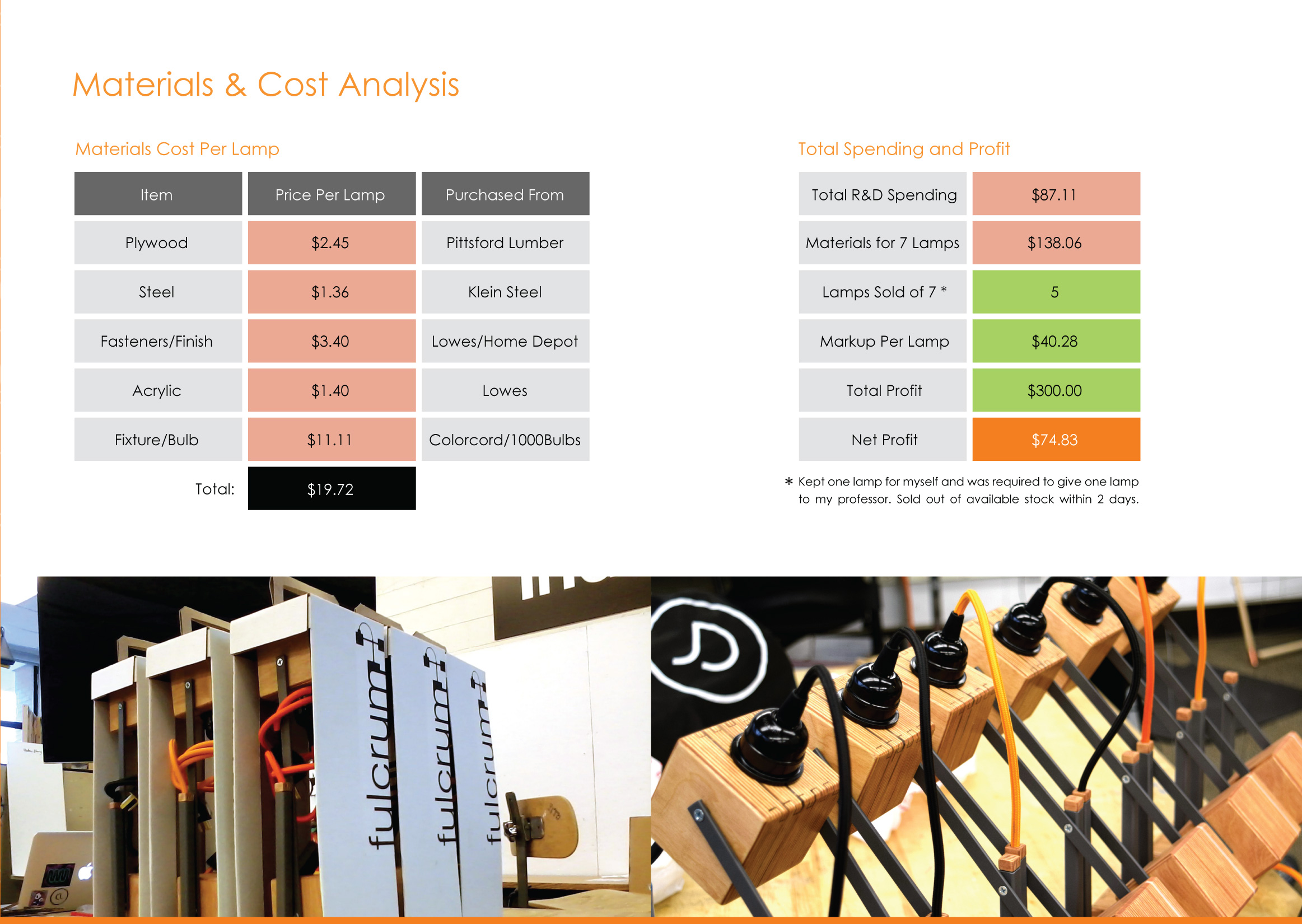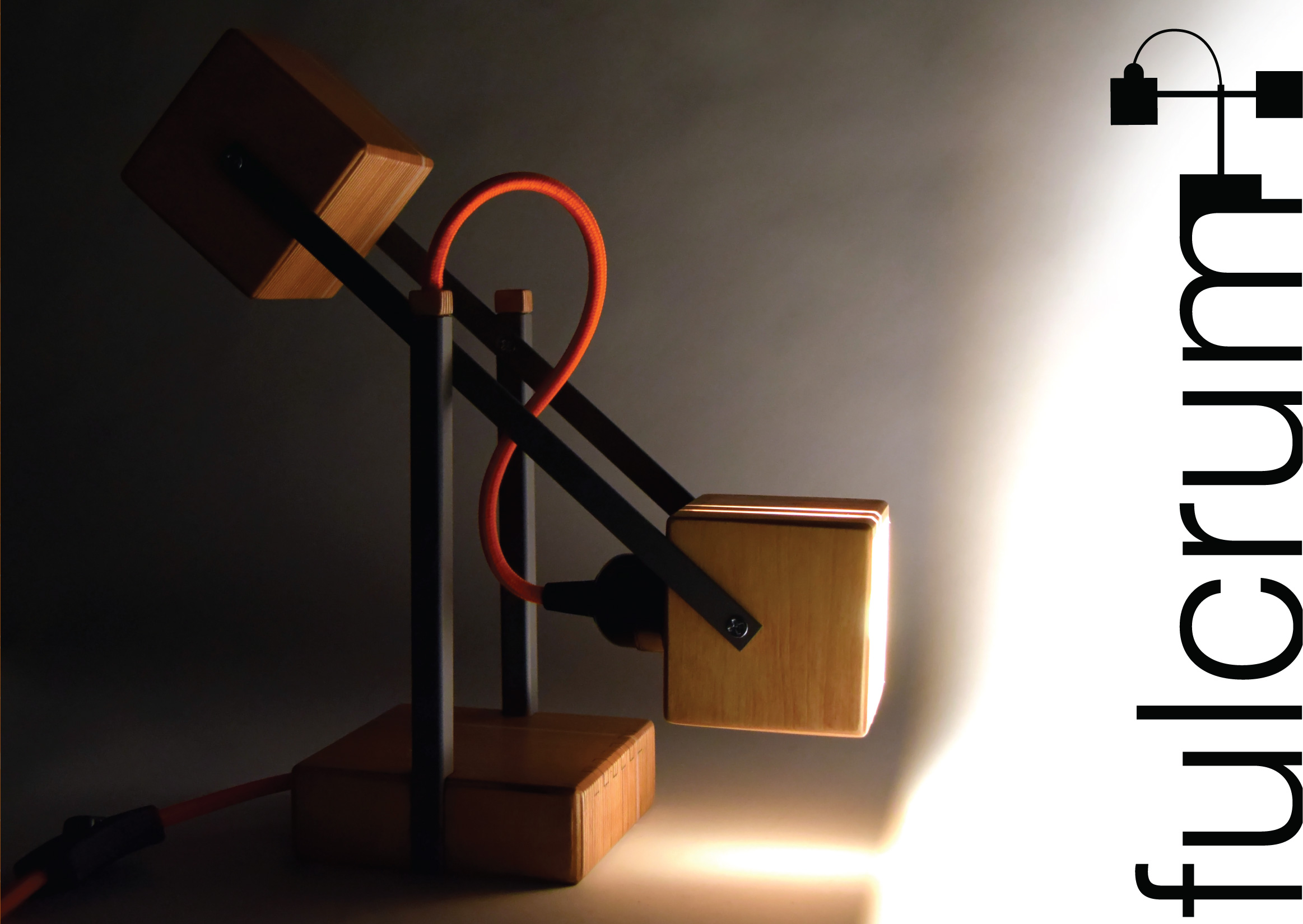 Houseware Design: Series
A product series consisting of a touch activated lamp and a table clock. The design language emphasizes negative space, simple forms, and materials.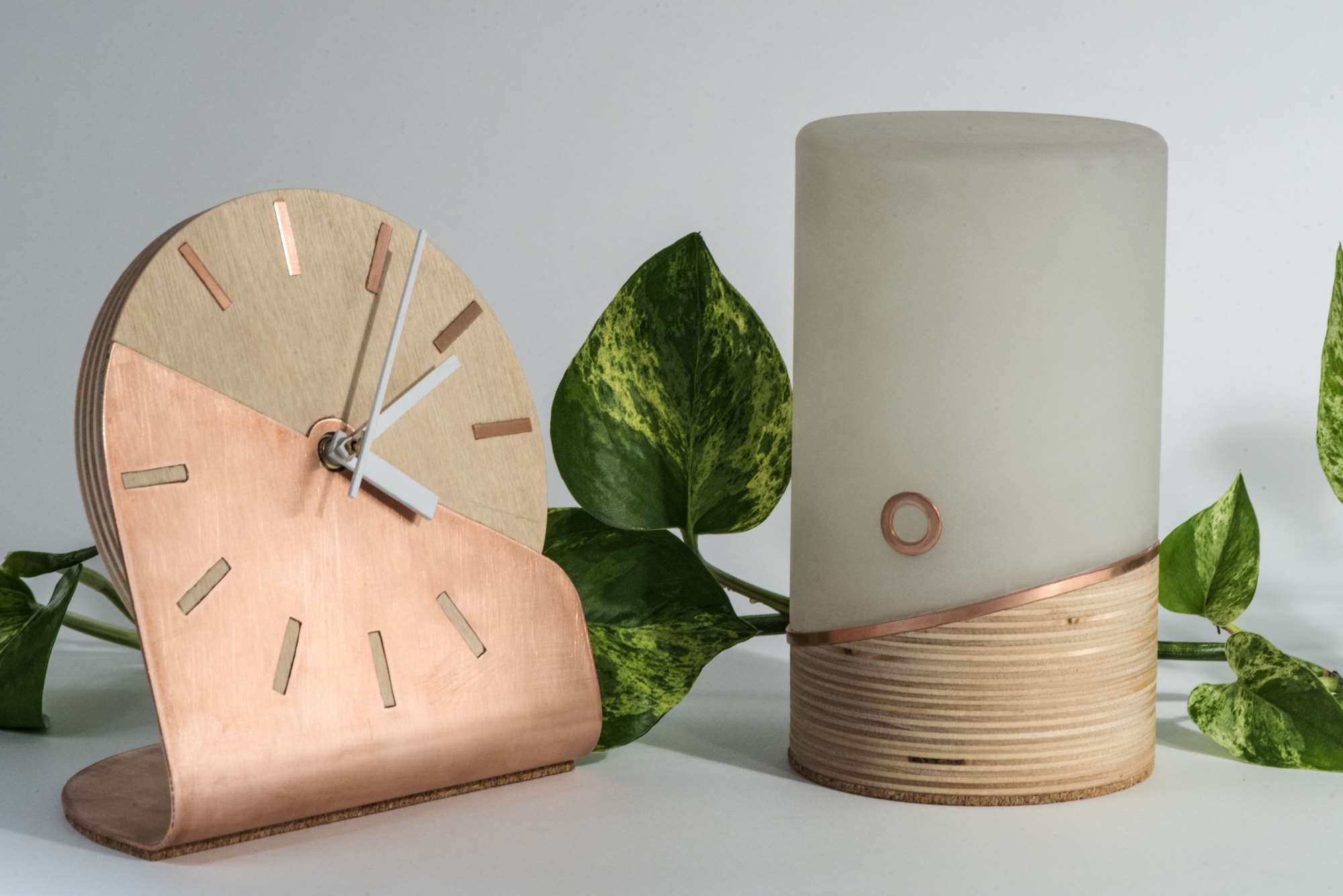 Final presentation: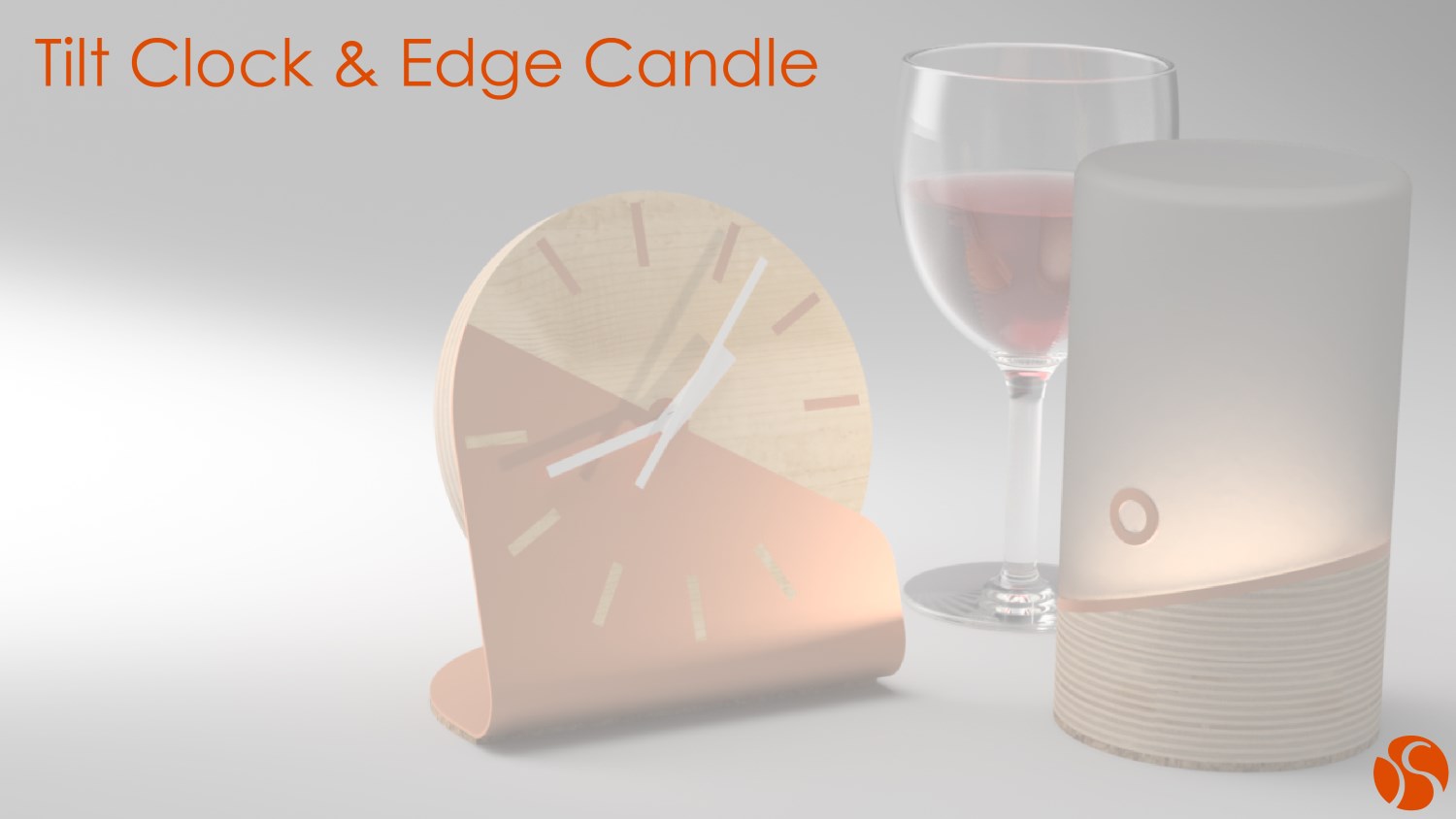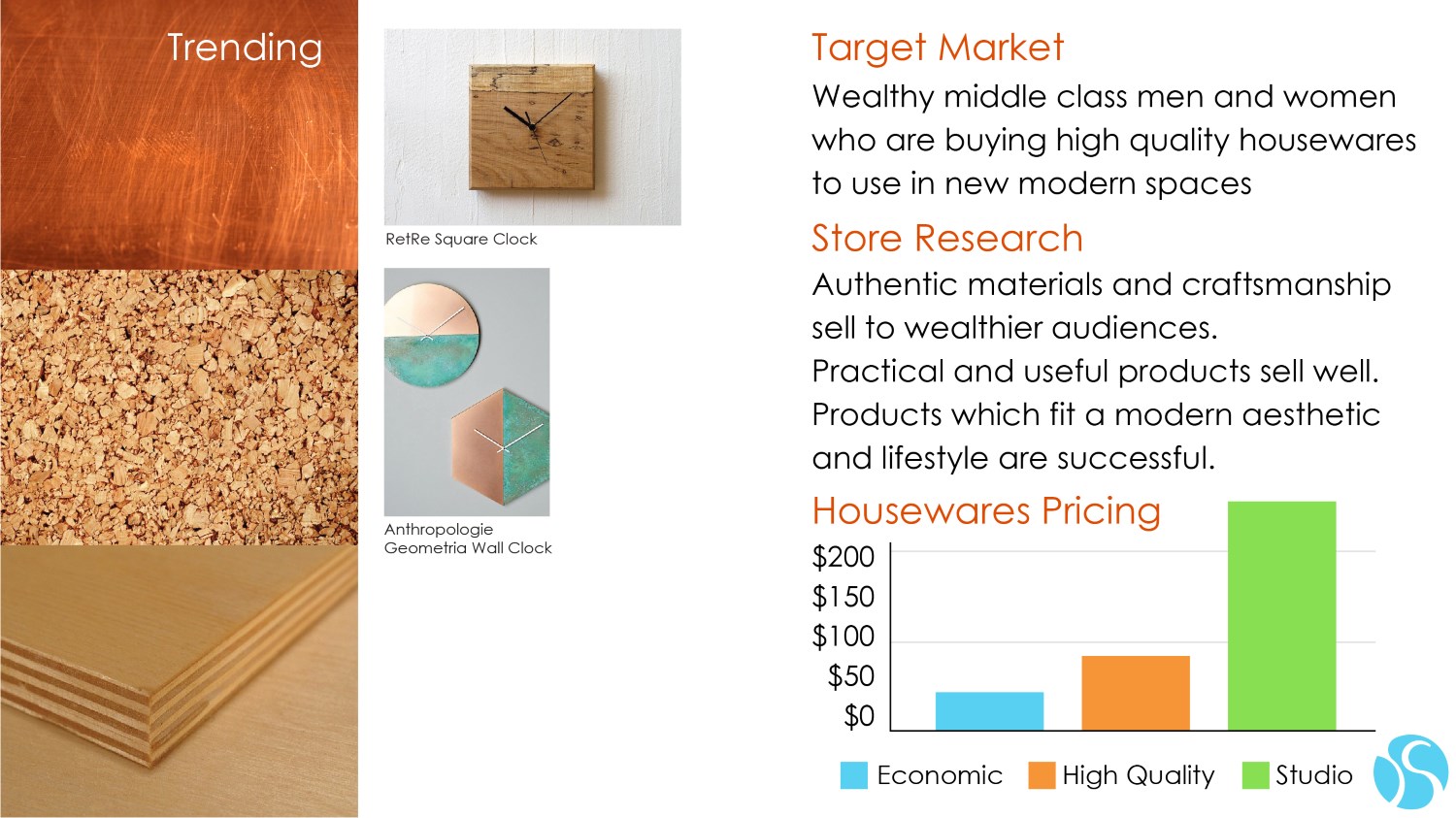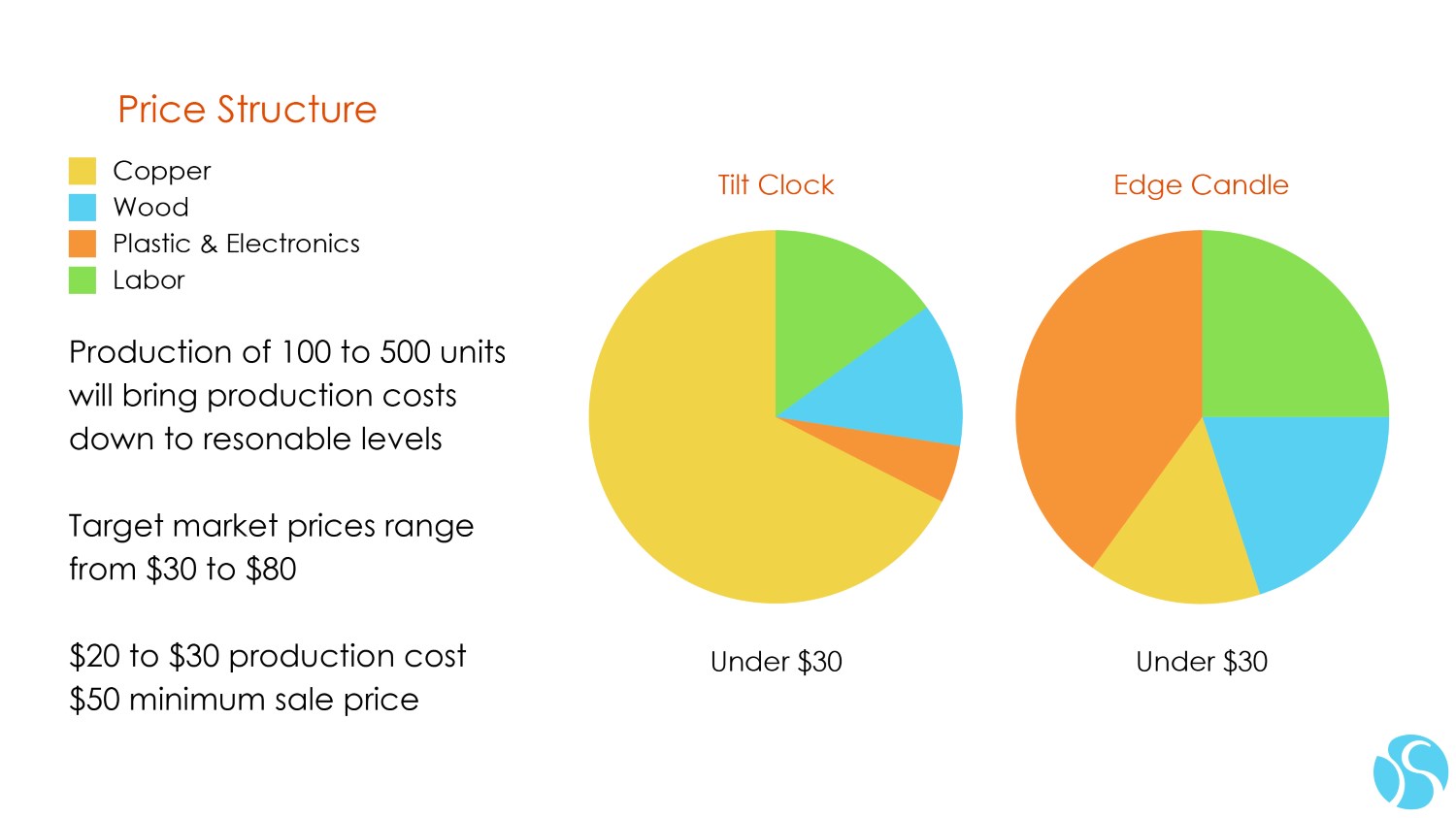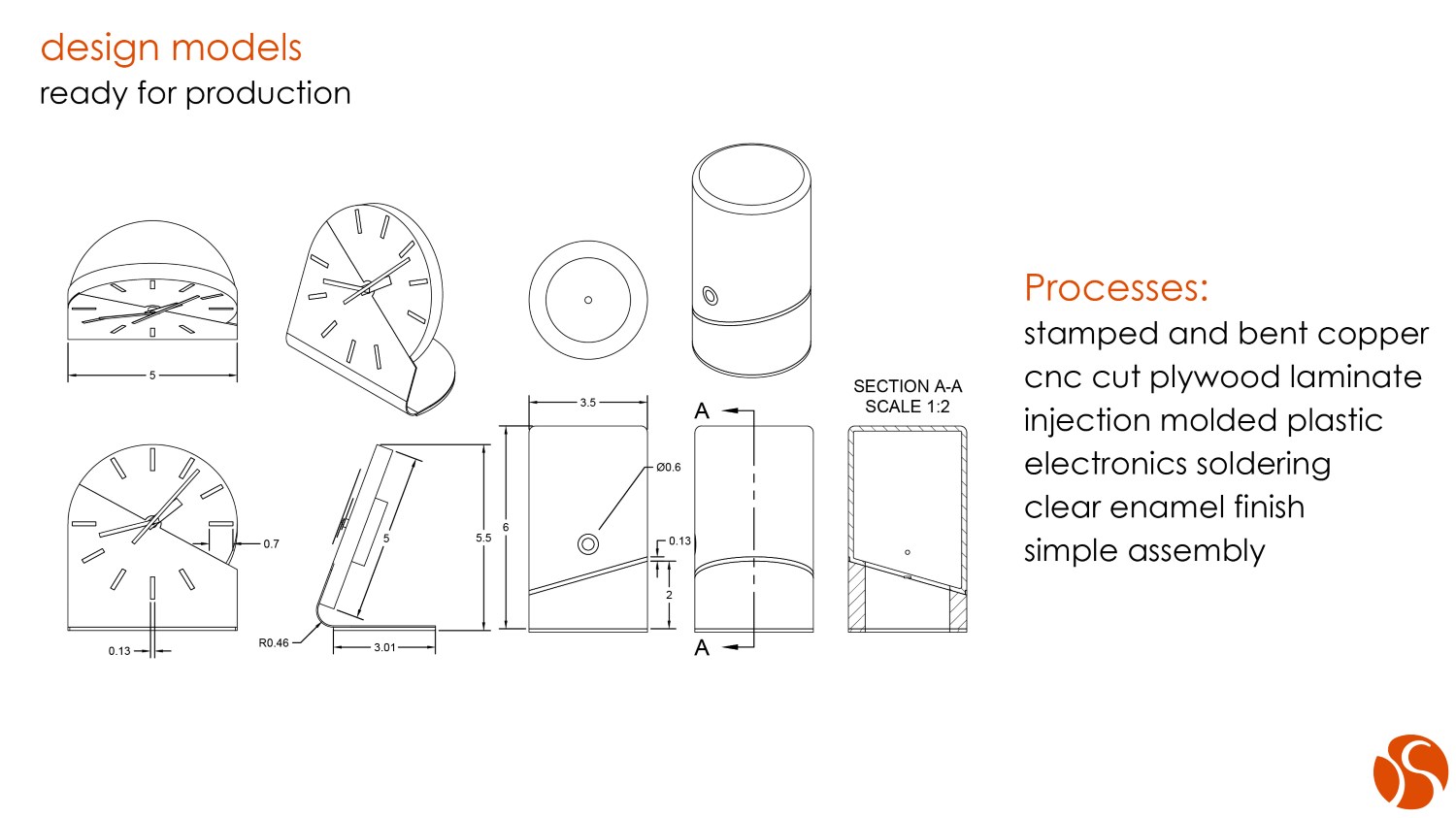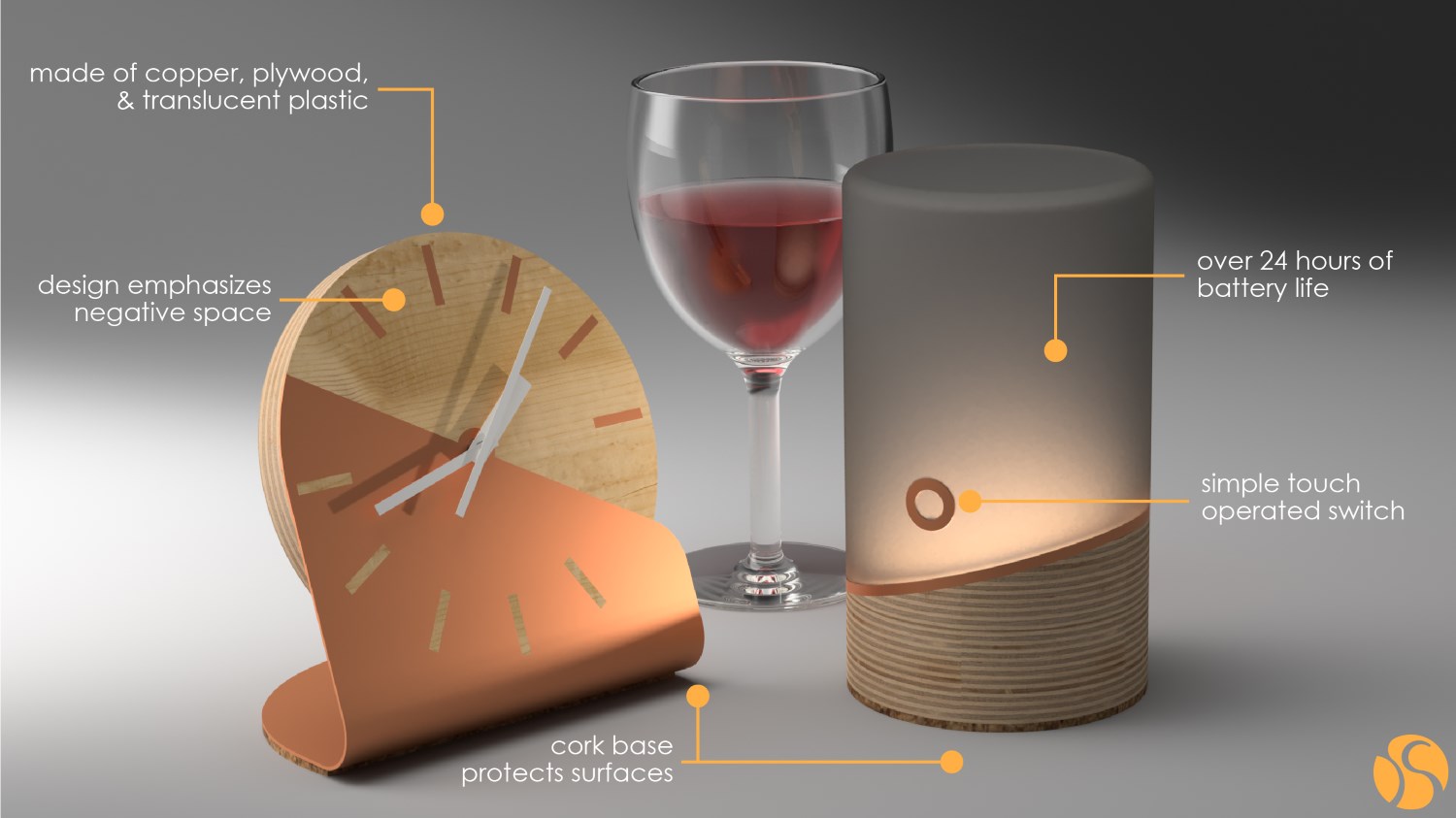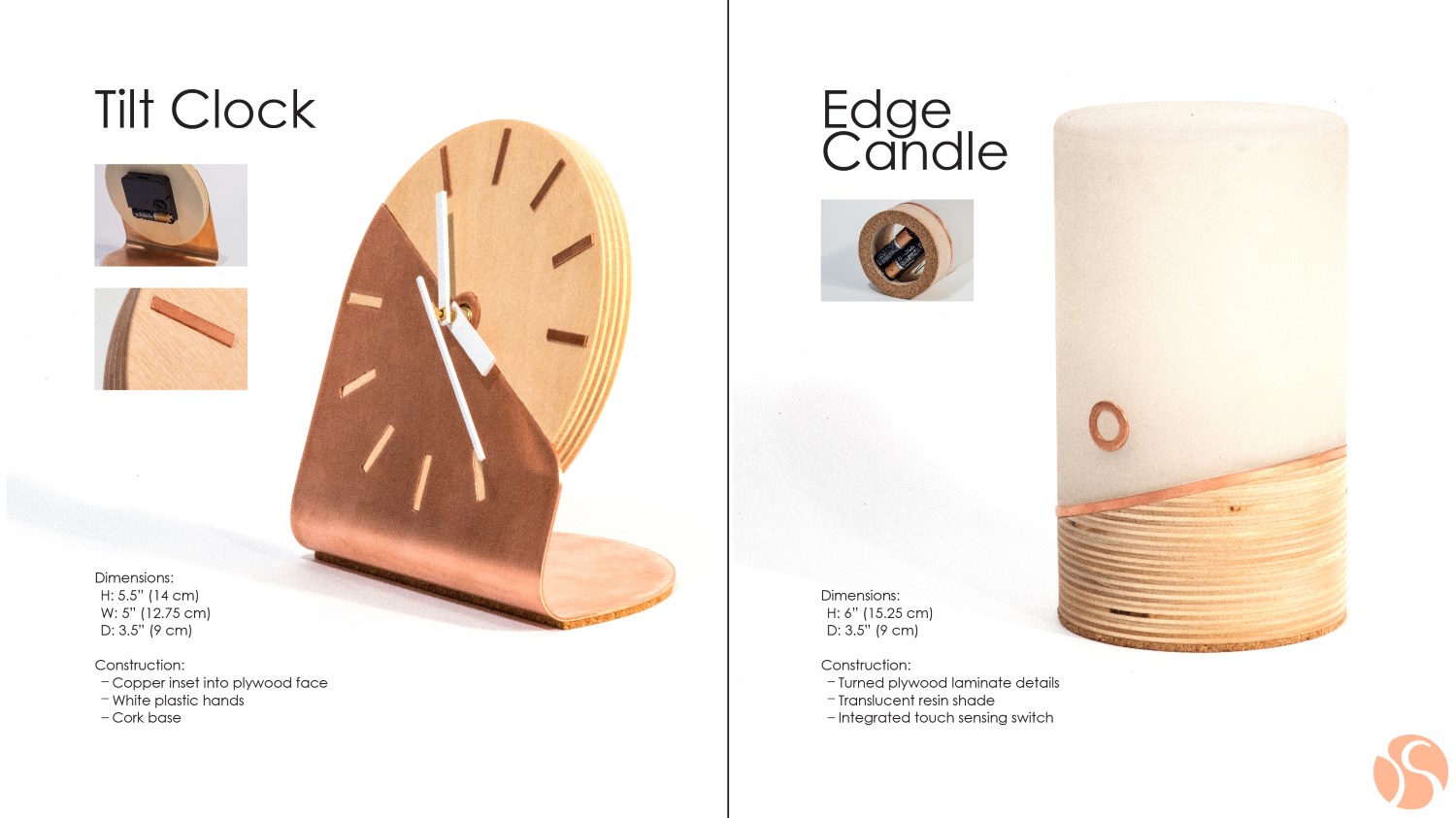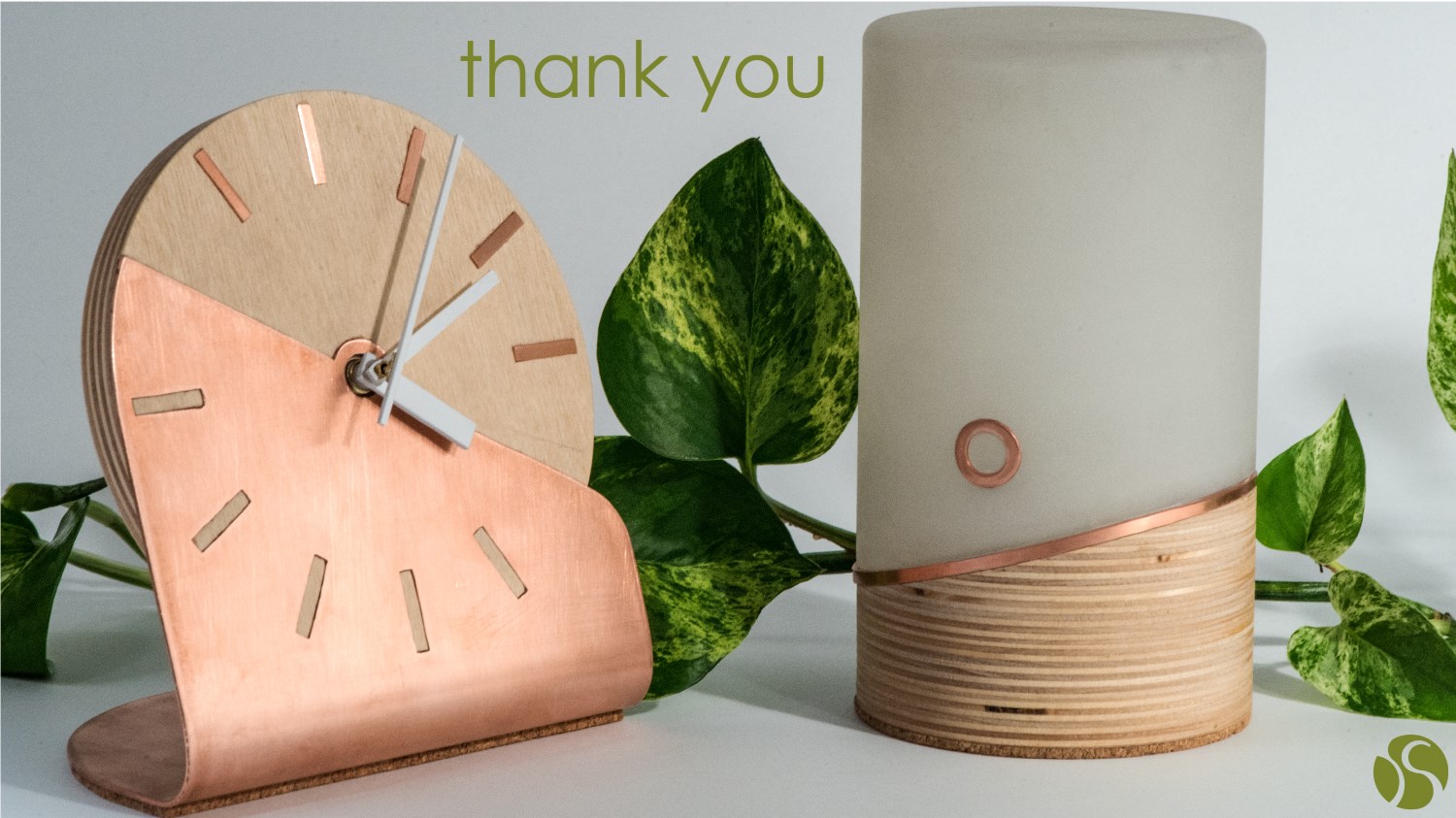 Furniture Design: Internship Step Stool
During summer '17 I worked for a furniture studio owned by an RIT adjunct professor, Byron Conn. During my time there, I designed this elegant and simple step stool and took it from ideation to production. The two parts of the stepstool can be carried as a unit when pushed together, but are completely disconnected when pulled apart. Since then, my mother has been using it as a multifunctional stool in her kindergarten class. It now also functions as a mini desk for young students.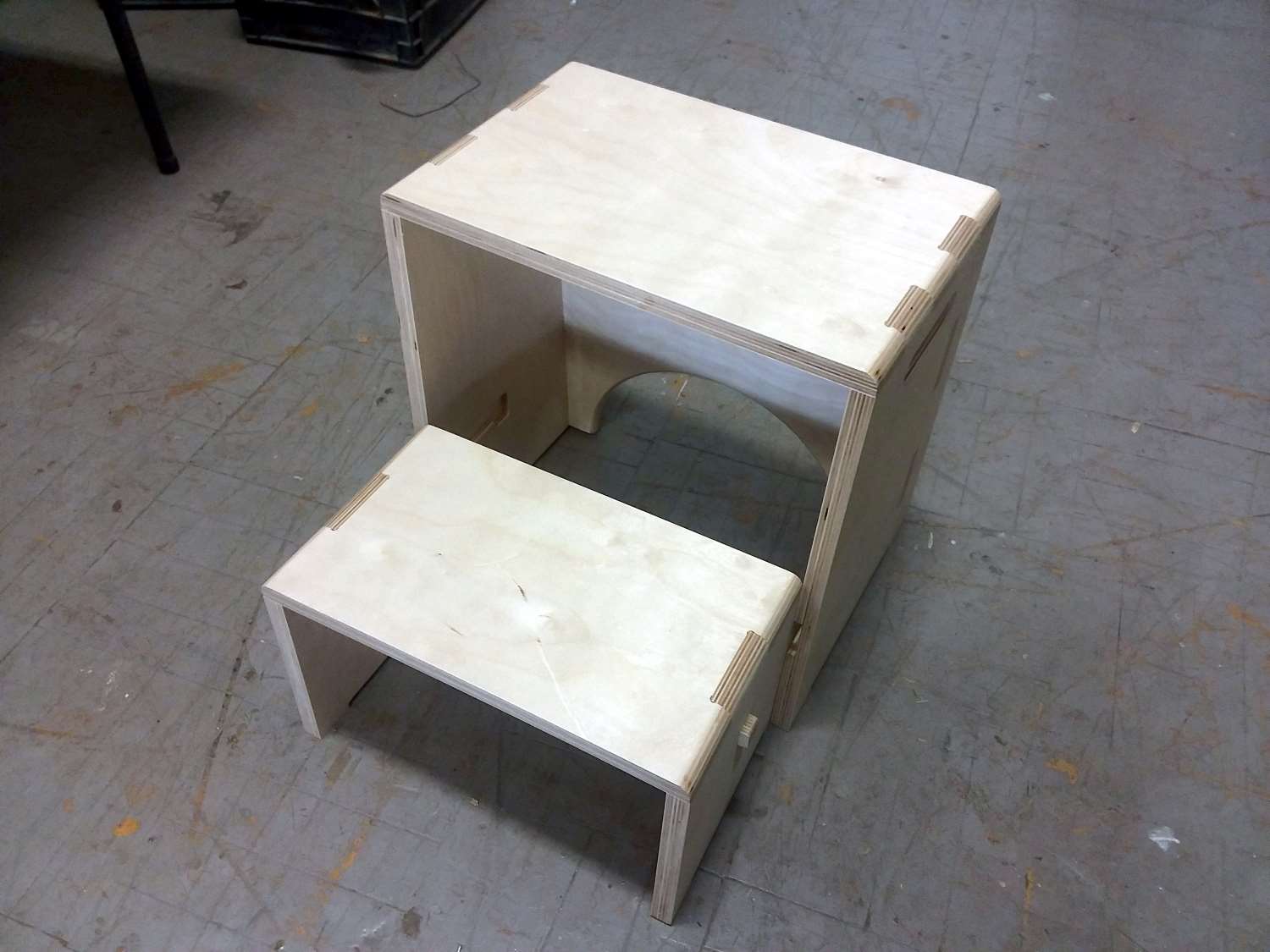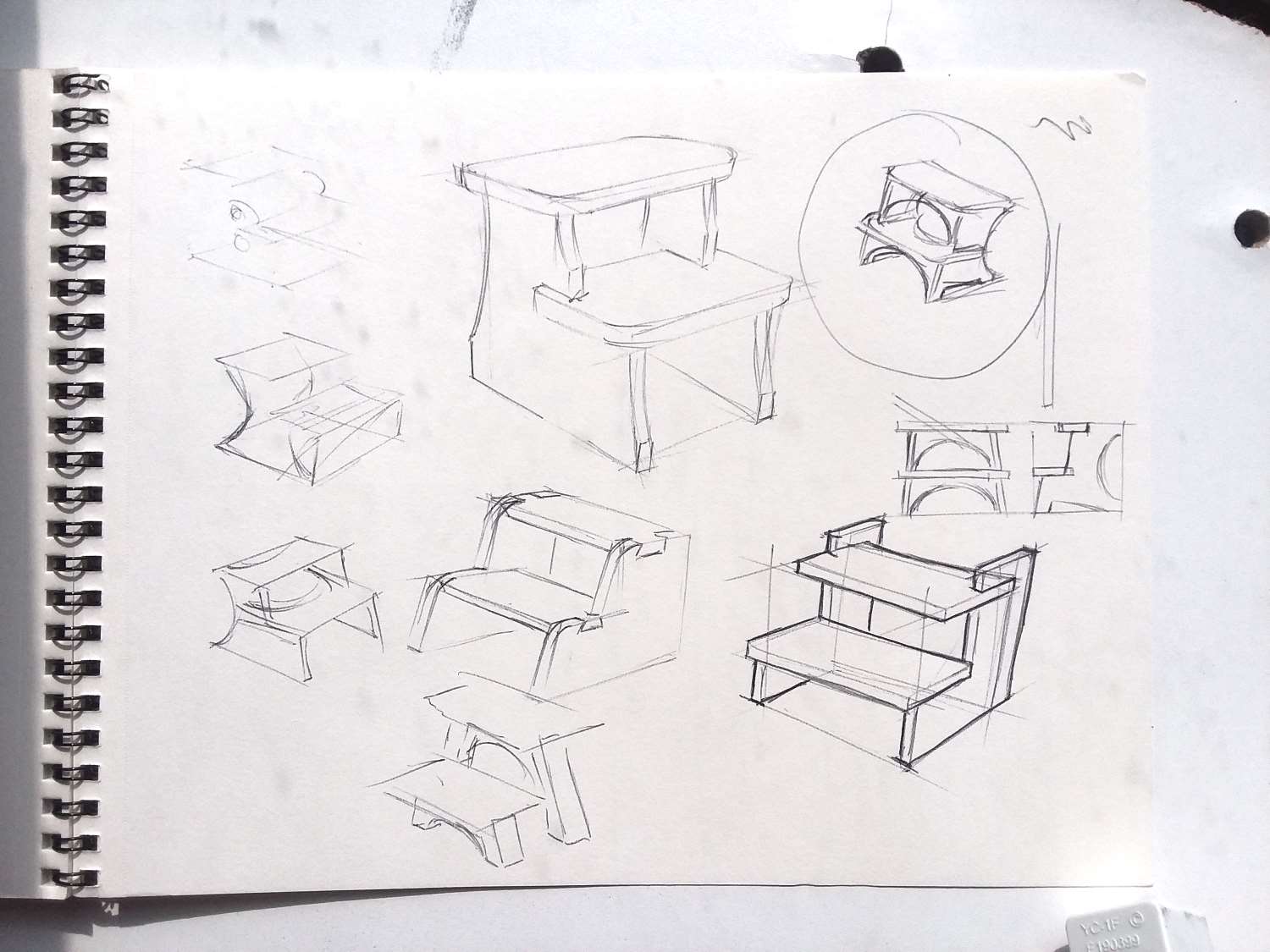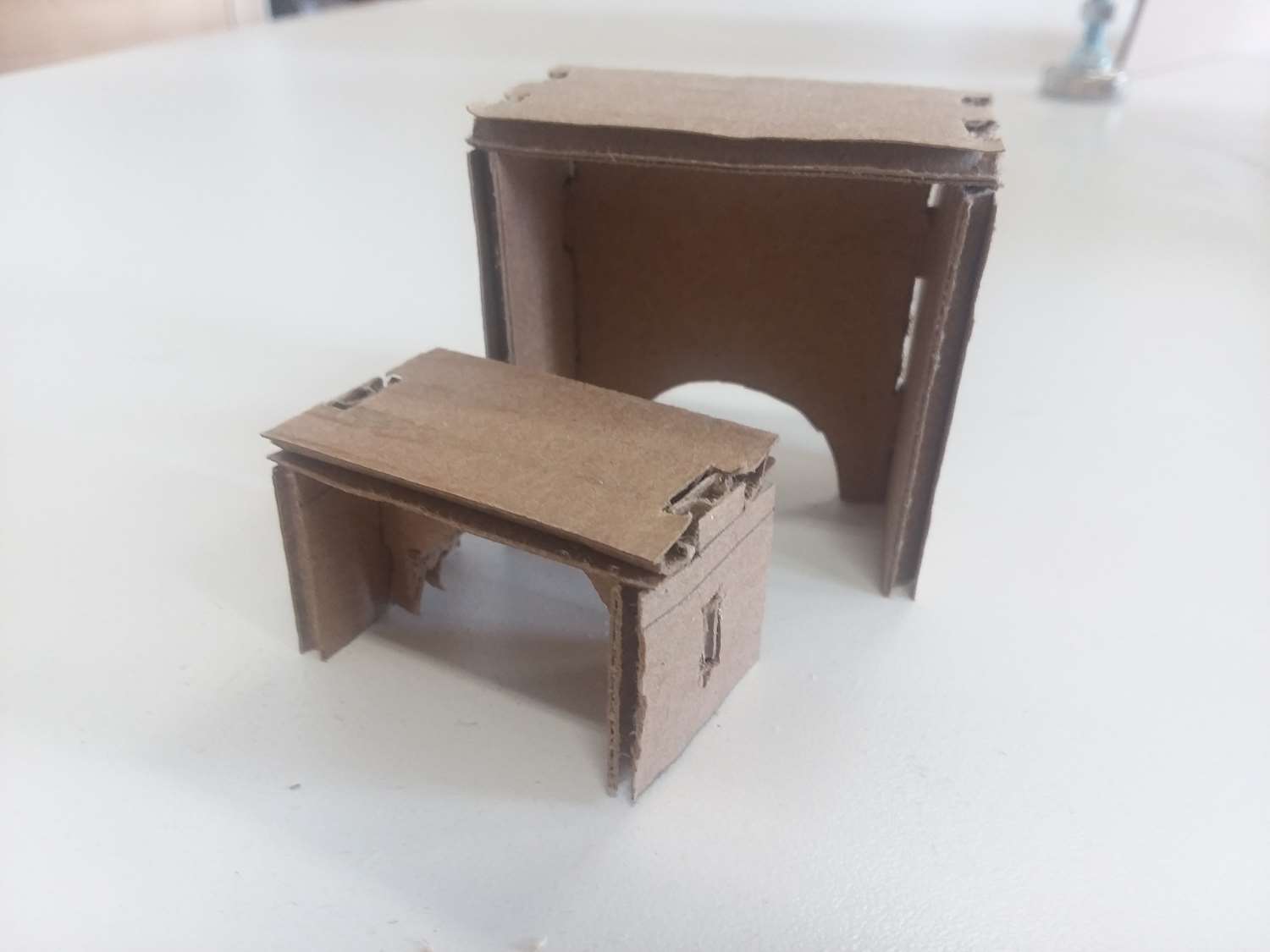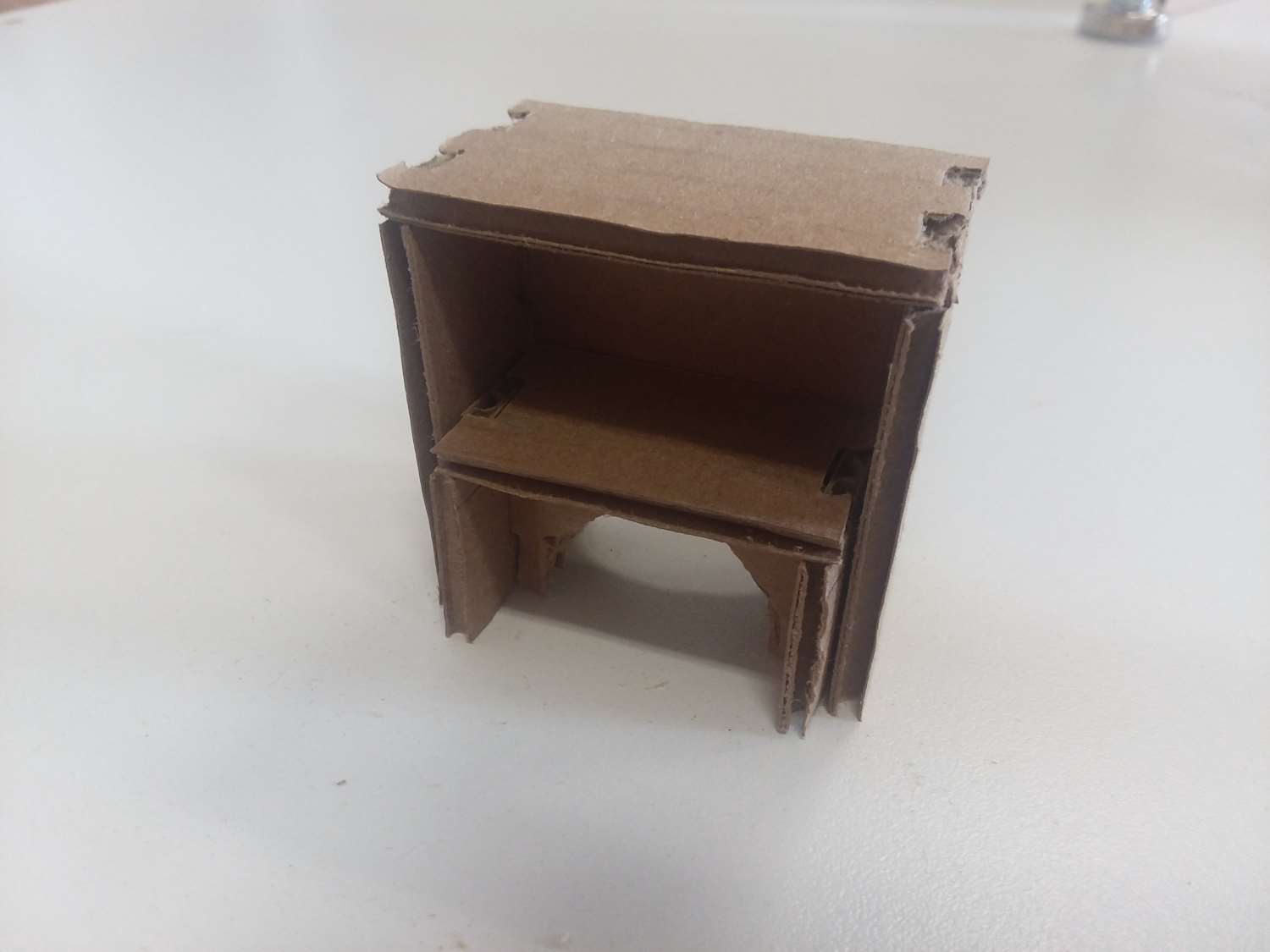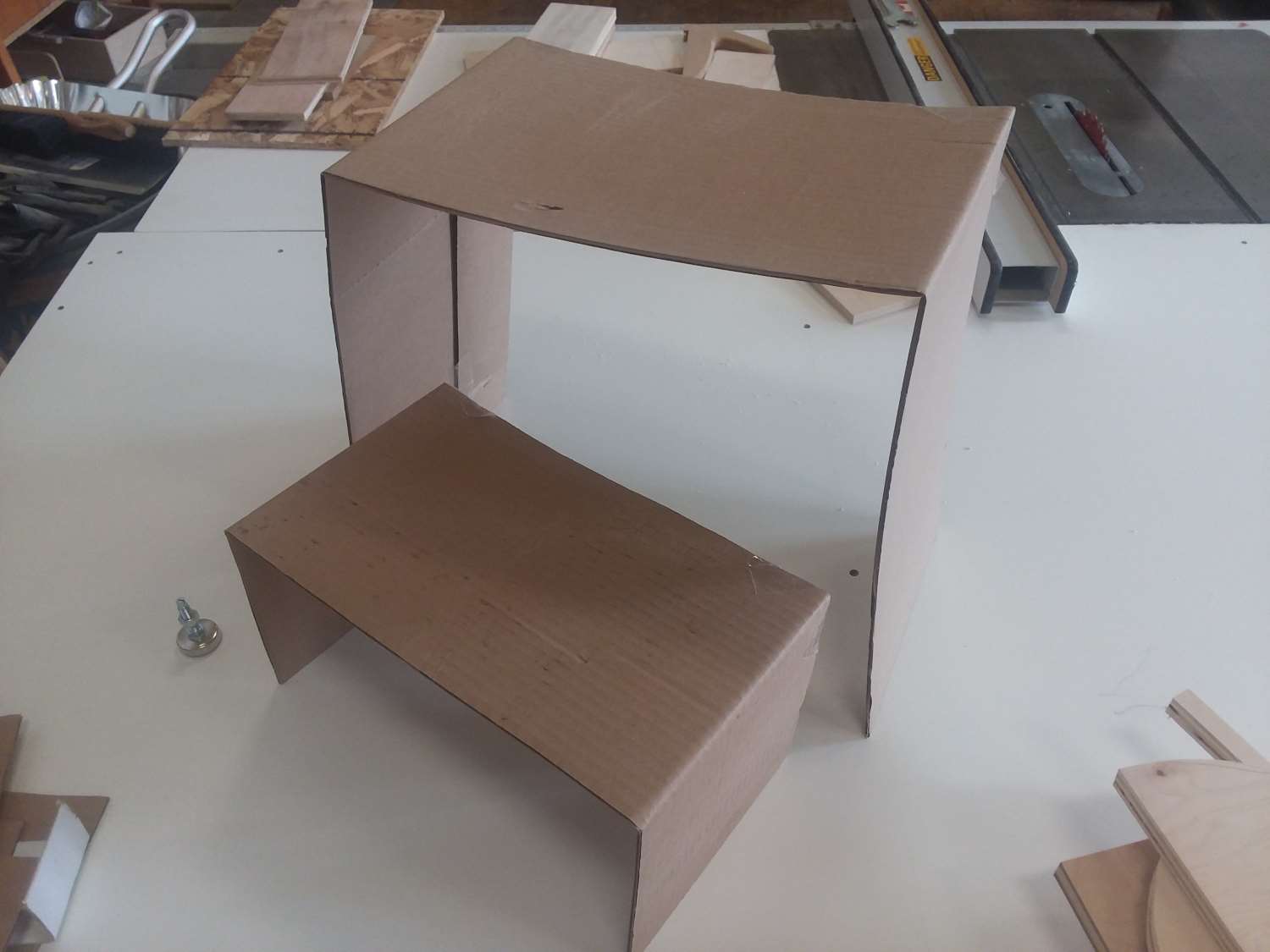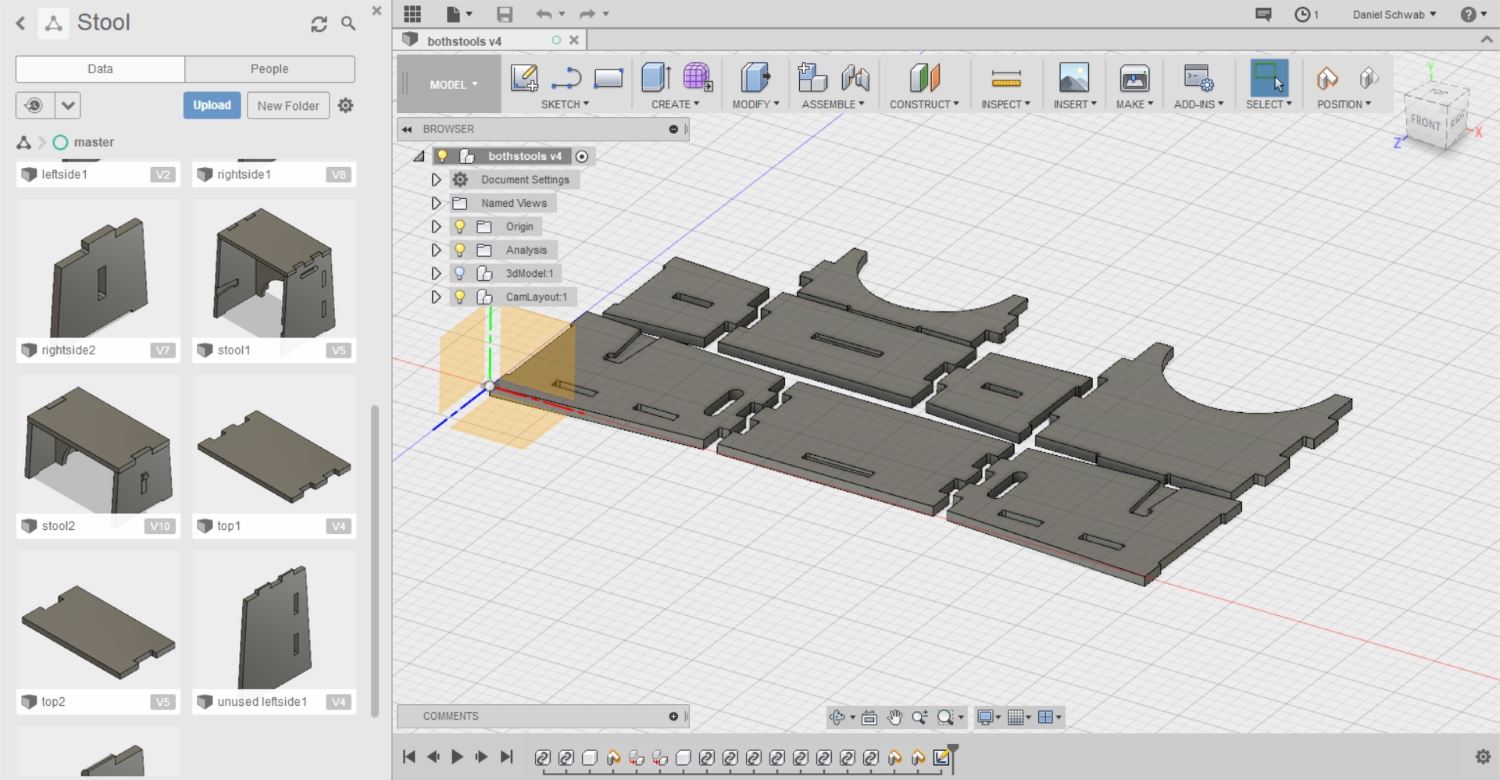 The parts were cut on a CNC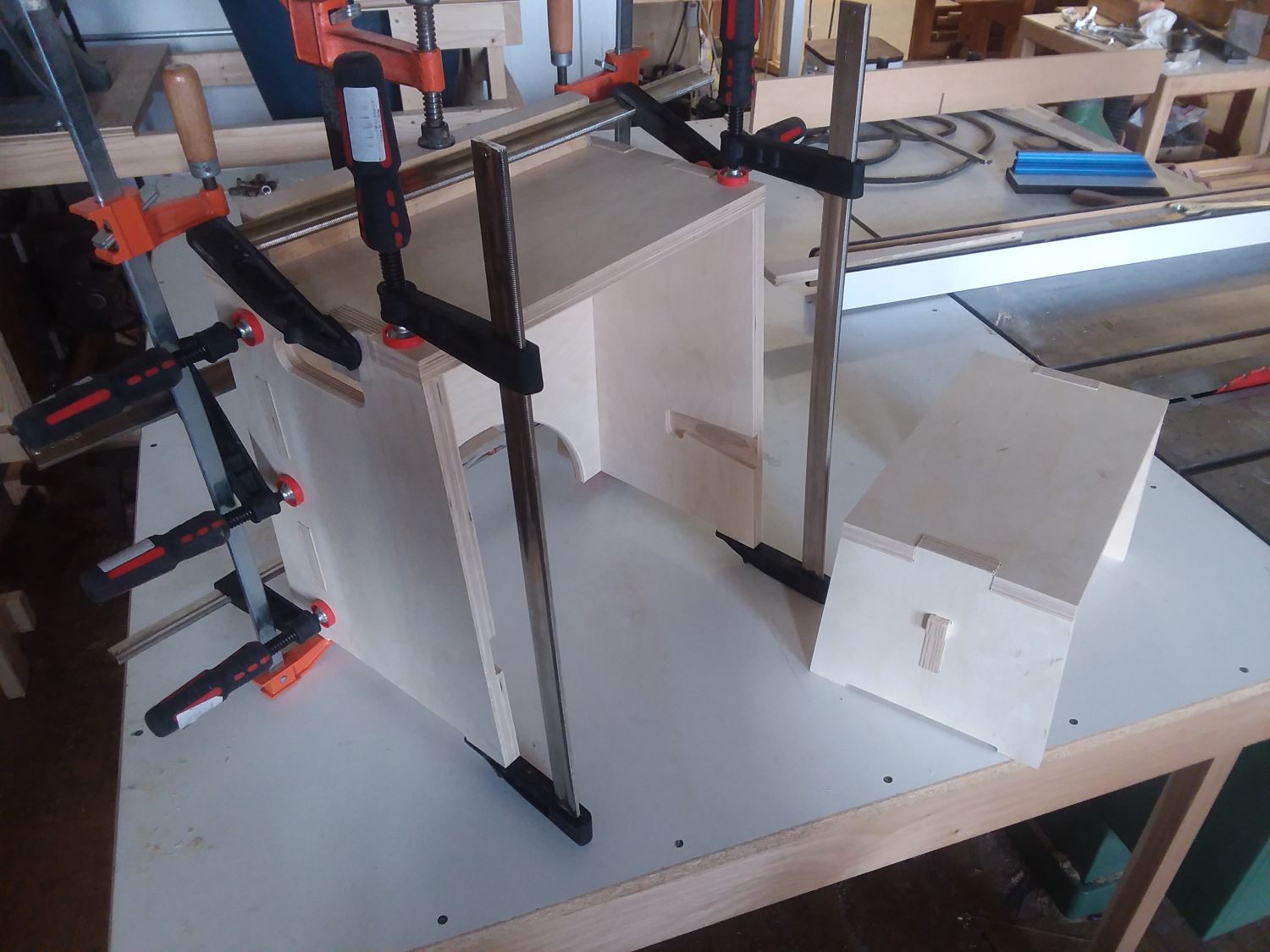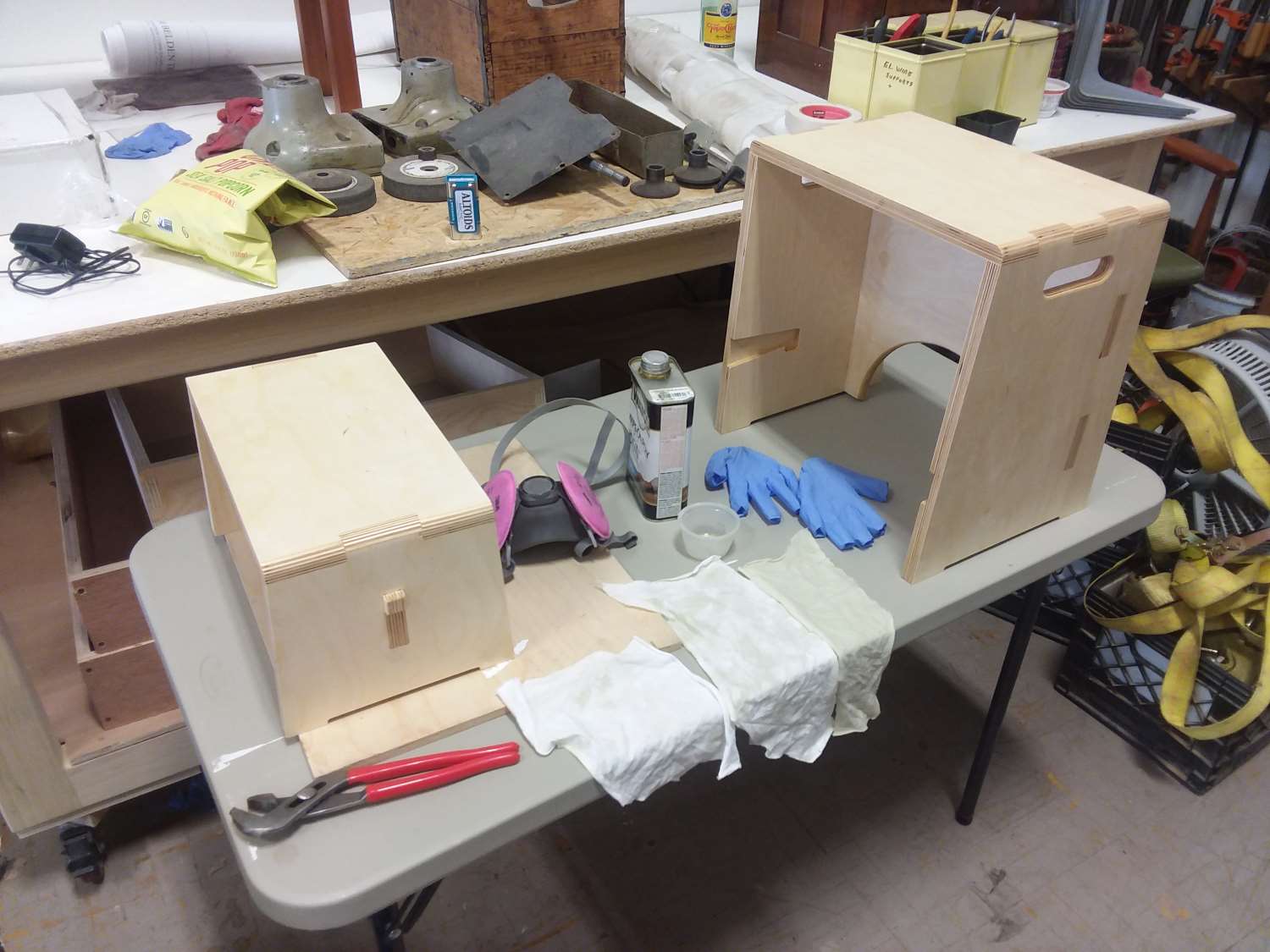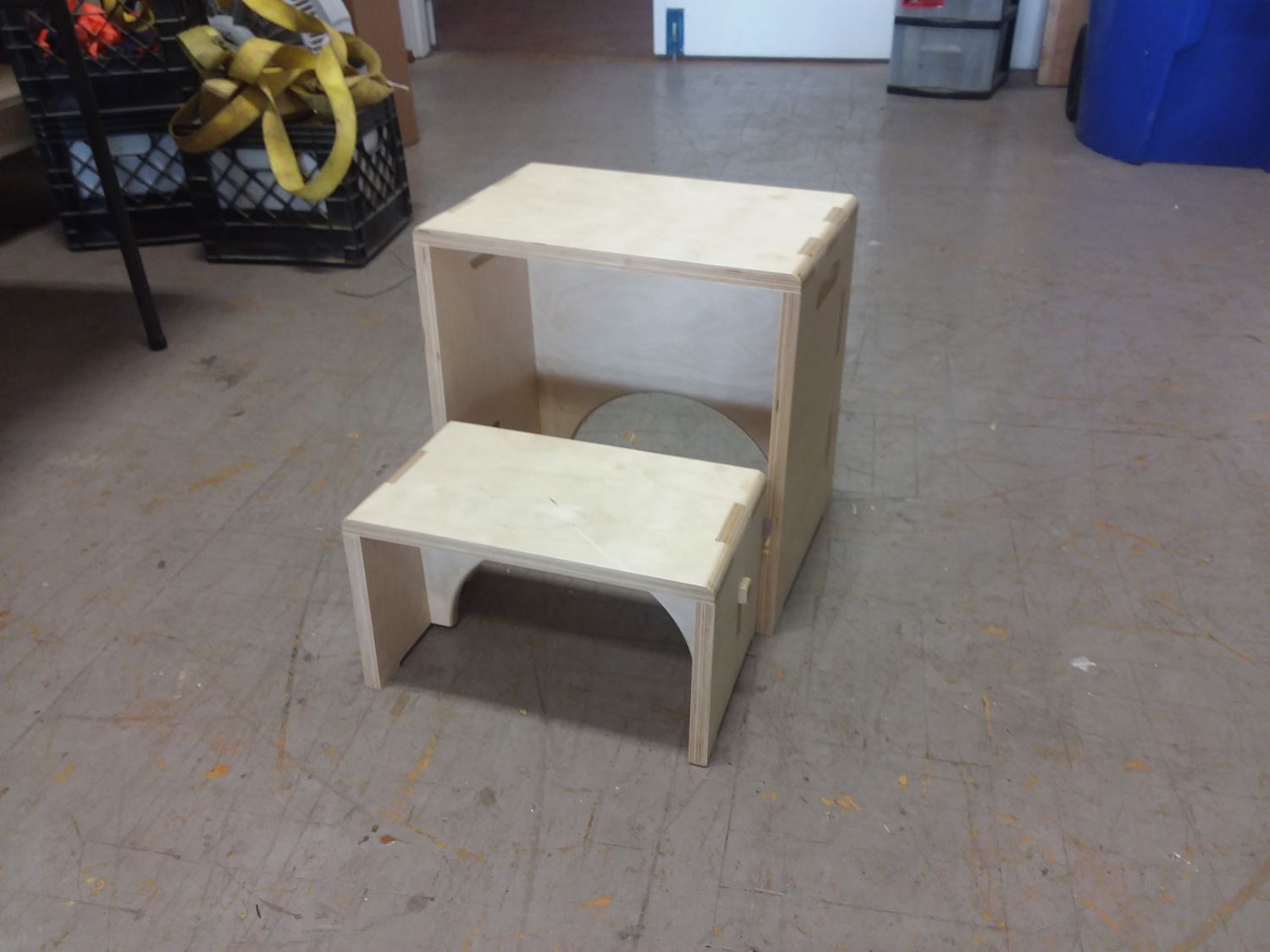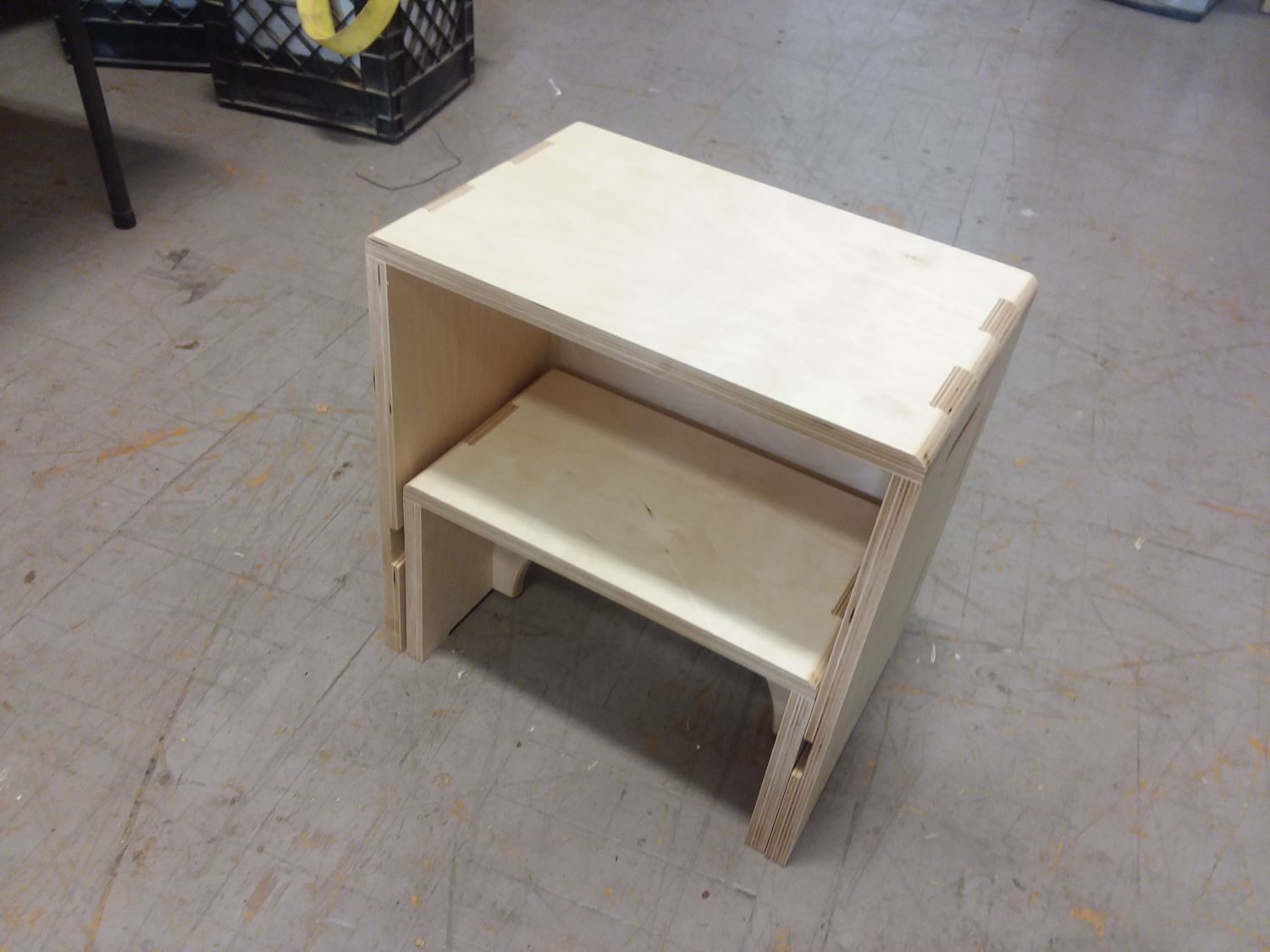 Toy Design: Castle Blocks
Castleblocks is a project that my sister and I have been working on for several years. As children, we always wished that we had a block set particularly designed to make castles, and now we have the opportunity to create what we dreamed of. Currently, we only have a paper version completed to test viability.
Our process began in a series of conversations as we argued about the purpose of blocks, what types of modularity we wanted, and what types of play it would allow. Obviously, I was drawing the whole time, but because it was on napkins and post-its I have nothing to show for it. Once we settled on an idea and worked out the theory, we pulled out scissors and tape and put together this prototype. The prototype has allowed us to validate our theories and decide how many of each block we should make.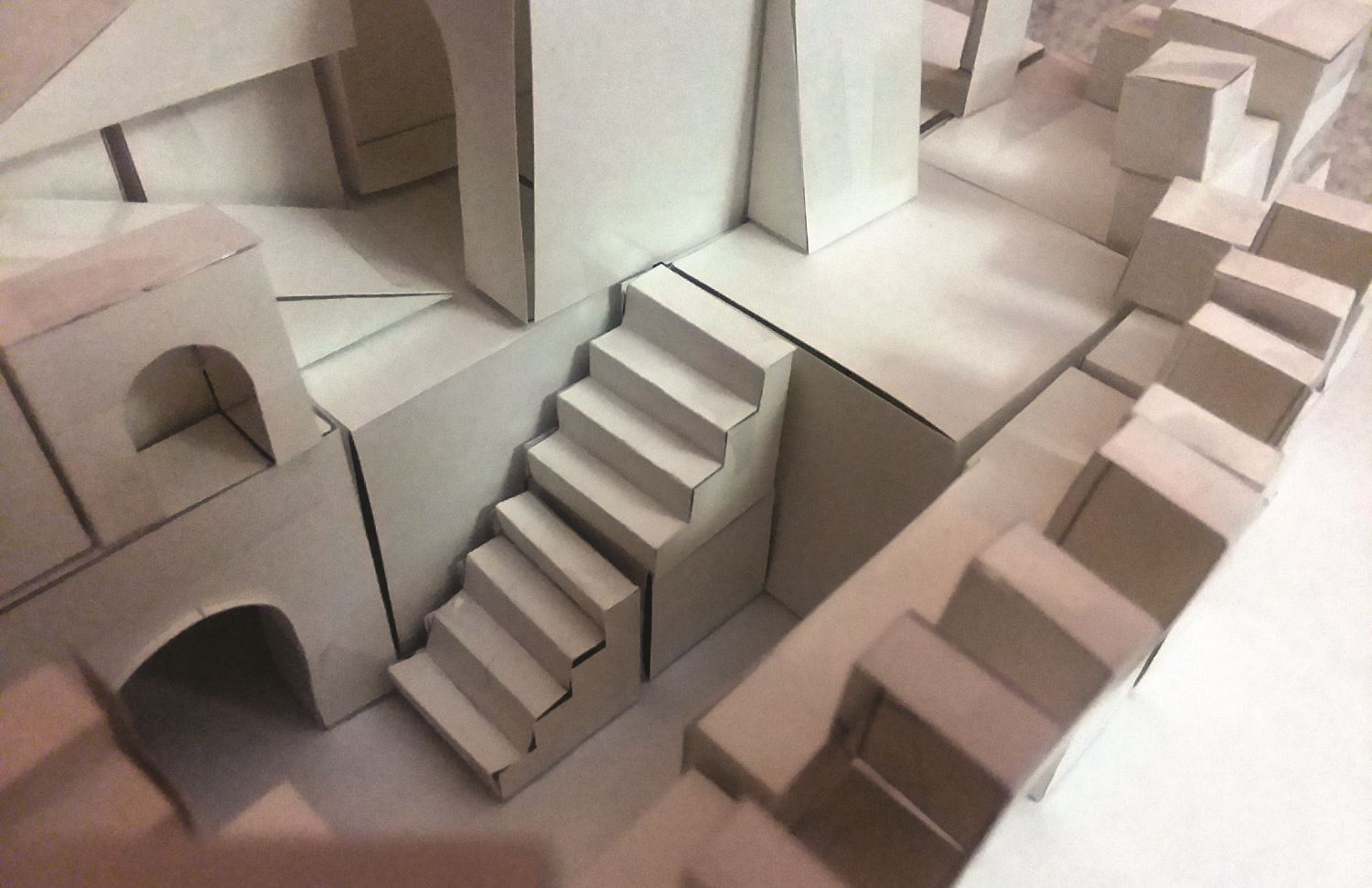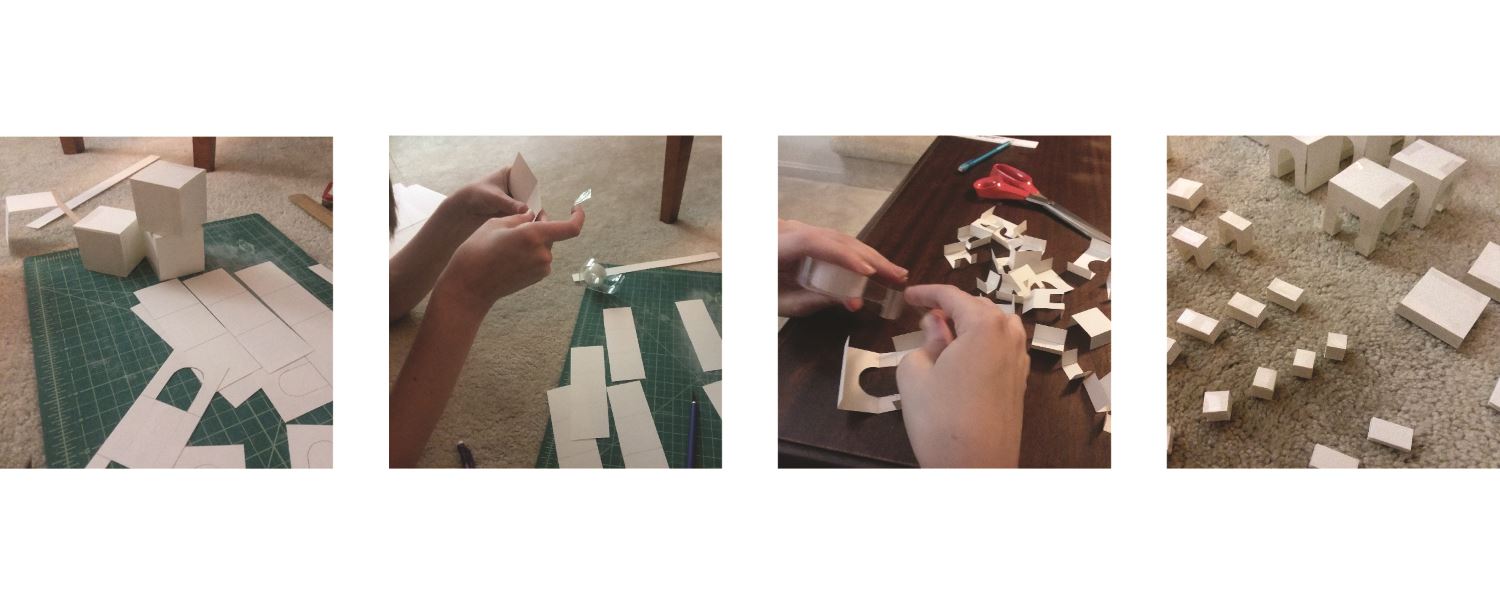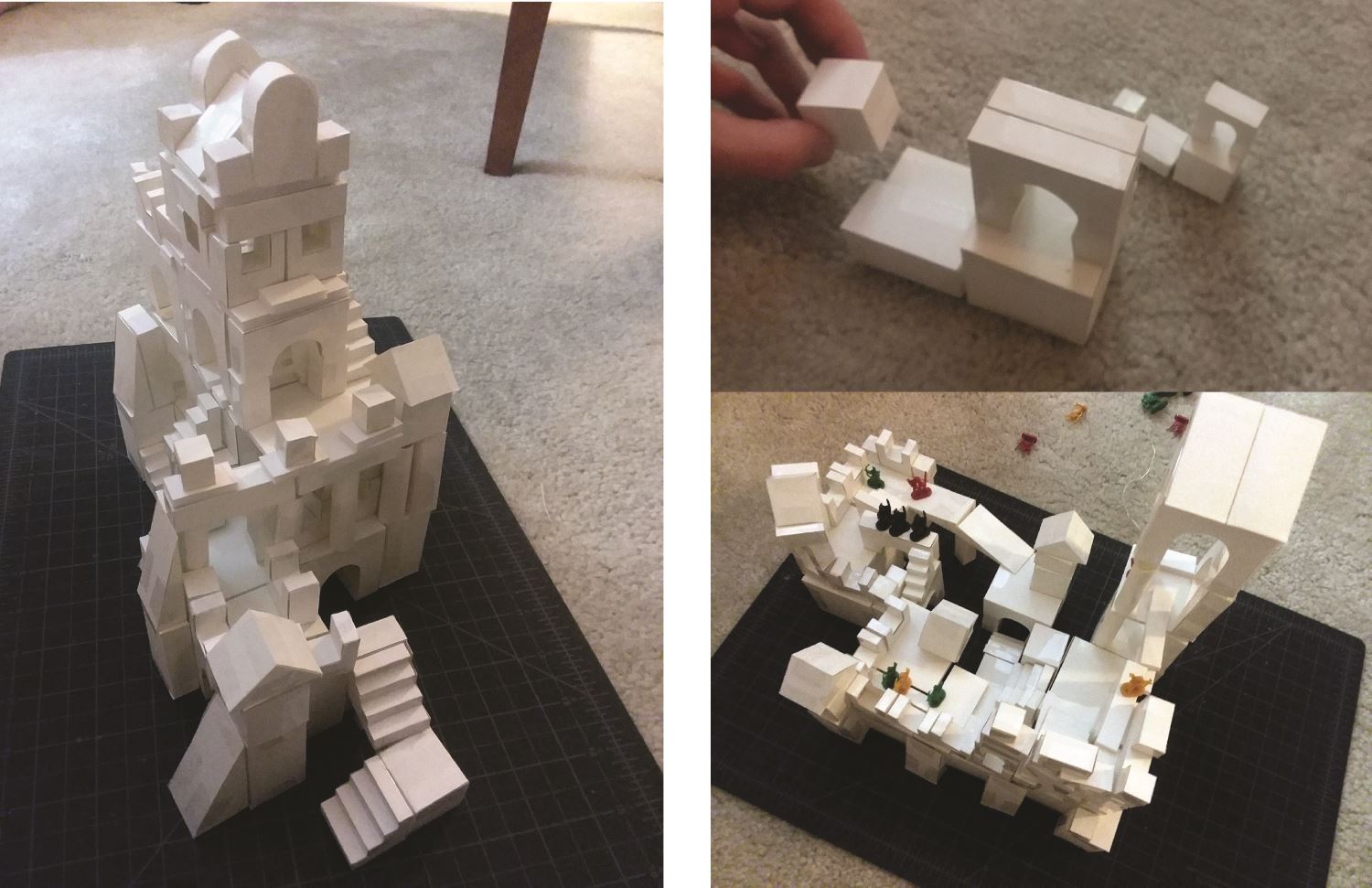 Digital rendering and CAD work
I've been seeking realism in modeling programs since highschool. At RIT, I had the opportunity to learn SolidWorks and develop a broad set of transferrable CAD skills. While my current job typically requires rapid low-fidelity renderings, I used the pandemic lockdown as an opportunity to work on several photorealistic previsualization projects, and enjoyed it immensely.
---
3ds Max Arnold & Fusion 360 (2020-2021)
---
SolidWorks & other software (2016-2018)
Sketching with various mediums
I have always been sketching, and my notes are always covered with doodles. Some of these are refined, but my routine rough and efficient sketches are much more ephemeral. I hope soon to put more of them here.
Fine art and photos for fun
---
Photography
I wish I could capture my feeling of joy in the presence of beauty. Capturing joy is difficult, but photography recalls a piece of it later. Most of these were taken during a photography class in the spring of 2017 when I had access to a high quality DSLR camera.
---
Art
Sometimes I just need to play, and I pick up a marker, a pen, or just some wire and begin to make something. These are artifacts of an active mind applying itself to 2d and 3d media.
---
Anno Domini
A friend, Matthew Fox, asked me to help him illustrate a poem he is working on titled "Anno Domini". I will be uploading some of the progress images here.
Hello, my name is Daniel Schwab. I am seeking the opportunity to directly apply my industrial design training and collaborate with more experienced professionals while making the world a more functional, ergonomic, and beautiful place. After graduating from RIT in 2018, I was immediately hired as a trade show exhibit designer, but my interests lie more in designing efficiency, working with interesting materials, and accommodating all kinds of people. I hope to move my career towards the intersection of these interests. In addition to art and design, I also enjoy programming, music, hiking, board games, and philosophy. I am committed to serving the Grace Church youth group, exploring Rochester on foot, and investing in stable, positive community. During my lunch break, I can often be found at New City Cafe.
404 - sorry, I can't find that
"Not all those who wander are lost." - J. R. R. Tolkien